Here's Why Lesley Stahl's Interview With Nancy Pelosi Has The Internet Buzzing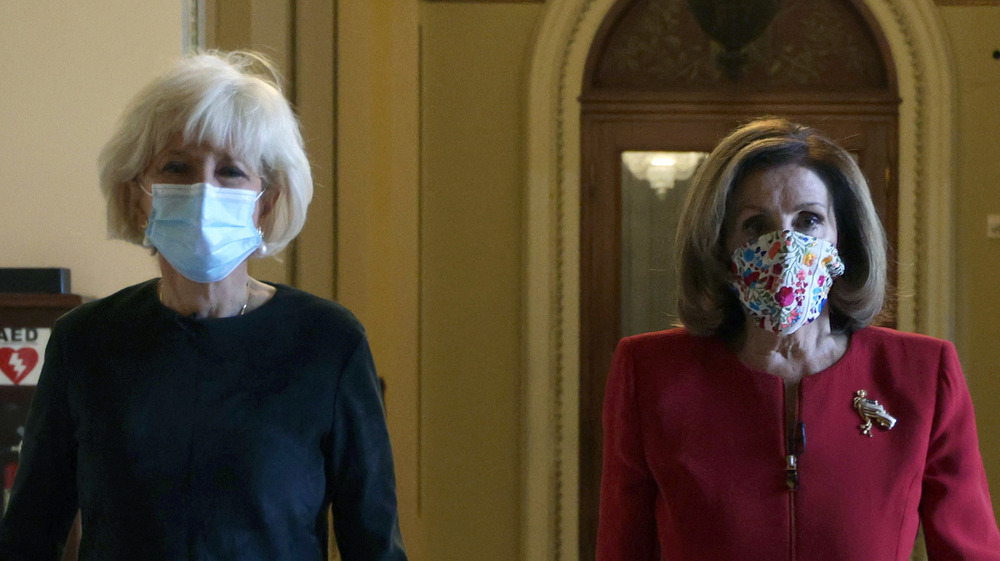 Alex Wong/Getty Images
Veteran journalist Lesley Stahl sat down with Democratic House Speaker Nancy Pelosi for an interview on CBS' 60 Minutes, which detailed Pelosi's harrowing experience during the U.S. Capitol riots on Jan. 6, 2021. Besides the captivating interview — which aired on Jan. 10, 2021 — many viewers were concerned by Stahl's appearance as her left eye had a noticeable bright red spot.
"I'm worried that Lesley Stahl's left eye was so red (Pink eye? Possible COVID-19 symptom). Stay safe, @SpeakerPelosi," one Twitter user wrote. The bright eye became a distraction for some who eagerly wanted to hear Pelosi's tale. "Lesley Stahl's eye is distracting but this interview with Nancy Pelosi is intense," a viewer commented.Stahl's appearance caused many people online to speculate about her health, with several wondering if this was a case of pink eye, which according to the Mayo Clinic, "is commonly caused by a bacterial or viral infection. "Lesley Stahl is on the biggest interview of the year with pink eye," another Twitter user speculated. "Anyone see Lesley Stahl's left eye? It looked really red. I am hoping its not COVID pink eye," a concerned viewer wrote. 
So what's going on here? Keep on reading to find out the potential possibilities for Stahl's eye redness. 
What could have caused Lesley Stahl's red eye?
Lesley Stahl's seemingly irritated eye might appear to be pink eye at first glance. But as the news outlet Heavy pointed out, the symptoms of this condition (think lots of itchiness) likely would have prevented the accomplished journalist from performing the interview.
As for another possibility? Several viewers noted that Stahl's condition could be related to COVID-19. "I don't know, looking at Leslie Stahl's bloodshot eye on 60 Minutes makes me think she and Pelosi should both get COVID tests," a viewer tweeted. Stahl, who is typically quiet about her personal health, opened up about her experience with COVID fairly early on in the pandemic. "After two weeks at home in bed, weak, fighting pneumonia, and really scared, I went to the hospital," she said on a 60 Minutes episode, which aired on May 3, 2020. She heaped praise on the medical staff that cared for her and even cheered when she was discharged. "Thanks to them, like so many other patients, I am well now," Stahl revealed.
As reported by Heavy — which reached out to 60 Minutes for comment — one plausible theory for the red eye is a popped blood vessel. The Mayo Clinic calls this type of injury a "subconjunctival hemorrhage," and causes for it range from "violent coughing" to "powerful sneezing" or any other extreme strain on the eyes. But unless Stahl confirms the issue herself, it's unlikely viewers will ever get a solid answer about what happened.
Nancy Pelosi says rioters were looking for her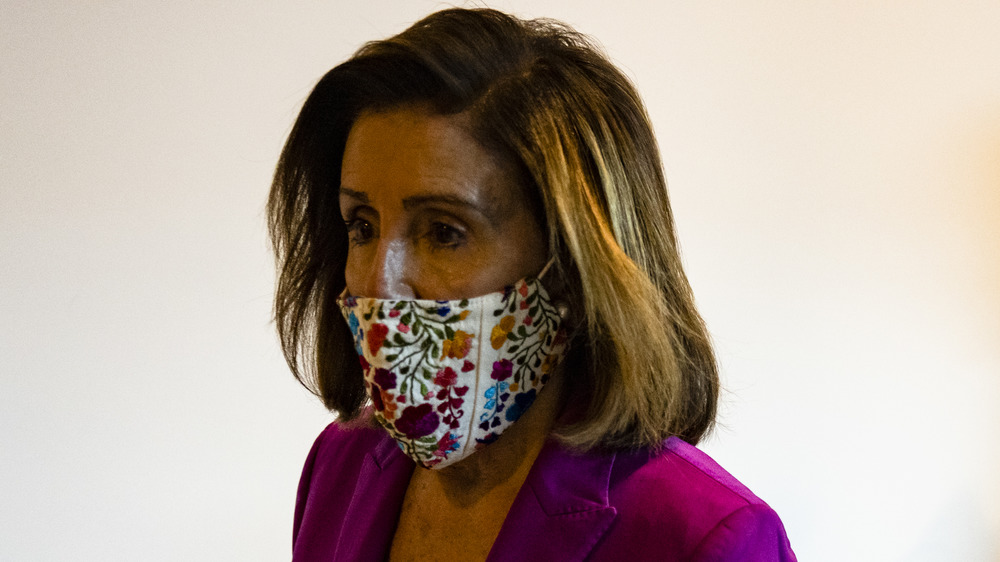 Samuel Corum/Getty Images
Besides the concern about Lesley Stahl, viewers were captivated by House Speaker Nancy Pelosi's recollection of the Capitol Building attack. The interview took place only days after the rioters broke into the building, and Speaker Pelosi offered Stahl a tour of her office as she recapped the frightening experience.
Pelosi was visibly upset and became choked up when she showed the interviewer a damaged door and revealed how her staffers took cover. "The staff went under the table, barricaded the door, turned out the lights, and were silent in the dark ... under the table for two and a half hours," Pelosi said during the 60 Minutes piece. The angry mob was unable to access the area where the staff members hid, but they did get into Pelosi's office, and were specifically looking for her. Pelosi said they were heard saying, "'Where's the Speaker? We know she has staff. They're here someplace. We're going to find them.'"
When speaking about President Trump's role in the riot, Pelosi did not mince words. "This president is guilty of inciting insurrection. He has to pay a price for that," she told Stahl on why she's advocating for the president's second impeachment.