The Untold Truth Of Olivia Rodrigo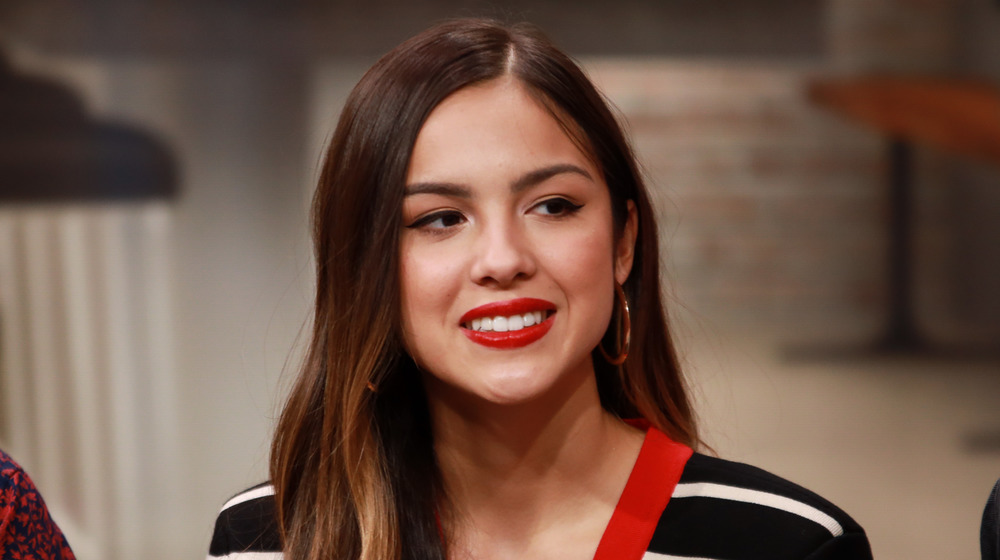 Actor and musician Olivia Rodrigo is the latest in a long line of Disney stars to launch a solo entertainment career. Joining the likes of superstars Miley Cyrus, Zendaya, Demi Lovato, Vanessa Hudgens, and Selena Gomez to name five high-profile examples of the last decade, Rodrigo hopes to capture some of that stardom her predecessors enjoyed. On Jan. 8, 2021, the singer released her single, "Driver's License," which has since gone viral with over 10.7 million views on YouTube as of Jan. 11, 2021. 
First introduced to the world as Nini Salazar-Roberts on High School Musical: The Musical: The Series (assumedly a humorously exaggerated title), Rodrigo plays her high school's musical version of Gabriella Montez, the role that shot Hudgens into superstardom 13 years ago. On the show, the precocious Rodrigo, born in 2003 according to Pop Buzz, single-handedly wrote and performed the ballad "All I Want" for the Disney+ series, as released in January 2020, Billboard reported. The song features such Taylor Swift-esque confessional lyrics like, "And I miss the days, when I was young and naive / I thought the perfect guy would come and find me / Now happy ever after it don't come so easily." Accompanied by a soft piano melody, the single rose to be a Billboard Hot 100 hit and earned a gold certification (per Billboard). 
Now, let's get some deeper insight into the girl who may become one of Disney's most successful alumni yet. Keep reading for things about Olivia Rodrigo you probably didn't know!
Olivia Rodrigo is a confessional singer-songwriter much like idol Taylor Swift
Because of her ethnically ambiguous appearance and her half-Hispanic character Nini Salazar-Roberts on High School Musical: The Musical: The Series, Olivia Rodrigo has fans inquiring into her actual ethnicity. In fact, if one Googles "Olivia Rodrigo," two of the three FAQ's are, "Is Olivia Rodrigo Mexican?" and "What is Olivia Rodrigo's ethnicity?"
Rodrigo is also a proud Swiftie (the self-dubbed name for Taylor Swift fans). In May 2020, she gushed to Build Series SYD about Swift re-posting her cover of the 2019 single, "Cruel Summer." In January 2021, according to Billboard, when Rodrigo's debut single "Driver's License" landed next to Swift's own "Right Where You Left Me" and "It's Time to Go" on the U.S. iTunes charts, Rodrigo effused on Instagram, "next to taylor on the us itunes chart i'm in a puddle of tears." 
As for Rodrigo's new single itself, Us Weekly speculated "Driver's License" has enough lyrical Easter Eggs about an ex who is moving on for the fans of HSMTMTS to speculate that it was based off the long-rumored but never-confirmed love triangle between her co-star Joshua Bassett and alleged new girlfriend Sabrina Carpenter. Certain lines like "And you're probably with that blonde girl / Who always made me doubt / She's so much older than me / She's everything I'm insecure about" do make you wonder... Carpenter is, after all, not only blonde, but also three years older than Rodrigo, Us Weekly noted. Perhaps one day we will learn the truth!