Does Justin Bieber Have A Higher Net Worth Than Ariana Grande?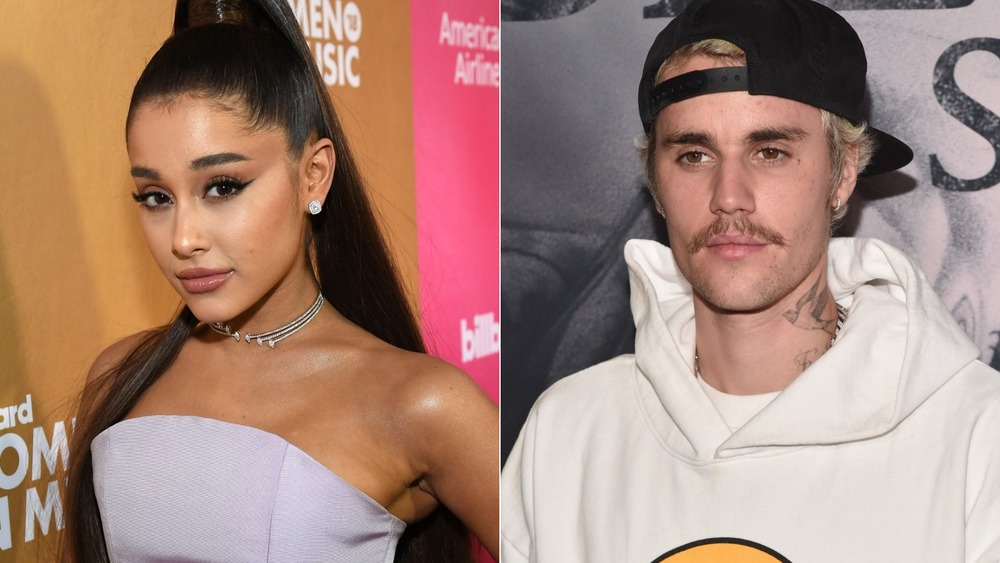 Kevin Mazur, Alberto E. Rodriguez/Getty Images
Justin Bieber and Ariana Grande have experienced very different paths to stardom. Bieber was notably discovered by Scooter Braun, who saw YouTube videos of the then-preteen singing. The Canadian native shot into superstardom when his two-part debut album, My World and My World 2.0, got released in 2009 and 2010, respectively. But Bieber struggled with his fame throughout the years, facing substance abuse, sex addiction, and a stint in jail. He has since turned his life around, married Hailey Baldwin, and released an album and multiple singles in 2020 alone.
Grande's rise to fame was arguably more traditional than Bieber's. She has performed her whole life, first getting her feet wet professionally on Broadway. The Florida native then got cast in Nickelodeon's Victorious in 2010, which led to her spinoff show Sam & Cat. She then burst into the mainstream music scene in 2013 with her hit, "The Way." The most scrutiny Grande has faced by the public is for her dramatic dating life, but there have been no serious legal allegations against the "34 + 35" songstress as of this writing.
Although the pair have undergone differing experiences as entertainers, they have both topped the charts multiple times, toured the world, have an impressive list of industry awards, and are both managed by Braun. Bieber has been a mainstream musician longer, but Grande has more consistently produced music throughout her career. So, that begs the question: Does Justin Bieber have a higher net worth than Ariana Grande? Let's find out.
Both Justin Bieber and Ariana Grande make bank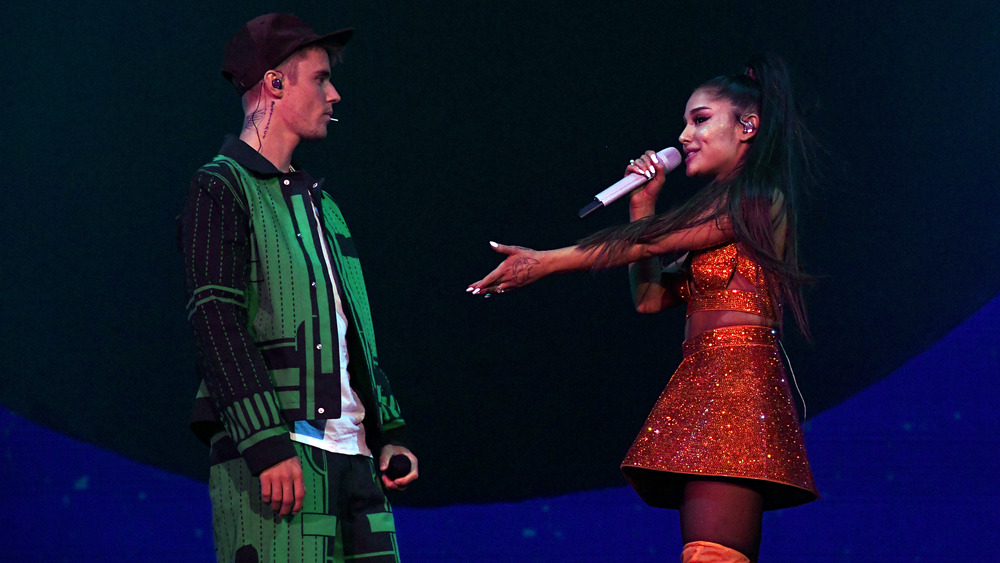 Kevin Mazur/Getty Images
Both Justin Bieber and Ariana Grande have enjoyed highly lucrative careers through not just their acting and singing credits, but by selling perfumes, clothing, accessories, brand collaborations, and so much more. Despite their similar business ventures and industry accolades, Bieber is estimated to have a higher net worth than the former Nickelodeon star.
The "Holy" singer is estimated to be worth $285 by Celebrity Net Worth. Although that number is impressive, it's no surprise he has so much in the bank. Bieber never seemed "Sorry" about showing off his collection of fancy cars, which, according to Financial Express, includes a Cadillac, a Porsche, a Mercedes, and a Ferrari, to name a few. While Bieber seems to be a bit humbler about his expensive belongings than he used to be, Hailey Bieber's $500,000 engagement ring, per Refinery29, will do the trick at showing how much the pop star really has to his name. However, this is no discredit to Grande's estimated $150 million net worth. Plus, Grande's bank account is rapidly growing, according to Forbes. Between June 2019 and May 2020, Forbes reported that the "Positions" singer raked in $72 million, which landed her at No. 17 on the publication's list of highest-paid celebrities in 2020.
Regardless of their net worth, it's clear both Bieber and Grande have made a huge impact in the entertainment industry.