Here's How Much Lamar Jackson Is Really Worth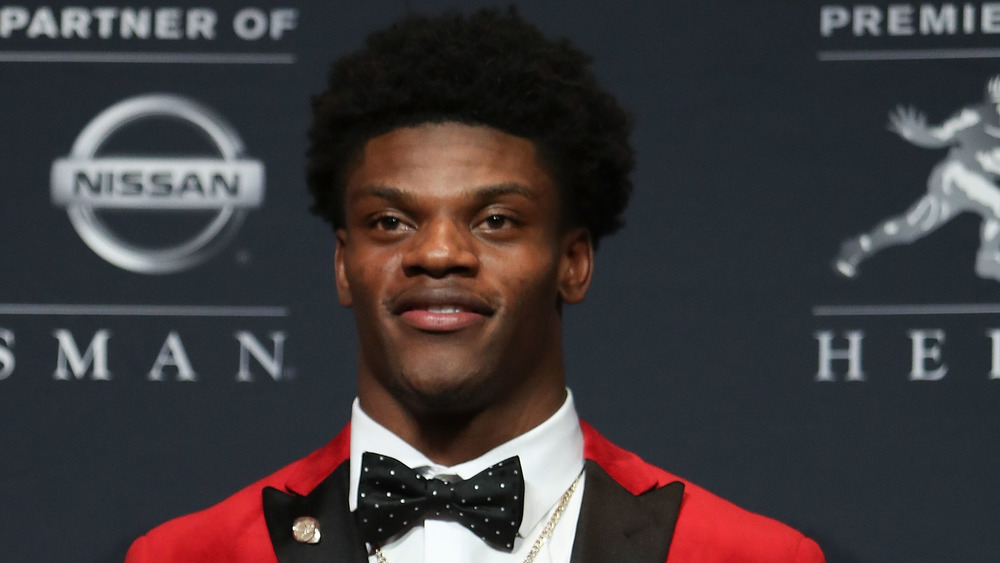 Michael Reaves/Getty Images
Quarterback Lamar Jackson has been thriving since he was drafted by the Baltimore Ravens in the 2018 NFL Draft. In 2019, he was named as the NFL's Most Valuable Player following a unanimous vote in his favor (via NFL). He was the second person to get all 50 votes to earn that honor. The first was Tom Brady back in 2010.
At 22 years old, Jackson was also the youngest quarterback to be named as MVP. Those impressive stats translate to a paycheck that Sportscasting described as "an incredible bargain." In 2018, he signed a four-year deal for $9,471,648. About half that money was considered a signing bonus. His base salary was $480,000 for his first season, which jumped up to $910,529 in 2019 when he won the MVP trophy. In 2020, his base salary was $1,341,059 and for the 2021 season he is set to get $1,771,588.
That amount of money is nothing to scoff at in general, but for an NFL MVP who's still healthy and going strong, it's a surprisingly low number. According to Sportscasting, "Since Lamar Jackson is still on his rookie contract, neither he nor the Baltimore Ravens have an active say in his salary," hence the notion that he is "an incredible bargain." The numbers are especially surprising, since Spotrac calculated his market value at $43.7 million in free agency.
He has to be earning a lot of money from endorsements to close that gap, right? Surprisingly, that's not the case. 
Lamar Jackson doesn't have an agent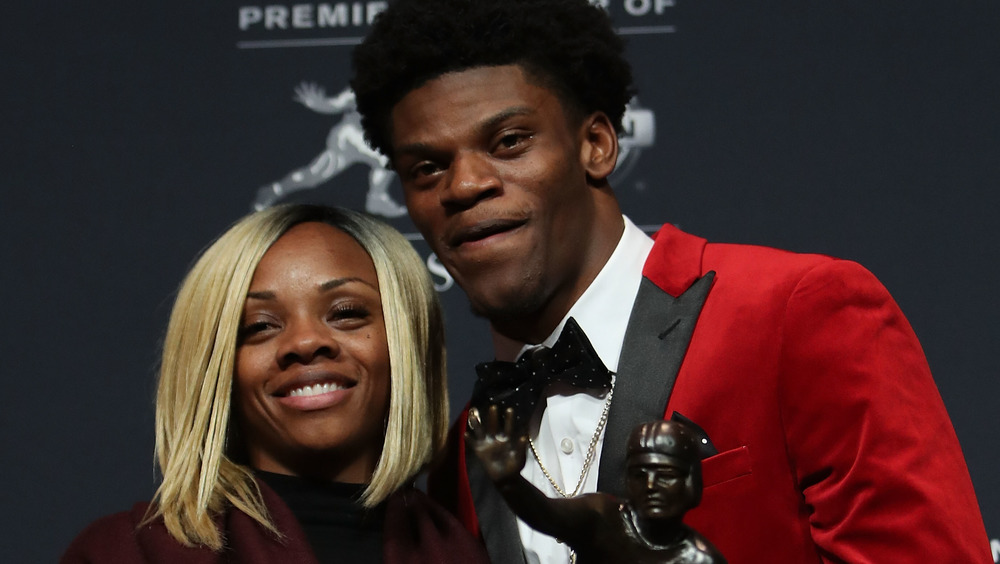 Michael Reaves/Getty Images
Most NFL rookies have agents facilitate their contracts. However, Lamar Jackson doesn't have an agent, per Bleacher Report. Instead, he hired his mom, Felicia Jones, to help him work out his rookie deal in 2018. The quarterback acknowledged, "I know coming in as a rookie, agents don't negotiate anything really," explaining, "You know you're gonna get the salary you're gonna get, and I decided I don't need him. He's going to be taking a big cut of my paycheck anyway, and I feel I deserve it right now."
According to Bleacher Report, NFL agents usually take 3% of a contract, but "a player could have a lawyer do the same negotiating for 1 percent or even less." For the record, Jackson clarified in 2020 that his mother is his manager and that he does have a lawyer, per Front Office Sports. DeMaurice Smith, head of the National Football League Players Association, said, "Do agents provide significant value? Obviously, yes," per SportsBusiness Journal. Nevertheless, Smith clarified that players do not "need them in order to get their contracts done."
Beyond the NFL salaries, agents could get an even larger cut of a player's paycheck when it comes to endorsement deals. With that said, it does make sense for Jackson to cut out the middleman and give some portion of that money to his own mother. However, he hasn't signed a deal with a sportswear company, which is a go-to move for many athletes. 
Lamar Jackson refuses to sign major endorsement deals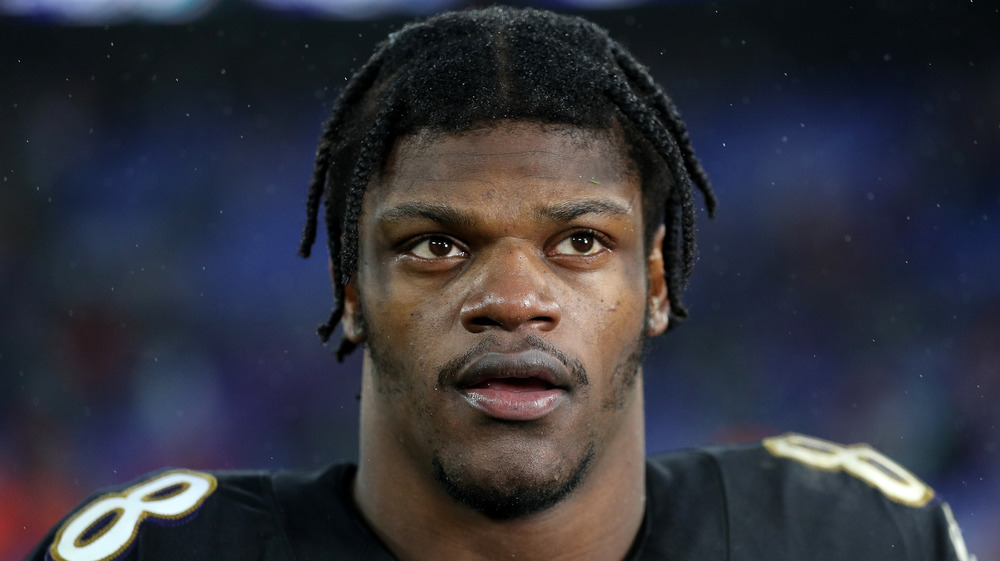 Patrick Smith/Getty Images
Lamar Jackson has a clothing line called Era 8. For the time being he's not interested in inking deals with Under Armour, Adidas, or Nike, the company that supplies the NFL's uniforms (via ESPN). In November 2019, Penn Live reported that Jackson said, "If they come to me correct and we talk the right numbers and stuff like that, I do see myself with it." Henry C. Boyd III, a University of Maryland marketing professor, remarked, "If Lamar Jackson keeps this up, can you imagine a battle between Nike and Under Armour and whoever else trying to get this guy?"
While it's unclear if Jackson will sign with one of those major companies in the near future, he did ink his first endorsement deal ever in August 2020 with sunglasses company Oakley, according to Sports Illustrated. He had been wearing the company's football shield all of 2019, so the partnership was logical, but his love for the brand goes back further than that, with Jackson claiming, "Oakley has been a part of my journey since my youth football days – giving me vision, confidence and swagger."
Prior to endorsing Oakley, Celebrity Net Worth noted, "The closest Lamar Jackson has come to advertising is when his plays got featured in the Pizza Hut 'Hut of the Week' segments." As of 2021, his net worth is estimated to be $4 million, but if he keeps playing at this level, that number is bound to multiply.