The Bachelorette: This Former Contestant Attended The D.C. Rally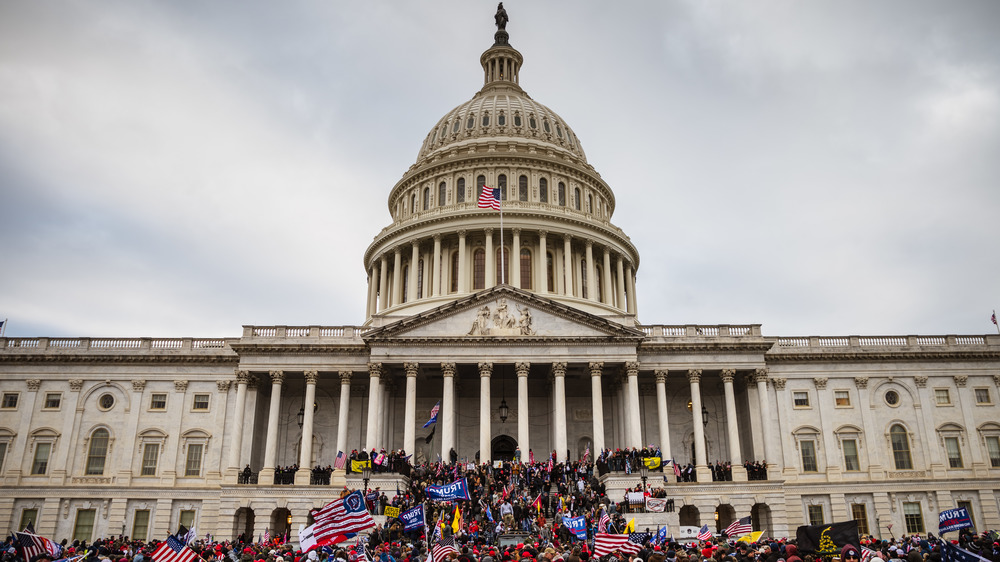 Jon Cherry/Getty Images
Big news for Bachelor Nation that shockingly involves the riots in D.C. On Jan. 6, 2021, President Donald Trump spoke to a large crowd, claiming election fraud and encouraging his followers to fight President-elect Joe Biden's win. Trump said to the crowd, "If you don't fight like hell, you're not going to have a country anymore," according to BBC. According to The Washington Post, many felt that Trump's word incited the riot that followed, which left five people dead. The ramifications from the storming of the Capitol were immeasurable. Not only was Trump banned from Twitter and many other platforms, he was also impeached for a second time, per CNN.
So, what on earth does this have to do with Bachelor Nation? We're so glad you asked. James McCoy Taylor, who was a contestant on JoJo Fletcher's season of The Bachelorette, attended the riots and tweeted that he received support from ABC. "Big thanks to #TheBachelor family for supporting me during this time ... from top to bottom. Conservative producers are the best!! Thank you @ABC Network @ABC & @BachelorABC for having my back while I legally supported our President," Taylor tweeted on Jan. 11, 2021.
In response to his tweet, there has been a major response from Bachelor Nation and not in the supportive way Taylor seemingly expected.
James McCoy Taylor has been exiled from Bachelor Nation
Following James McCoy Taylor's tweet claiming that Bachelor Nation supported him being at President Donald Trump's rally ahead of the storming of the Capitol, Bachelor Nation hit back hard, wondering where exactly Taylor was receiving the support. The creator of The Bachelorette and The Bachelor, Mike Fleiss, tweeted back a scathing response: "Whoever that former cast member/idiot jerkoff is that went to Trump's treasonous rally, got a message for ya ... You are officially exiled from #BachelorNation!!!" Has such a thing ever happened before?!
Rachel Lindsay — who was The Bachelorette on Season 13 and was the first Black lead in the franchise — responded to Fleiss' tweet, writing, "Reason #4853569536 we have to do better with casting."
Taylor's social media indicates that he supports Blue Lives Matter and, clearly, is a major fan of Trump, according to E! News. His Twitter account is packed with Trump support and Taylor himself even admitted that he has goals of becoming president. On Jan. 3, 2021, Taylor tweeted: "I turn 35 in May and am considering a run for president. I'm serious. Never seen weaker men in my life — both sides. There are about 5 good ones in the house ... 3 in the senate and 3 in the mainstream media. Our republicans have failed us ... Again." Well bro, sorry to say it but it looks like Bachelor Nation might not vote for ya!