The Strange Love Triangle Kristen Wiig Was In With Drew Barrymore
Jeff Kravitz, Presley Ann/Getty Images
Kristen Wiig and Drew Barrymore are romcom queens with not only an interesting friendship, but an interesting history linked to their love lives, too. As a former child star, Barrymore has had her dating history followed by the press since her youth. From her first engagement at age 16 to her 2016 divorce from her third husband Will Kopelman, Barrymore has had to share it all, as noted by Mama Mia. Between making movies and co-parenting her two daughters with Kopelman, Olive and Frankie, Barrymore has come to a place of no longer wanting to date.
"Recently you said that you were swearing off men," Barrymore asked actress Jane Fonda during a September 2020 appearance on The Drew Barrymore Show. "Can I please talk to you about this? Because I think I'm there and have been there for the last five years. Why am I here, why are you here, what's happening?" After Fonda quipped "Who has time?" Barrymore explained her thoughts on dating after decades of failed romances. "I'm not closed for business but I have been in exactly that mentality for the last five years... Thinking, I just don't have the bandwidth... I can't fit it in!" 
Former teeny-boppers of the late 80s and 90s can remember Barrymore's past romances with the likes of Cory Feldman, Luke Wilson, and Tom Green. But, it was one of her flings during the early 2000s that helped her spark an unlikely friendship with an SNL star.
Drew Barrymore and Kristen Wiig's "wacky" friendship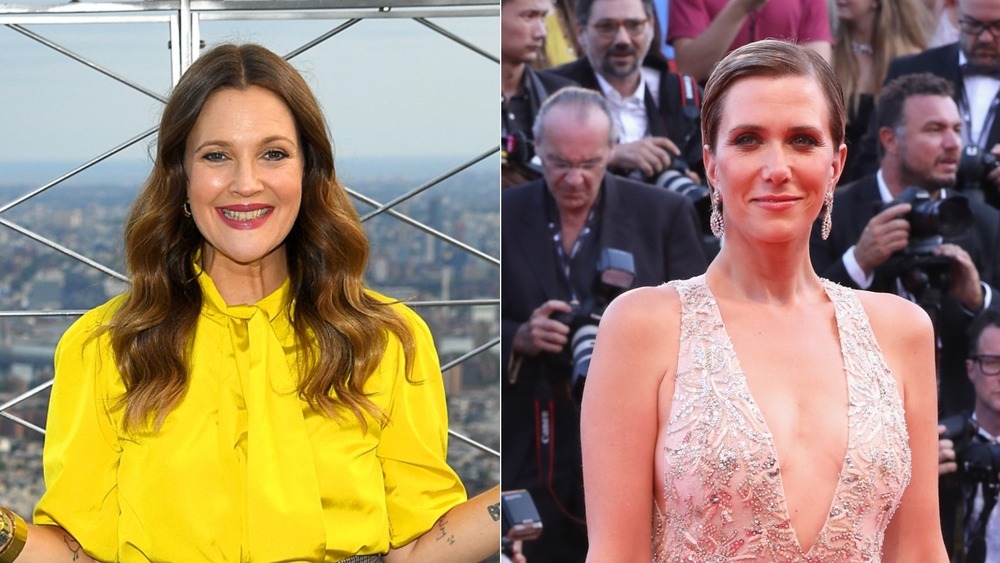 Dimitrios Kambouris, Elisabetta A. Villa/Getty Images
After dating a number of actors in the late 80s and 90s, Drew Barrymore switched it up in the early 2000s when she embarked on a five-year relationship with The Strokes drummer Fabrizio Moretti, Us Weekly reported. Following their 2007 split, the rocker was romantically linked with Bridesmaids star Kristen Wiig in 2011. While speaking with Allure in 2012, Barrymore opened up about how she and Wiig became close friends due to the ex-boyfriend they had in common. 
"It all seems so wacky and incestuous, but that's kind of how life works," the Charlie's Angels star explained. "It seems fitting that they would find each other. I was like, 'Right, of course, that makes perfect sense.'" Wiig and Moretti ended up calling it quits in 2013, per People. In August 2019, the Ghostbusters actress got engaged to her boyfriend of three years, Avi Rothman, per Us Weekly. Neither actress may be with Moretti anymore, but at least Drew Barrymore and Kristen Wiig have been able to remain friends through it all.