The Real Reason Why Jenelle Evans' Son Jace Now Lives With Her Full-Time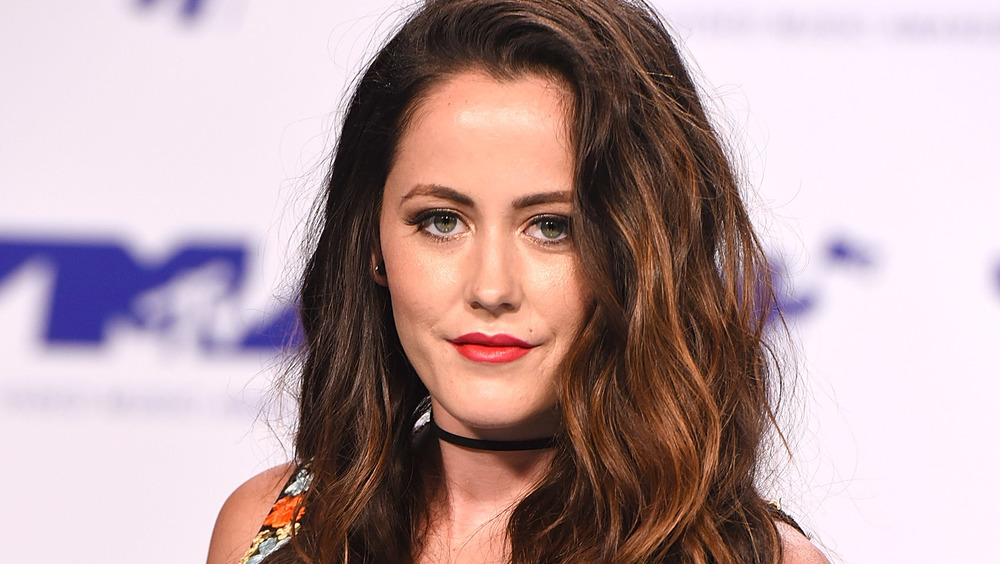 C Flanigan/Getty Images
For fans who have been following Jenelle Evans since she was on 16 and Pregnant back in 2010, we have now reached the day that many thought would never come: Her first-born son, Jace, is now living with her. Full-time.
"Jace has came and lived with us, you guys!" she announced in a YouTube video on Jan. 17, 2021, wearing a large grin on her face. "I know, it's exciting news!"
The former Teen Mom 2 star — who was fired from the show in 2019, according to The Sun, after her husband, David Eason, shot and killed their family dog, Nugget — spent close to a decade on the series, her tumultuous life playing out in front of the cameras.
One of the biggest points of contention in Jenelle's storyline was her desire to "get Jace back" from her mother Barbara, who has had custody of him since he was an infant. And now, it looks like it may finally be happening. Get the full story below.
Why is Jace no longer living with Barbara?
As longtime TM2 viewers know, Jenelle Evans has had her fair share of legal troubles and dangerous relationships. Fans saw the reality star deal with a heroin addiction, domestic violence, general instability, and frequent verbal altercations with her mom. And it was for all of these reasons — or any of them, at any given time — that Barbara refused to allow Jace to live with Jenelle. What changed in 2021?
According to Jenelle, Jace, now 11, was "misbehaving" too much over at his grandmother's.
"His behavior wasn't the best at my mom's house," she explained in the video, letting viewers know that Jace was aware she was talking about the situation on-camera. "We gave him many, many, many chances and told him he better behave, and my mom, she was fed up. ... And she called me and she said, 'Yeah, that's it. He's misbehaving again. I don't know how he's going to do his schoolwork and pass if he keeps it up.'"
As a source told The Ashley's Reality Roundup, Barbara's decision to let Jace live with Jenelle "has way more to do with Jace than Jenelle."
"Barbara can't handle Jace anymore. They had been getting into really bad fights and Barbara is just done with it," they explained. "That's why she agreed to allow Jace to live with Jenelle. Things had gotten so bad between Barbara and Jace."
How do Jace (and Jenelle) feel about the situation?
Jace's move to his mom's house is worrying fans. Now that Jace will be living with Jenelle, that means he'll also be living with Jenelle's husband, David Eason (as well as his half-siblings, Kaiser and Ensley, and his stepsister, Maryssa). David has a history of violence: he and Jenelle temporarily lost custody of Kaiser, Ensley, and Maryssa in May 2019, after David killed Nugget, as per Radar Online. Jenelle left David in November 2019 and filed a restraining order against him, listing "11 times since 2017 in which she said David was allegedly physically or verbally abusive to her or the kids," according to The Ashley's Reality Roundup. (Jenelle later denied that David had been abusive towards her or the children, and reunited with him in 2020.)
And while Barbara has had an understandably contentious relationship with David, as of April 2020, the two were getting along — according to Jenelle, who told InTouch Weekly that her mom "finally accepts him."
As per The Ashley, Jace is "happy" about the move, according to an insider. Jenelle is, too, but is "disappointed that the reason that [Jace] finally came back is because Barbara couldn't handle him anymore, and not because Barb felt Jenelle had grown enough to get him back."
As for the actual custody agreement, Jenelle and Barbara have "split custody" for now, Jenelle said in her YouTube video.
If you or someone you know may be the victim of child abuse, please contact the Childhelp National Child Abuse Hotline 24/7 at 1-800-4-A-Child (1-800-422-4453) or contact their live chat services at www.childhelp.org/hotline.
If you or someone you know is dealing with domestic abuse, you can call the National Domestic Violence Hotline at 1−800−799−7233 or TTY 1−800−787−3224. You can also find more information, resources, and support at www.thehotline.org.