The Trump Family Member Twitter Is Concerned About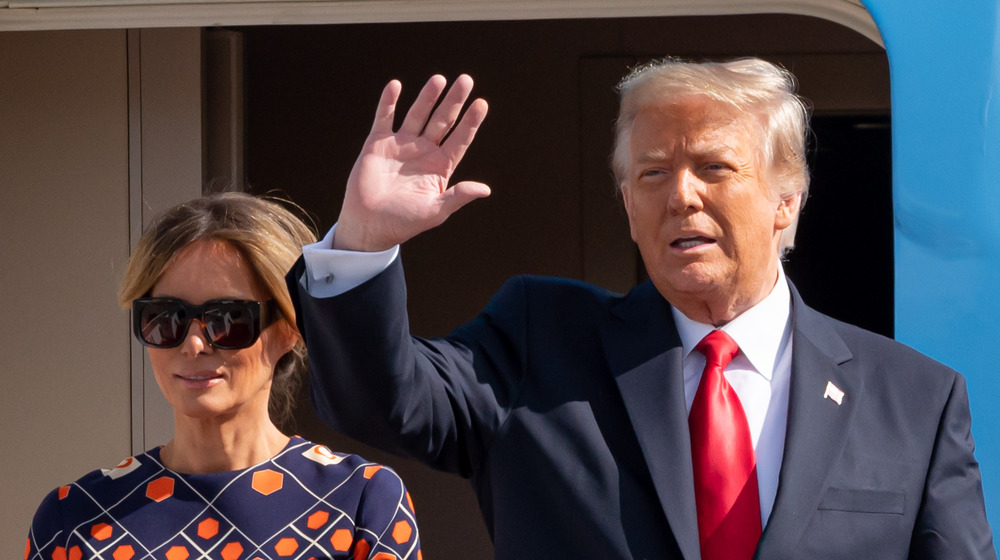 Noam Galai/Getty Images
When it comes to President Joe Biden's inauguration on Jan. 20, 2021, it was clear where former President Donald Trump and former First Lady Melania Trump were... or weren't. 
Yes, as Biden and Vice President Kamala Harris were being sworn in to the applause of audience members like Barack Obama and a mitten-clad Bernie Sanders, and to the stylings of Lady Gaga and Jennifer Lopez, the Trumps had flown home. Breaking from a 150-year-long tradition of attending a successor's inauguration, Donald and Melania Trump were soaring over states in Marine One, arriving at their permanent home of Mar-a-Lago in Florida before 11 a.m., per USA Today. So that's that. But people are still wondering where someone else was at the time. 
No, questions aren't swirling around Tiffany Trump, who interestingly enough announced her engagement to Michael Boulos on her father's last full day as president. Nor were people wondering about Donald Trump Jr., who was roaring on Instagram about how Joe Biden was like The Lion King's Uncle Scar (via The Daily Mail). In fact, per Yahoo!, every Trump family member was present, lining up for a photo-op as Donald Trump left the White House and made his final address before taking off. Every member except... one. Mostly shielded from the spotlight during the Trump presidency, 14-year-old Barron Trump, the youngest of Donald Trump's five children, was absent from goodbyes as the 45th president's reign ended. So where was Barron Trump? Hmm...
The internet wonders 'Where's Barron?'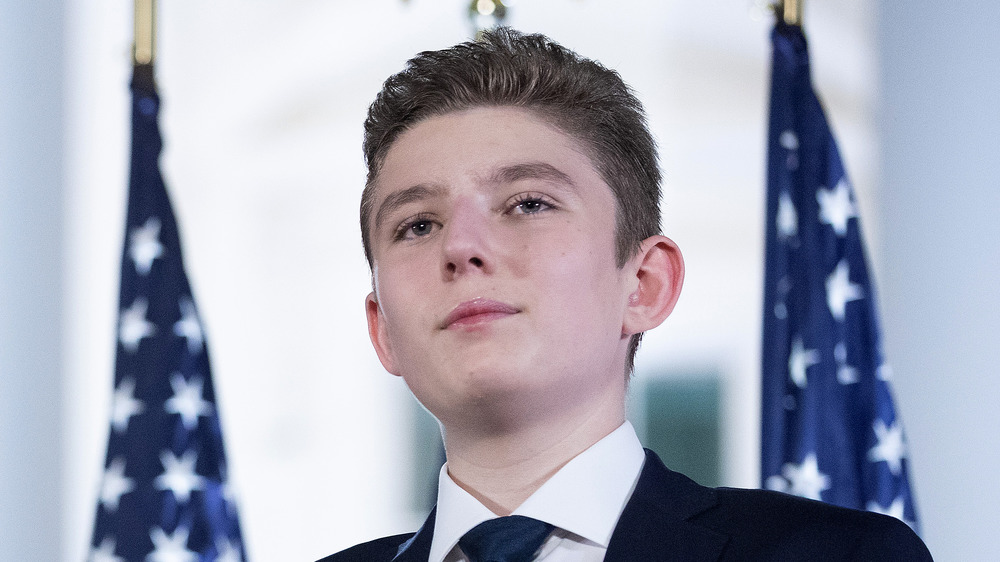 Chip Somodevilla/Getty Images
People on social media were certainly wondering where Barron Trump was on Inauguration Day, even as Joe Biden's inauguration proceedings began. "The real question is "where was #barrontrump today?" one Twitter user wrote. "Dude.. where is Barron? Trump's other kids and grandkids are there, but not Barron. That's... Unusual, right?" asked another. "This is a serious question. Where's Barron? Did they forget him? He never seems to travel with them," wrote a third. People weren't exactly barren with Barron theories either. Some users tossed around Home Alone referencing-accusations ("Where's Kevin?") while others joked that he would be staying with the Bidens at the White House. But really, it was worth asking where Barron was, since he was the only Trump not present as Donald Trump left office. Well, what do you know? The answer was in front of us this whole time. 
While many speculated that Barron Trump was at school (according to CNN, classes at Barron's St. Andrew's Episcopal School in Washington, D.C. were remote for much of 2020, but reopened recently), he actually was with the Trump family. According to People, Barron Trump was aboard Marine One, he was just absent for the photo-op. Maybe he was busy with schoolwork on board, or maybe the ninth grader just didn't want to be in the public eye. Regardless, the case is (seemingly) closed and we know where Barron Trump was!