Rudy Giuliani's Tweet About The Inauguration Is Getting Attention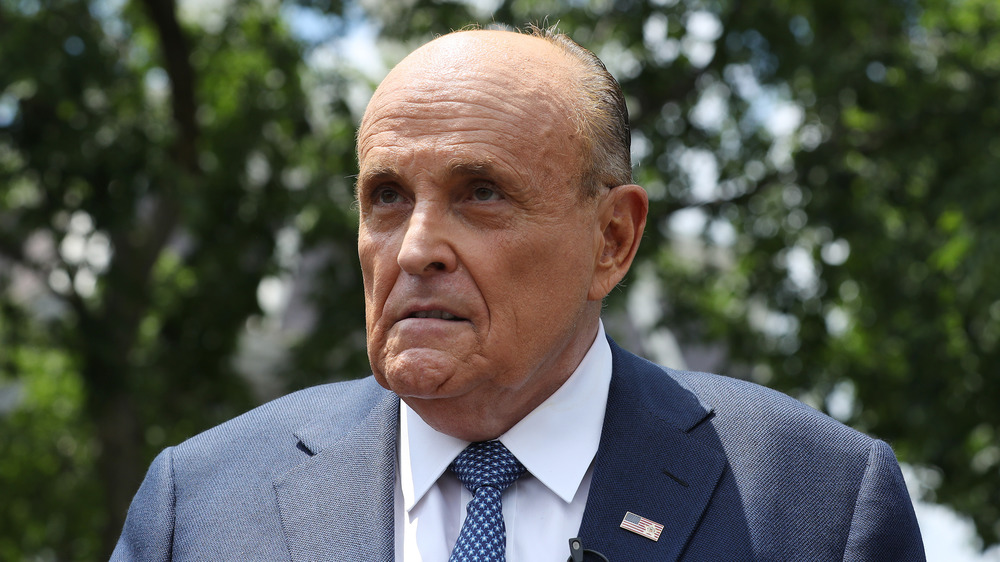 Chip Somodevilla/Getty Images
Former president Donald Trump flew from Washington, D.C. to his home at Mar-a-Lago in Florida on Jan. 20, 2021, after delivering a farewell speech that caused a big stir. Trump left with his wife, Melania Trump, who wore a remarkable outfit on her last day as first lady. Literally up until their last moments in the White House, the Trumps were making headlines.
Trump did not attend President Joe Biden's inauguration on Jan. 20, 2021, according to Time, rupturing a long tradition in America of passing on the torch to one's political successor. But Trump was never one to genuflect to tradition throughout his presidency, anyway, so it was to be expected.
With the departure of Trump comes the departure of another fixture of his term in office: Rudy Giuliani. Trump's personal lawyer was a major sidekick to Trump and perpetuated, as CNN points out, Trump's fraudulent claims of a stolen election. Despite being proven false, Giuliani has continued to be active with claims and statements about election "fraud," and, unlike his employer, still has access to Twitter. Using this medium, he made a statement about the inauguration that's a riot in the Twitterverse.
Twitter takes down Rudy Giuliani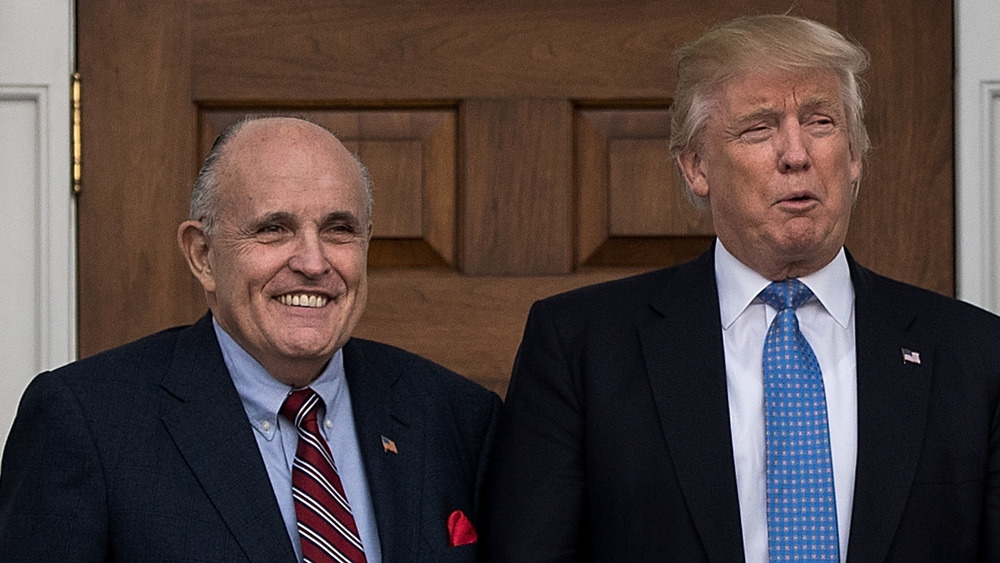 Drew Angerer/Getty Images
Rudy Giuliani jumped on Twitter on Jan. 20, 2021 to make a statement about former president Donald Trump and his era in the White House.
"As the clouds of hatred recede and time lets the light of reason prevail. History will record Trump as one of our greatest Presidents. Great achievements foreign and domestic, despite unprecedented opposition. Thank God for the grace He bestows on the United States of America," Giuliani tweeted.
Well, anyone who's been on Twitter for slightly more than a split second will be able to predict that such a tweet from such a man at such a time will be explosive. And it sure was. "He's so great he was Impeached twice, lost re-election, lost the house, and lost the Senate," one Twitter user sarcastically responded.
Another person replied, "Great Presidents don't get impeached twice and lose re-election by a landslide." Yet another person decided to call out Giuliani on his tweet by saying, "The delusion continues. He is leaving office with the lowest approval rating of a 1-termer since approval ratings began being tracked. Great legacy."
Someone else got sassy and creative with the tweet: "You're going to Jailiani." Meanwhile, another person had to begin their comment with a question: "Grace? If Trump had an ounce of grace he would have conceded and attended the inauguration." Who needs a Netflix account when you have Twitter?