Why Kamala Harris' Great-Nieces Wore Leopard-Print Coats On Inauguration Day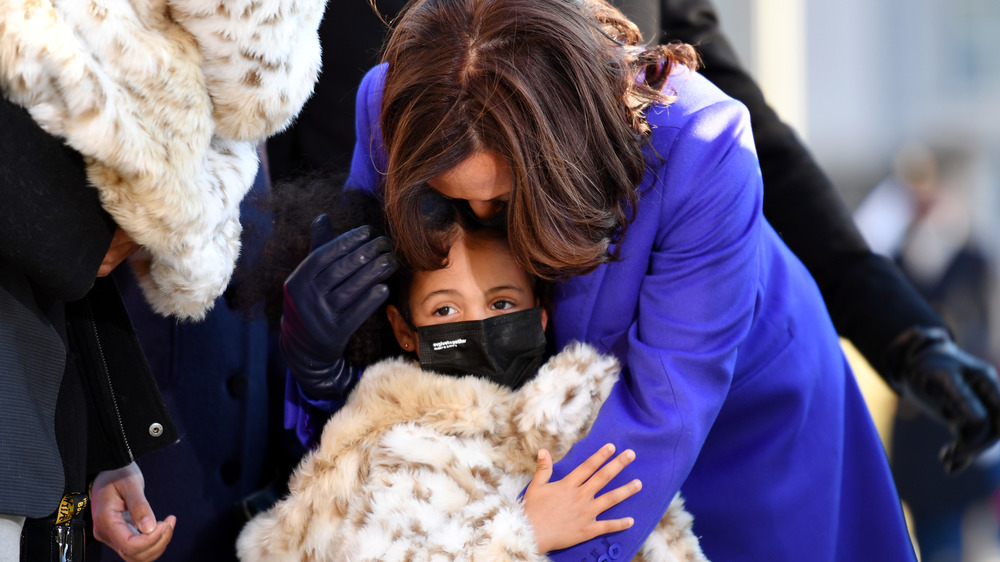 Mark Makela/Getty Images
They say imitation is the most sincere form of flattery, and that statement appears to ring true — especially when it comes to Madame Vice President Kamala Harris and the many women who eagerly and enthusiastically lap up every bit of fashion sense they can siphon from her. 
While many opted to honor Harris by donning their finest pair of pearls and their cleanest pair of Converse on 2021's historical inauguration day, her grand-nieces, Amara and Leela, went a different route. "Special coats to look just like Auntie's," their mother and the VP's niece, Meena Harris, posted on Instagram along with a photo of the young girls hamming it up in matching leopard print coats juxtaposed with a throwback photo of their great aunt and now Vice President of the United States also wearing a long leopard print coat. According to Yahoo! News, the throwback photo Meena posted included the then-future vice president posing with her sister, Maya Harris, her mother Shyamala Harris, and her grandparents P.V. and Rajam Gopalan.
But they weren't the only family members to dress for the occasion! Keep reading after the jump to learn how the rest of the Vice President's family showed their unwavering support for her.
Kamala Harris' family members fashion choices are now trending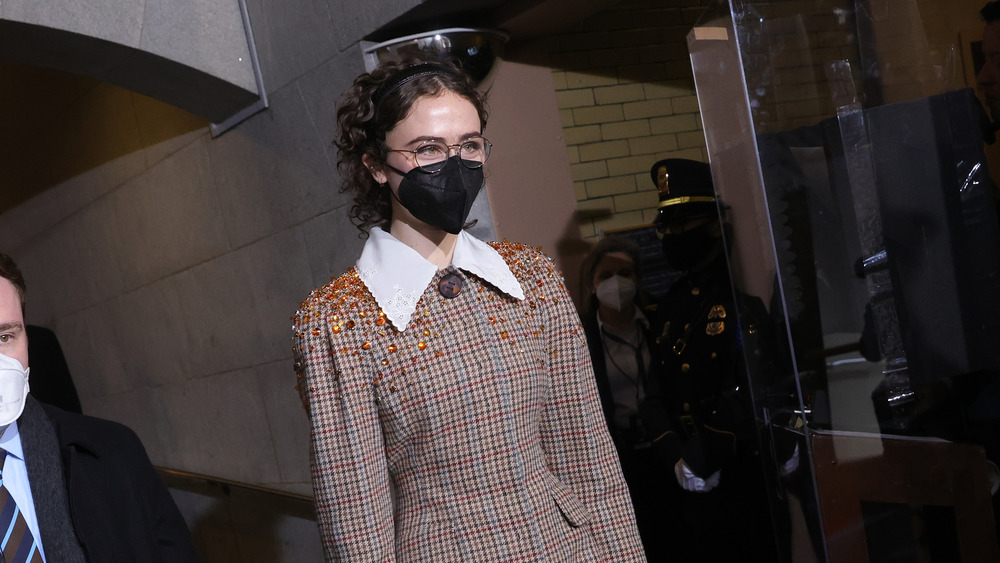 Win Mcnamee/Getty Images
Vice President Kamala Harris' stepdaughter, Ella Emhoff, also showed up and showed out on Inauguration day sporting a plaid coat encrusted with jewels, as reported by Today. Underneath the head-turning coat, Ella opted for a high-collar burgundy dress complete with puffed sleeves. 
Meanwhile, Vice President Harris' niece, Meena Harris, donned a long green dress of the same cut. "This wasn't planned but I'm very excited about it!" she penned in an Instagram Story alongside a picture of her and Ella in their similar dresses. Meena's husband, Nikolas Ajagu, also turned heads arriving at the special event in a pair of Air Jordan sneakers. When asked on Twitter about the type of shoe, Meena confirmed that they were indeed the highly sought after Dior 1's. In another tweet, she cracked a joke after noticing that her husband's fashion choice had gone viral. "I step away from Twitter for less than an hour for the inauguration ceremony and Nik's shoes are #1 trending????? I cannot," she teased.
It looks like today was a win for the entire Harris family!