Inside Michelle Obama And George W. Bush's Friendship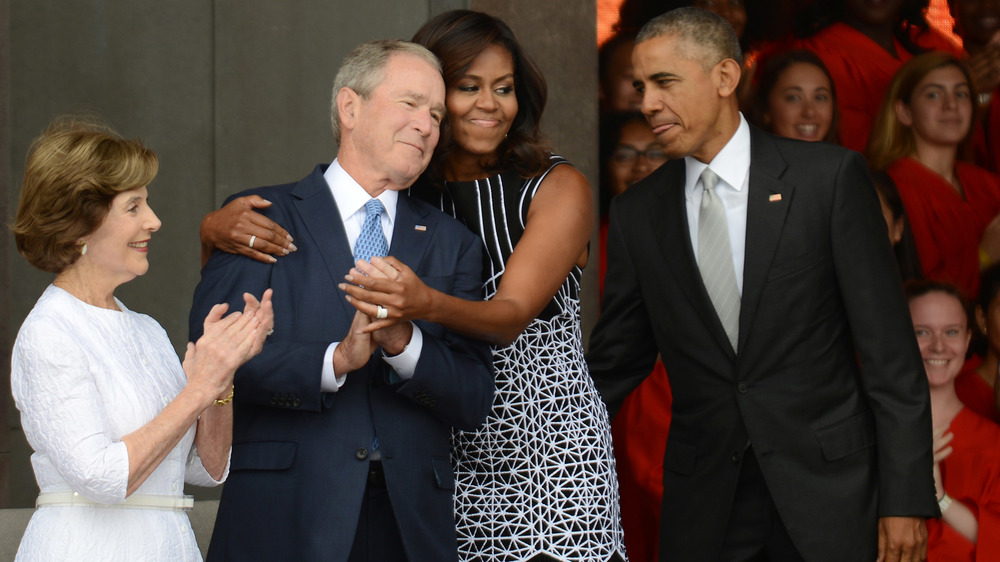 Astrid Riecken/Getty Images
Michelle Obama is beloved among many in the Democratic party, but the former first lady hasn't shied away from crossing partisan lines when it comes to her friendships. In fact, one of her most unexpected and prominent friendships dates back to 2009, when Michelle was seated next to former President George W. Bush at her husband, Barack Obama's inauguration. "President Bush and I, are forever seatmates because of protocol. That's how we sit at all the official functions," Michelle explained during a Today Show appearance in 2018. "So he is my partner in crime at every major thing where all the formers gather."
The surprisingly logistical reason for the basis of their 'ship has blossomed into a genuine love for one another. "I love him to death. He's a wonderful man," Michelle added during the same Today Show segment. The obvious goodwill between the pair meant that fans were excited to see these two "formers" reunite on Jan. 20, 2021, at Joe Biden's inauguration in Washington, D.C. And in typical fashion, both appeared in great spirits as they chatted together. Even their face masks couldn't hide the fact that they were all smiles! 
So in honor of this bipartisan friendship, let's take a look at how Michelle Obama and George W. Bush became so close. (After all, this relationship transcends mere seating arrangements!)
George W. Bush and Michelle Obama share the same humor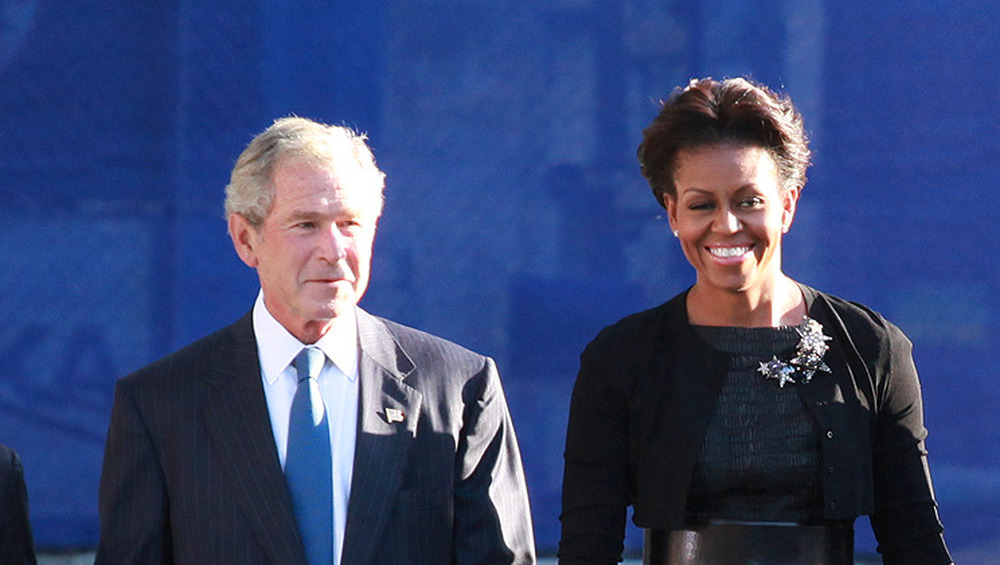 Pool/Getty Images
Though George W. Bush and Michelle Obama seemed to hit it off right from the start, their friendship didn't go viral until September 2018. At the time, Arizona Sen. John McCain had died from brain cancer, and family members and politicians — such as Obama and Bush — had gathered to pay their respects. In a moment that will live on in internet fandom forever, Bush covertly passed a cough drop Obama's way. "It was a simple gesture," Michelle told The Today Show, but clearly a heartfelt one. Just a few months later, Bush proved that Obama was never far from his thoughts when he proactively offered her a mint at his father, George H.W. Bush's funeral in November 2018, according to a tweet from Entertainment Tonight. 
Fresh breath aside, it's clear these two share a special bond rooted in mutual values. "We disagree on policy, but we don't disagree on humanity. We don't disagree about love and compassion," Obama shared with The Today Show in 2019. Bush, who feels similarly, opened up to People about his admiration for the former FLOTUS. "She kind of likes my sense of humor. Anybody who likes my sense of humor, I immediately like," Bush explained, adding, "We [the Obamas] just took to each other." 
The fact that the Obamas and Bushes get along, even from opposing sides of the political aisle, is pretty neat.