The Truth About Garth Brook's Supposed Hair Plugs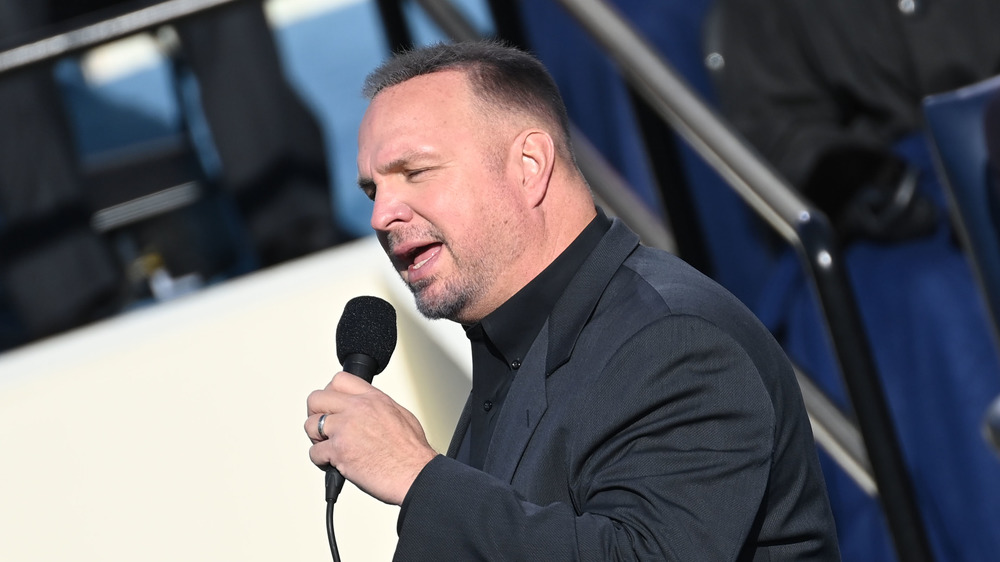 Pool/Getty Images
All eyes were on Joe Biden when he was sworn in as the 46th President of the United States, but that attention was briefly diverted when Garth Brooks took the stage to perform "Amazing Grace." The iconic country star belted out a lovely rendition of the hit tune at President Biden's inauguration on Jan. 20, 2021.
Brooks was one of the many singers to perform at the historic ceremony at the U.S. Capitol, NPR noted. Lady Gaga kicked off the event on Wednesday afternoon when she sang "The Star-Spangled Banner," just moments before Biden and Kamala Harris were sworn in as the new president and vice president, respectively.  Jennifer Lopez also serenaded the crowd with her performance of Woody Guthrie's "This Land is Your Land." Nearly a minute and a half into the song, she began belting out "America the Beautiful" before singing a part of her own song, "Let's Get Loud."
When it was time for Brooks to take the stage, eagled-eyed fans were more preoccupied with the country crooner's hairdo rather than his singing talents. Viewers noticed the Grammy winner was sporting a fresh 'do, but does that mean he really got a hair transplant? Keep scrolling to find out why the internet is buzzing.
This is why the internet thinks Garth Brooks got hair plugs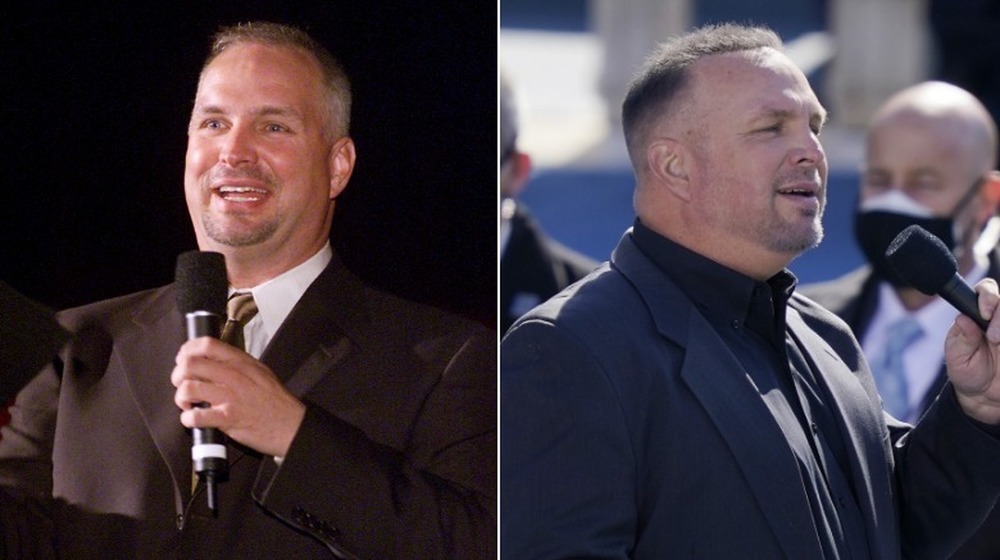 Kevin Winter, Drew Angerer/Getty Images
Garth Brooks raised suspicion that he received a hair transplant after debuting a much fuller and darker head of hair during President Joe Biden's inauguration. The internet didn't hesitate to raise questions around Brooks' potential hair plugs when he took off his signature cowboy hat midway through his performance.
"Someone has to say it. Garth Brooks has great hair plugs," one user wrote on Twitter. After comparing the "Friends in Low Places" artist's hairstyle from now to back in the day when his mane appeared much more sparse, another fan tweeted, "Wait, Garth Brooks has had hair under that hat this entire time?" A third Twitter user joked, "I can think of no greater symbol for our nation than Garth Brooks' singing amazing grace while the wind gently blows through his hair plugs."
Although photos of the country legend seemingly prove the theory of his updated 'do, Brooks has yet to comment on whether he got hair plugs. Instead, he offered the inspiring reason why he accepted the invitation to perform at the inauguration. During a press conference just days before, Brooks said he welcomed the opportunity not as a "political statement," but as a chance "to serve," according to ABC News. He proclaimed, "I might be the only Republican at this place, but it's about reaching across and loving one another. "[I'm] so tired of being divided."