The Reason The Internet Is Going Bonkers Over Jennifer Lopez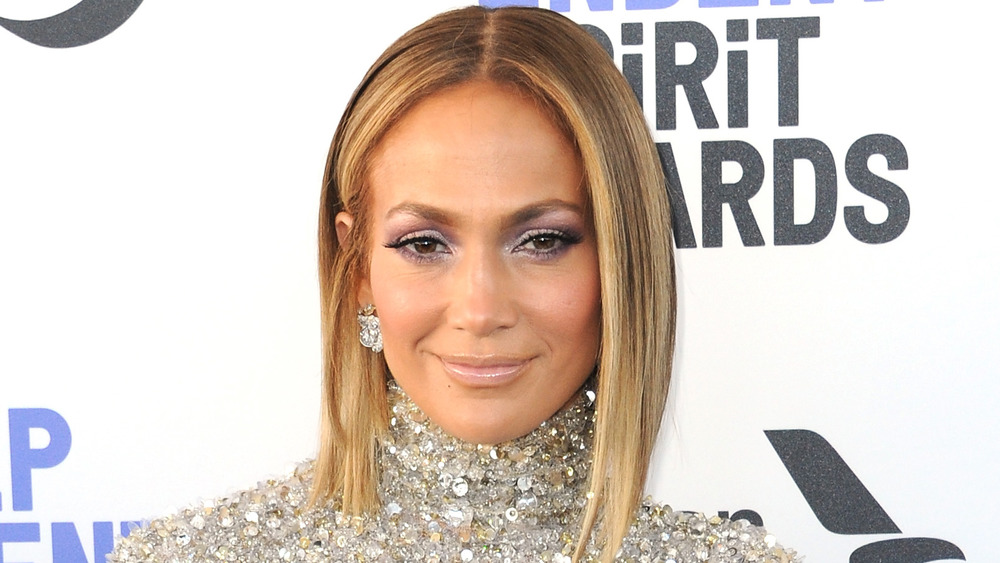 Albert L. Ortega/Getty Images
Of course, the biggest news to come out of the 2021 inauguration is that Joe Biden is now the president of the United States and Kamala Harris is now the vice president. Aside from those two very major things, there is actually so much more to discuss about the big day, including the speeches, the limited guest list (which included the Obamas), the outfits (coordinating face masks included), the traditions that took place (and the traditions that didn't occur this time around) and the musical performances. There really is a lot to break down, analyze and meme. 
Lady Gaga – a very vocal Bidden supporter throughout his 2020 campaign — sang the national anthem, "The Star Spangled Banner." After she slayed her performance, Jennifer Lopez took the stage wearing an all white Chanel number and who could miss the huge sparkler on that finger from fiancé Alex Rodriguez, per the New York Post.
When she grabbed the microphone, the singer started to belt out the American classic "This Land Is Your Land." Then, the performance shifted to another iconic song, "America the Beautiful," which was on the agenda and very much expected. However, Lopez surprised everyone watching the performance when she threw a snippet from one of her own songs, "Let's Get Loud," into the middle of the medley. That was a very personal touch. And just like any other major event these days, there were plenty of people who shared their live reactions on social media about JLo's ode to her own music.
Jennifer Lopez surprised everyone at the inauguration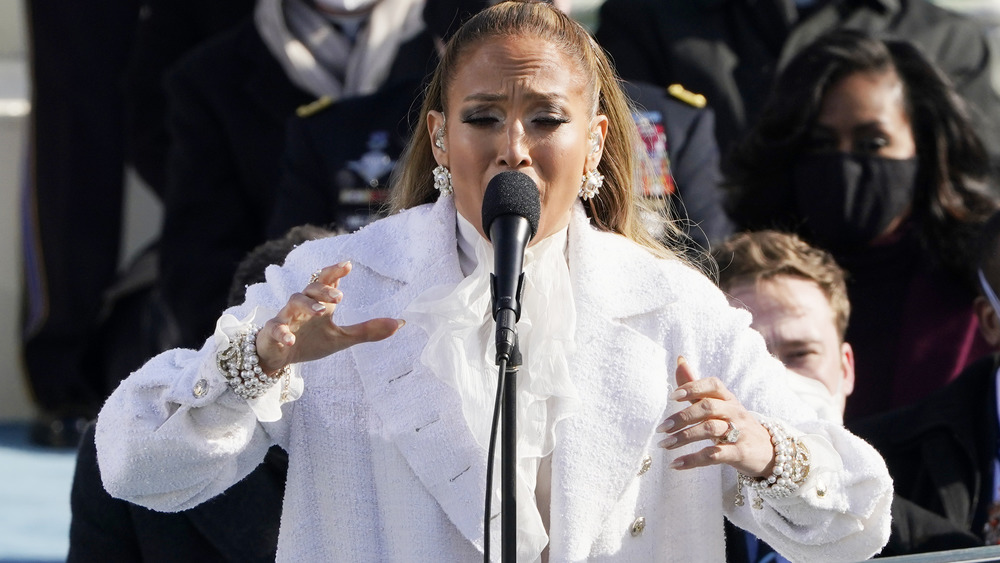 Pool/Getty Images
Thanks to the face masks, it was unclear if anyone had a meme-worthy facial expression while Jennifer Lopez sang "Let's Get Loud" at the inauguration. However, the people who watched from home certainly had a lot to say about it. One Twitter user commented that she was "rewriting 'This Land Is Your Land' as a JLo greatest hits medley." Someone else described Lopez's medley as "the most chaotic thing [they'd] ever seen." A different person admitted to "crying laughing at that let's get loud."
One person asked, "If JLo could sneak 'Let's get loud' into her inaugural performance I'm just really confused as to why we didn't get 'I wanna take a ride on your disco stick' in Gaga's National Anthem??" That would have been a very interesting remix, that's for sure. Although it didn't end up happening, someone tweeted, "I hope Garth [Brooks] drops 'Friends in Low Places' in like J. lo did 'Let's get loud!'" That would have been a truly iconic moment if he did slip that in.
One viewer was inspired by Lopez's surprising performance, declaring, "i'm slipping 'let's get loud' into any random statement from here on out." In fact, apparently more than one person felt that way, with someone tweeting, "you're nuts if you think i'm not shouting 'LET'S GET LOUD' at random moments for the rest of my life." All that being said, Lopez sampling her own track wasn't the only surprise from her performance. There was another moment that was also very special.
Jennifer Lopez honored her Puerto Rican heritage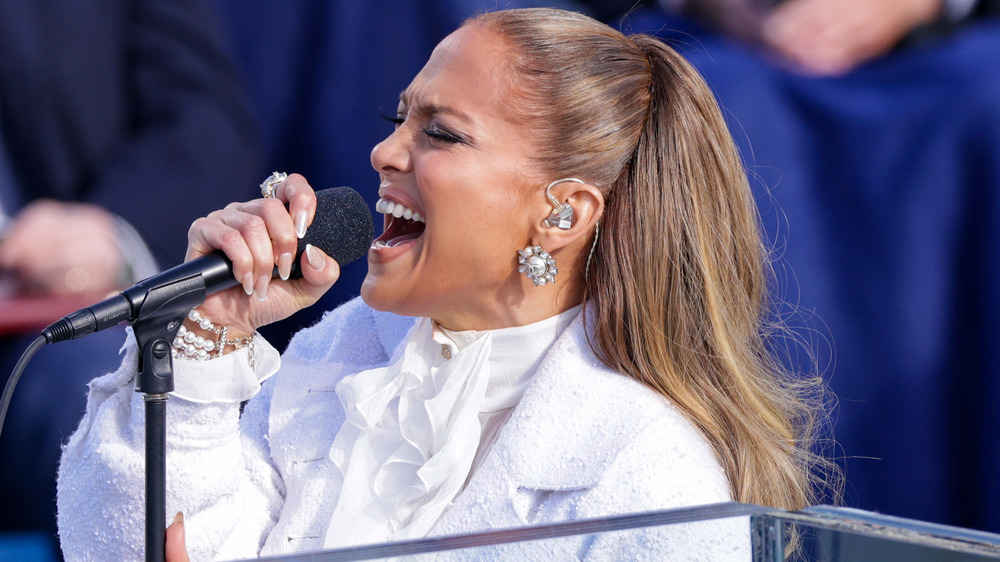 Alex Wong/Getty Images
In addition to singing at Joe Biden's inauguration, Jennifer Lopez took a brief moment to speak in Spanish, declaring, "Una nación, bajo Dios, indivisible, con libertad y justicia para todos" (via Instagram). That statement translates to "One nation, under God, indivisible, with liberty and justice for all."
Lopez, who is proudly of Puerto Rican descent, moved a lot of people by including that phrase when she was on stage. One Twitter user asked, "Did anyone else cry when JLO was singing and then gave a message in Spanish?" Apparently, yes. One person tweeted, "I literally cried when I heard her speaking Spanish." Another person admitted, "I just ugly cried when @JLo spoke Spanish mid song." 
Someone else wrote, "JLo throwing spanish in her [performance] WOW. im so happy rn." A different Twitter user shared, "Lady Gaga singing the national anthem after being a voice for the LGBTQIA+ community, Andrea Hall leading the Pledge using ASL as a Black Woman, and JLO performing and speaking in Spanish during it. This is America. I'm crying y'all."
This was far from the first time that someone sang "This Land is Your Land" or "America the Beautiful" at an event, but Lopez certainly put her own spin on the American classics with her very personal rendition. She threw in a little something for the long-time JLo fans and for the Spanish-speaking Americans during her performance, which was nothing short of historic.