Here's Why Tom Hank's Celebrating America Outfit Has People Talking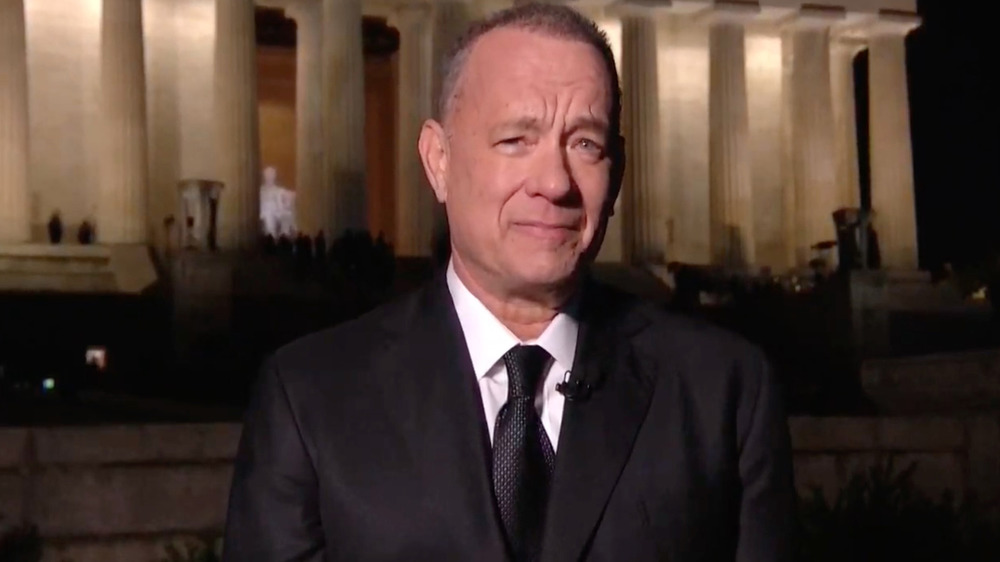 Handout/Getty Images
Someone pass Tom Hanks a sweater! The two-time Oscar winner hosted the post-inauguration Celebrating America special on Jan. 20, 2021, introducing performances from artists like Jon Bon Jovi and Black Pumas. And although his outfit didn't look like anything out of the ordinary at first — Hanks wore a black suit with a dark tie and black gloves — it's what the actor didn't have on that has people talking. Namely, Hanks wasn't wearing a coat, even though Washington D.C. was around 34 degrees Fahrenheit at the time.
"Just watching Tom Hanks out there makes me want to turn up the heat here," tweeted historian Kevin Kruse. "I am loving this Inauguration special. But for goodness sake, can someone get @tomhanks a winter coat?" another person wrote. 
We get that the Forrest Gump actor wanted to look official, and the suit does look smart. But it's too cold to be outside without a jacket, no? As it turns out, many other people share that sentiment. 
Fans were worried about Tom Hanks' health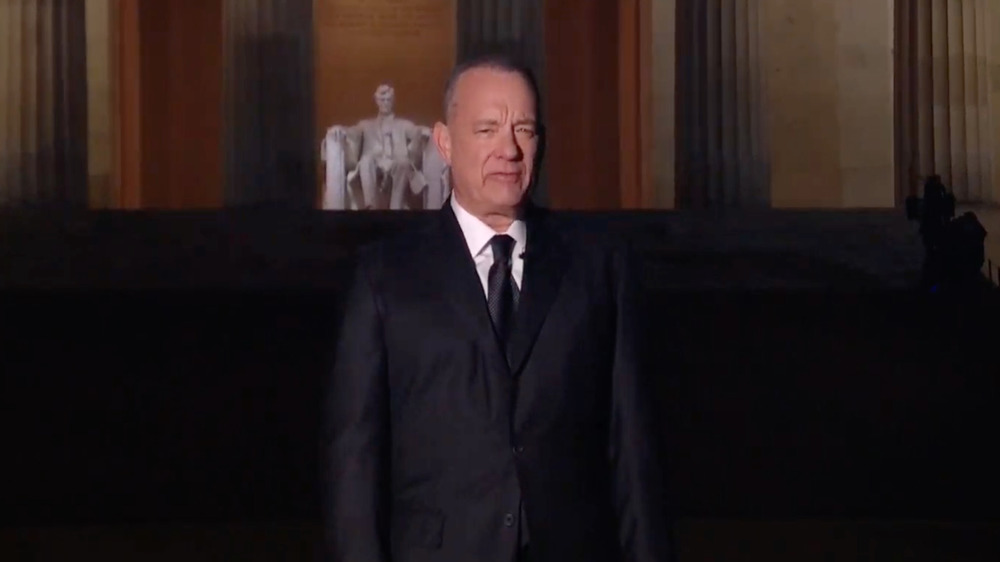 Handout/Getty Images
Tom Hanks was one of the first high-profile coronavirus cases, so it makes sense that fans are extra-concerned about his health as the pandemic continues. And because he's colloquially known as America's Dad, fans are worried about Hanks being out in the cold in front of the Lincoln Memorial all night.
"Ok but why isn't @tomhanks wearing a coat?! It's too cold out. Dad can't get sick," one fan tweeted. "I swear Tom Hanks better not get sick! Give that man a coat and a heater!" wrote another person. And some people couldn't resist bringing up the quickly-memed photo of Vermont Sen. Bernie Sanders at President Biden's inauguration. Sanders was keeping warm in mittens and a coat that was appropriate for the D.C. chill. "@BernieSanders please lend @tomhanks your coat and mittens," one fan tweeted. "I beg of you @BernieSanders please let Tom Hanks inside your puffy coat," another person tweeted.
Although Hanks will likely be fine, his lack of outerwear had some fans on edge, and arguably for a good reason.