Bernie's Mittens At The Inauguration Have More Meaning Than You Realized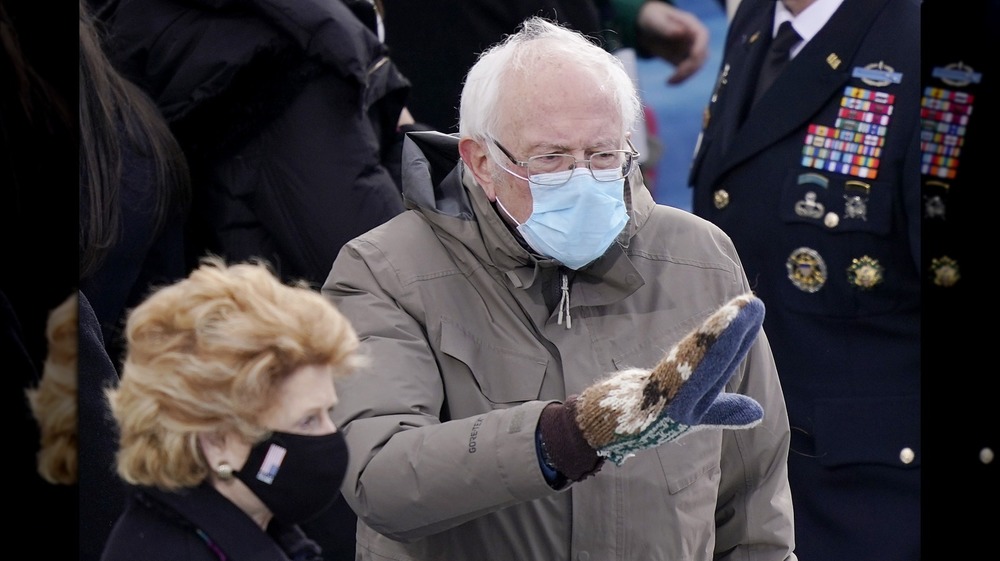 Drew Angerer/Getty Images
When U.S. Sen. Bernie Sanders arrived at President Joe Biden's inauguration looking like he was in line at the post office and not attending a formal historical event, people on the internet were immediately focused on his wooly mittens. As if Sanders' mittens and ski coat inaugural 'fit weren't on-brand enough, it turns out the story behind the mittens is maybe even more adorable than the senator himself.
The oversized "oven mitts" — the same Sanders often wore on the campaign trail — were made by Vermont teacher Jenna Ellis, who gave them to the senator as a gift two years ago. Ellis knit mittens for the staff at her daughter's daycare, which included Sanders' own daughter-in-law, Liza Driscoll, according to a report in The Boston Globe, and so Ellis decided to make a pair for Sanders as well. "I just put in a little note that was like, 'I believe in you, I've always believed in you and I hope you run again,'" Ellis said to Vermont newspaper Seven Days.
She reportedly used repurposed wool and fleece made from recycled plastic bottles, BuzzFeed reporter Ruby Cramer tweeted.
Bernie Sanders' mittens have gone viral before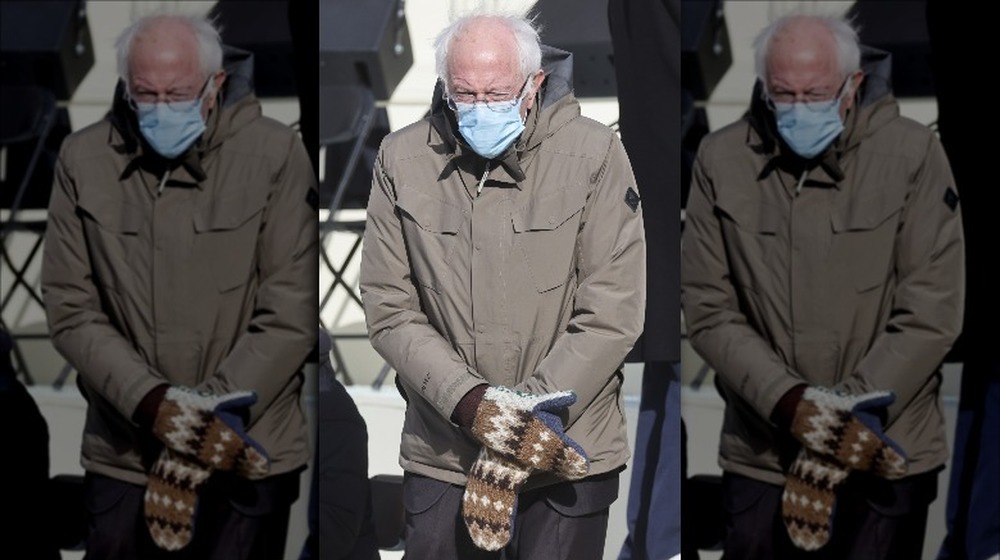 Pool/Getty Images
This isn't Bernie Sanders' mittens' first brush with viral fame. When Sanders began wearing them while running for president in 2020, they became so popular on the internet they even got their own Twitter account, @BerniesMittens.
Jenna Ellis, the Vermont teacher who knitted the mittens, was surprised to see Sanders wearing her mittens on the campaign trail. When she spotted a photo depicting him loaning them to a Pennsylvania woman who was giving him a tour, Ellis was inspired to knit ten more pairs and send them to the campaign staff to distribute, Vermont newspaper Seven Days reported.
Over the course of his political career, Sanders has gained a reputation as something of a one-man meme-generator, and his appearance at the inauguration was no different. The photo below of the cozily dressed Vermonter slumped in a folding chair with his arms crossed at President Joe Biden's inauguration is, as they say, a whole mood.
Sanders' choice of accessories may not have been the most glamorous of the day, but they definitely reflected who he is as a person and a politician, and isn't that what fashion is all about?
The pose. The mittens. The social distance. pic.twitter.com/kwHH7AzZY8

— Vulture (@vulture) January 20, 2021