What Alycesaundra And Giavanna From Toddlers & Tiaras Look Like Now
Ten years ago, we gawked at the garish costumes, over-the-top stage parents, and quirky personalities of little pageant queens on TLC's Toddlers & Tiaras. (Who could ever forget Honey Boo Boo?) Some found the pageant world explored by the reality show endearing, while others thought it exploitative.
Regardless, streaming service Discovery+ is taking a trip down memory lane and bringing fans and hate-watchers alike up-to-date with some of the show's most memorable contestants via a three-part special, Toddlers & Tiaras: Where Are They Now. "Join us behind the glitter curtain to see who can still perform old dance routines and squeeze into their sparkle-studded ensembles from yesteryear," notes a press release.
Two girls we're especially looking forward to catching up with are Alycesaundra and Giavanna Lyerly, aka "The Tiara Twins." They "were infamous for their over-the-top gowns, custom tour bus, bodyguard and their outspoken mom," Kelly, according to the press release. What are they up to now — and what do they look like? Keep reading after the jump.
"The Tiara Twins" still have ties to the pageant world but have branched out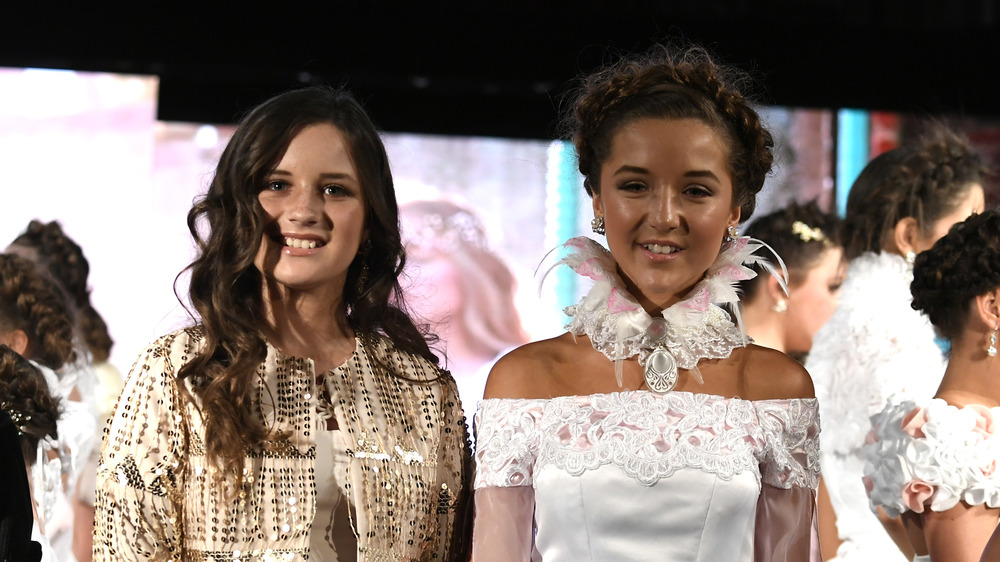 Arun Nevader/Getty Images
Although the South Carolina residents are still involved in the pageant world, 13-year-old twins Alycesaundra and Giavanna Lyerly (pictured above in 2019) have branched out into other hobbies as well, "including knives and crossbows," according to a press release for Toddlers & Tiaras: Where Are They Now.
Alycesaundra, an aspiring fashion designer, made headlines in 2019 when, at age 12, she debuted her fashions at New York Fashion Week, featuring her sister as a runway model, according to SC Now. She also models herself, recently debuting a new batch of headshots on The Tiara Twins Instagram.
Meanwhile, Giavanna seems to be more involved with the pageant world of their past, earning the title USA National Miss South Carolina PreTeen 2020 and competing in USA National Miss in fall 2020, according to their Instagram account. She continues to model as well.
They participate in charitable endeavors and advocacy, including The Salvation Army, Bullying Prevention Month, Christmas for Kids, which provides underprivileged children with holiday gifts, and Buddy Benches, where school kids can connect when feeling lonely.