The Photos In Joe Biden's Oval Office Explained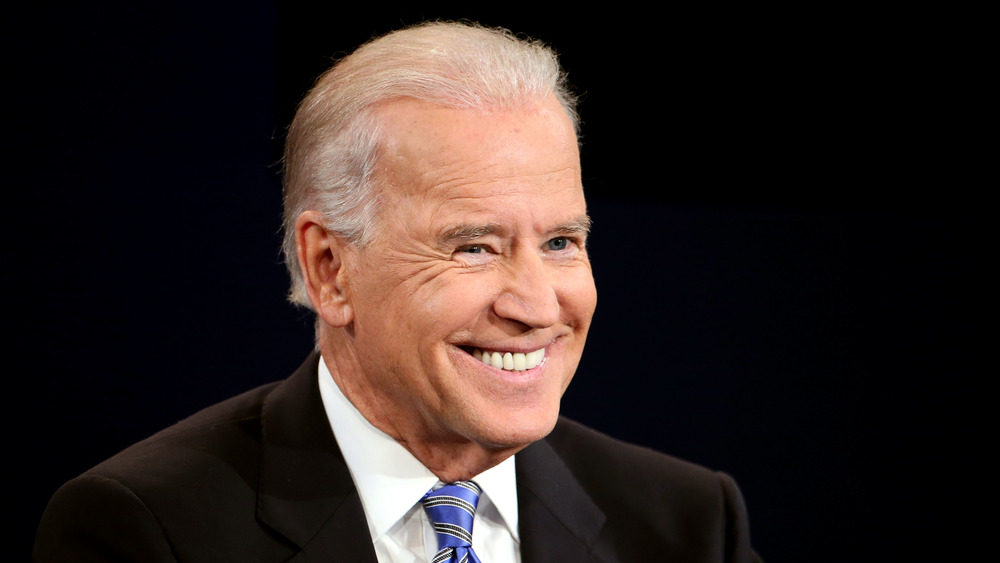 Chip Somodevilla/Getty Images
Out with the old, in with the new! Joe Biden, who was sworn in as the 46th President of the United States on Jan. 20, 2021, gave the press its first glimpse of the redesigned Oval Office hours after his Inauguration ceremony. The Oval Office was one of the many places in the White House that garnered interest because each president has his own distinctive style and taste of what his office should look like, while also reflecting the politics he intends to uphold through his work.
For Biden, his Oval Office reflects a more progressive presidency than his predecessor Donald Trump. As per the New York Post, Biden's office now features the "busts of the Rev. Martin Luther King Jr. and Robert F. Kennedy," as well as sculptures of Rosa Parks and Eleanor Roosevelt. Biden also has "an Allan Houser sculpture depicting a horse and Chiricahua Apache rider," according to CNN.
But that's not all. Biden has also kept memories of his family close to his heart in the Oval Office.
Joe Biden has framed family photos on his desk in the Oval Office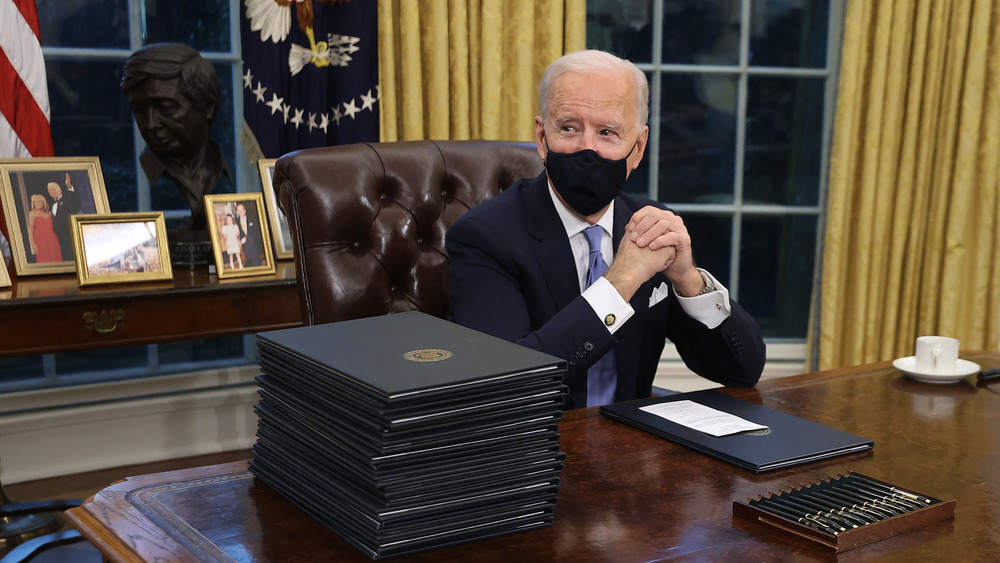 Chip Somodevilla/Getty Images
According to E! News, President Joe Biden placed framed family photos behind his Resolute Desk, among them featuring late son Beau Biden, who died of brain cancer in 2015. His eldest son "was a military veteran who served a year-long tour in Iraq and was a two-term Delaware attorney general before he died," reports the outlet.
One of the photos featured prominently was of Beau and his son Robert sitting on his shoulders. Beau joined and served in the military from 2003 to 2015, where he earned the rank of Major in the U.S. Army JAG Corps, in addition to being awarded the Bronze Star Medal for his service in Iraq (per Town and Country).
Beau was also featured in several other photos on the president's desk, including one from when he was a child. Other photos include the president posing with First Lady Dr. Jill Biden at his home state's Inaugural Ball in 2009 (via InStyle) after he was elected as vice president to former president Barack Obama. Biden's daughter, Ashley, son Hunter, and his grandkids also make appearances on and behind his desk.