How Joe Biden's Son Beau Was Honored During The Inauguration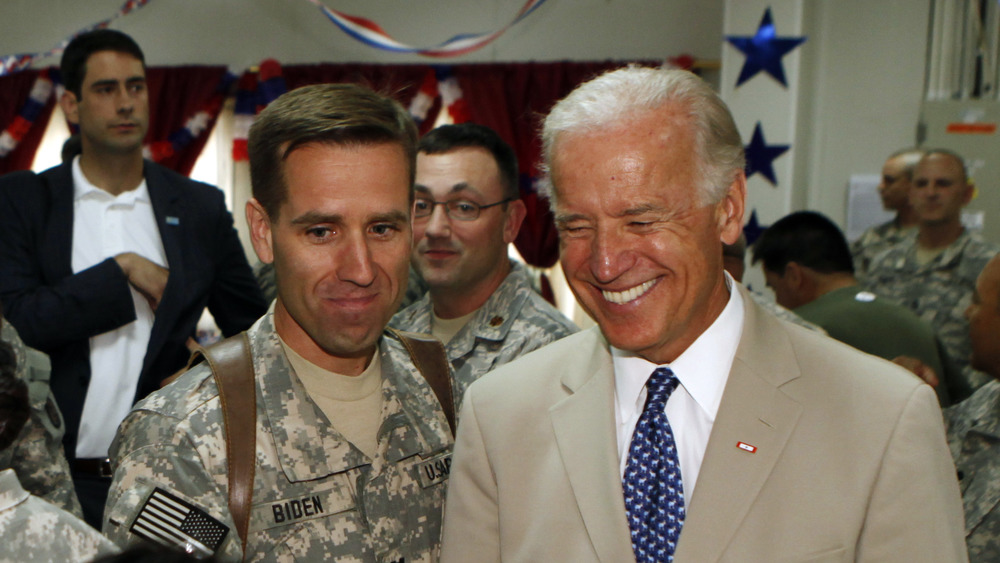 Pool/Getty Images
When Joe Biden was sworn in as the 46th president of the United States during the inauguration on Jan. 20, 2021, he was surrounded by his closest loved ones, including First Lady Dr. Jill Biden and their family. In spirit was his late son, Beau Biden, who died at age 46 in 2015.
From the moment President Biden announced his run for attorney general, he's kept his beloved child's memory close to his heart. The former vice president revealed he thinks of his late child every single day. "Every morning I get up ... not a joke ... I think to myself, 'Is he proud of me?'" Biden emotionally shared during an appearance on Morning Joe in January 2020 (via Business Insider).
The former United States senator also revealed Beau, who was a federal prosecutor and served 13 years in the Delaware National Guard and Army National Guard (via Town & Country), was the reason he remained dedicated to a career in politics. "He's the one who [said], 'Promise me, dad, you'll stay engaged,'" Biden recalled. "And it didn't mean I had to run for president, but he was worried I would walk away from what I've worked on my whole life since I've been 24 years old." 
Though Beau wasn't able to attend his dad's inauguration, his memory was still honored during the historical ceremony. Keep scrolling to see how Beau was commemorated as Biden was sworn into office.
Joe Biden's late son Beau received a special honor as his dad became president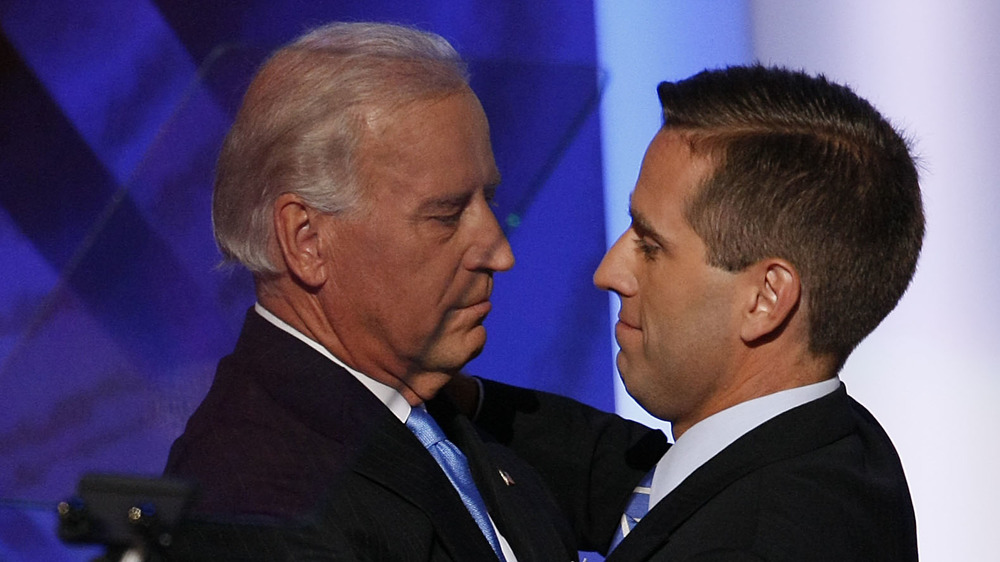 Mark Wilson/Getty Images
During Joe Biden's inauguration speech on Jan. 20, 2021, an unidentified man in a dark blue uniform was spotted paying tribute to Beau Biden (via USA Today). As the newly elected president addressed America at the U.S. Capitol, the lone soldier visited Beau's grave at St. Joseph on the Brandywine Church in Greenville, Del.
In a photo captured by Patricia Talorico, a writer for DelawareOnline.com, the uniformed male can be seen kneeling and clasping his hands. According to Talorico, he kept his head bowed throughout the entirety of Biden's speech. It also appears he was one of the only people in the cemetery aside from a few maintenance workers.
Just one day before making his highly anticipated address, Biden gave an emotional farewell speech to his home state of Delaware. While speaking at the Major Joseph R. "Beau" Biden III National Guard/Reserve Center — which was named after Beau after he died of brain cancer in May 2015 — he shared bittersweet words for his late child.
"Excuse the emotion, but when I die, Delaware will be written on my heart. We love you all," Biden said through tears before heading off to the White House, via Today. "Ladies and gentlemen, I only have one regret: [Beau is] not here. Because we should be introducing him as president."
It's clear Biden will continue to honor Beau's special legacy.