Why Twitter Is Buzzing Over An Inauguration Attendee's Shoes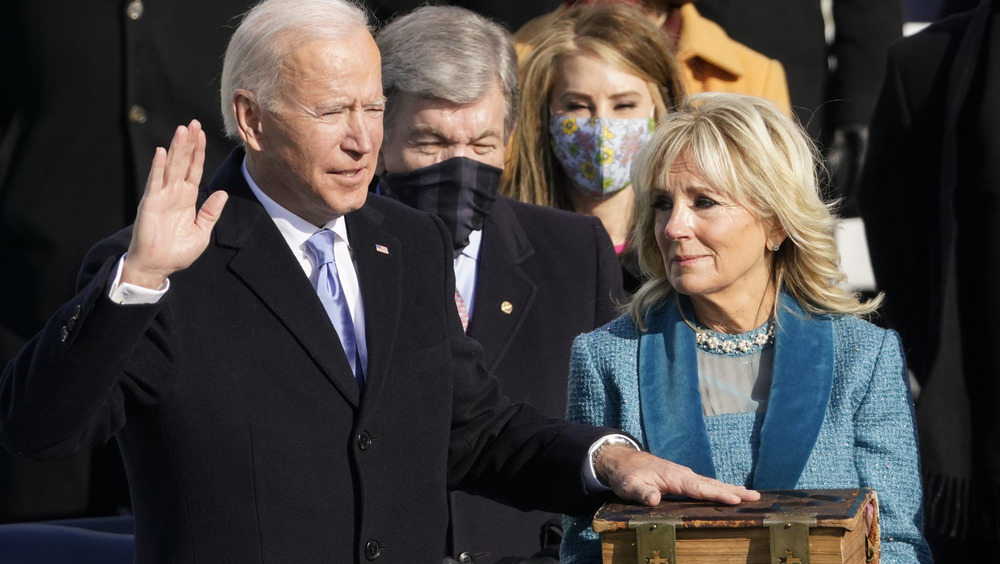 Pool/Getty Images
President Joe Biden's inauguration on Jan. 20, 2021, gave the public a lot to talk about. Understandably, many people were focused on the most buzz-worthy developments, such as who showed up (and who didn't), who said what, and how various attendees interacted with each other.
Of course, there was also a fair share of chatter about what people were wearing. Vice President Kamala Harris turned up in a striking purple ensemble that was just as meaningful as her pearls, and Jill Biden opted for a bright blue outfit, and "Michelle Obama's inauguration day outfit [was], in a word, iconic," according to Glamour. The vice president's stepdaughter, Ella Emhoff, also got people talking thanks to her super fashionable jacket.
But those weren't the only style-related moments that had people buzzing. During the occasion, those who watched from afar took notice when a certain someone popped up on the television screen. Or, to be more specific, the public noticed his shoes!
Kamala Harris' relative rocked some seriously enviable footwear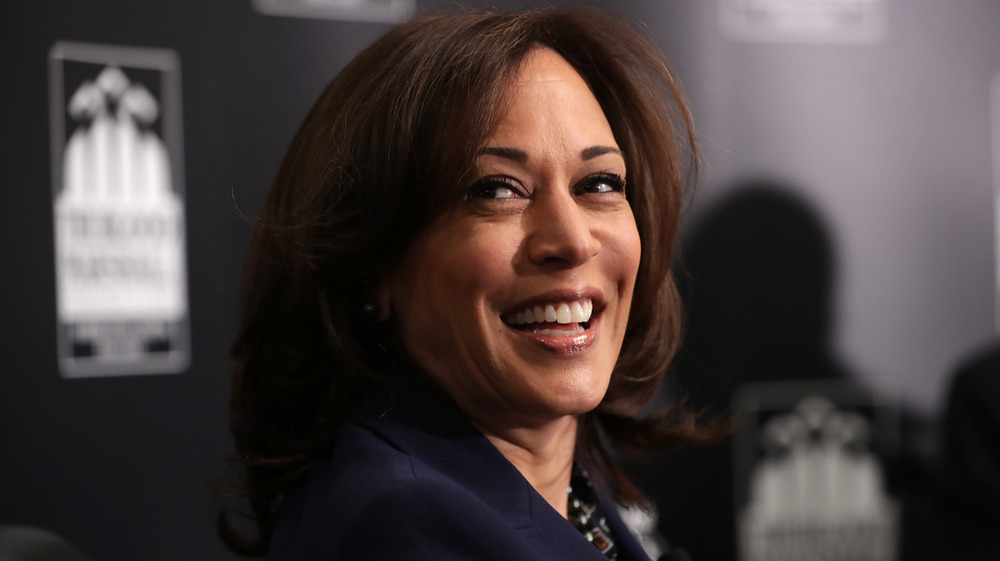 Chip Somodevilla/Getty Images
Special occasions usually call for attire that is just as special. Just think about how fancy everyone gets when it comes to proms, weddings, and other formal events. Although those who attend a presidential inauguration won't show up in a prom dress or a wedding gown, guests tend to wear outfits worthy of the occasion. That's perhaps why those who watched Joe Biden and Kamala Harris being sworn into office were surprised to spot someone wearing a rather unexpected (and buzz-worthy) pair of shoes.
The Nice Kicks Twitter account shared a photo that showed a person (whose face was out of view) walking downstairs with just their lower legs and feet visible. "Someone rockin' Dior Air Jordan 1s at the #InaugurationDay," they wrote. For those who are unaware, these specific shoes are both "expensive and rare," according to TMZ Sports. And Business Insider noted, "The low-top version of the Air Jordan 1 OG Dior sneakers retails for $2,000, while high-top version of the shoe goes for $2,200."
VP Kamala Harris niece, Meena Harris' partner. pic.twitter.com/RjcwBH8Lru

— Chels (@Chelseyland_) January 20, 2021
Other social media users immediately thought that they knew who the person behind the shoes was. "Kamala's niece's husband ... I think," one person tweeted. They then added, "Nikolas Ajagu is his name ... whole family getting fits off today!!" Someone else confirmed his identity, writing, "VP Kamala Harris niece, Meena Harris' partner." Another Twitter user went straight to Meena herself, asking, "is Nik wearing the Dior 1s?" Meena replied by tweeting, "Yes smh." Ha!