Nick Gordon Ordered To Pay Bobbi Kristina's Estate $36 Million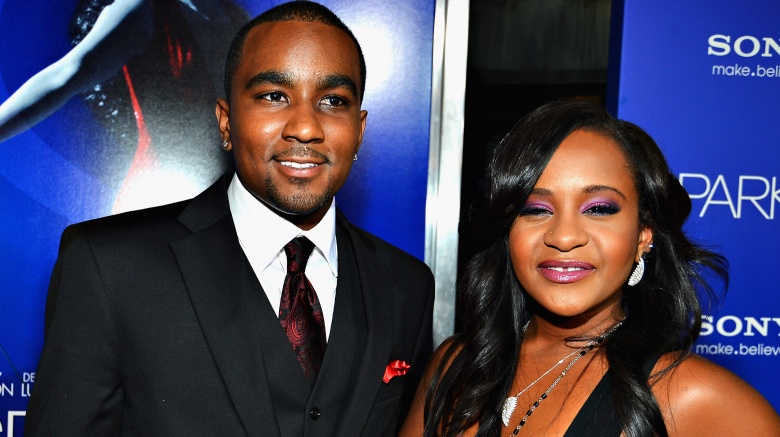 Getty Images
Bobbi Kristina Brown's former boyfriend, Nick Gordon, has been found liable for her death and ordered to pay her family's estate $36 million, People reported on Nov. 17, 2016.
Gordon was found legally responsible for Bobbi Kristina's death in September 2016 after failing to appear in court twice. The estate originally asked for $40 million when it filed its lawsuit against Gordon last year, TMZ reported, although People listed that number at $50 million in September 2016.
During the wrongful death trial, Bobbi Kristina's father, Bobby Brown, took to the stand to discuss the potential his daughter had before her death in July 2015. "[Bobbi Kristina] was an entertainer. If you were around her, all you would do was laugh. She told a lot of jokes. She was always the life of the party...and anywhere she went. I know she had the talent to be successful," he said, according to video footage obtained by TMZ.
According to reports, the $36 million judgment is divided into $1,575,041 for theft of her funds (plus an additional $250,000 for punitive damages), $1,370,877.52 for assault and battery medical damages, $13 million for pain and suffering (plus an additional $4.2 million because Gordon was found to allegedly be under the influence of drugs and alcohol), and $15,056,000 million for loss of life and future earning potential.
Brown told Us Weekly, "I am pleased with the outcome of today's court proceedings. I do know that Mr. Gordon will be unable to slander my daughter's name in the future or obtain any benefits from the use of Krissy's name. Finally, I do need for the District Attorney's Office to step up and begin the criminal prosecution of Mr. Gordon. The delay in that matter is of great concern to me and my family. We need for District Attorney Howard to act now."
Gordon hasn't commented on the verdict beyond tweeting a sad face. A source close to him told People, "Nick isn't in a good place right now. He doesn't have any money. This is symbolic more than anything, because they're not going to get anything from him. You can't get blood from a stone."
The insider added that Gordon will most likely file for bankruptcy. "That will probably be his next step, but I don't think he's thinking straight right now," the source admitted. "He is still in mourning for Krissi. This isn't going to bring her back, no matter what they think. They need to look into themselves to see what part everybody played in this, not just Nick. Everybody needs a lot of prayer."
Bobbi Kristina Brown, the only child of Bobby Brown and the late singer Whitney Houston, died on July 26, 2015, after she was found unresponsive in a bathtub inside her Georgia home in January that year. She was 22.