Chuck Schumer's Viral Senate Speech Blunder Has People Talking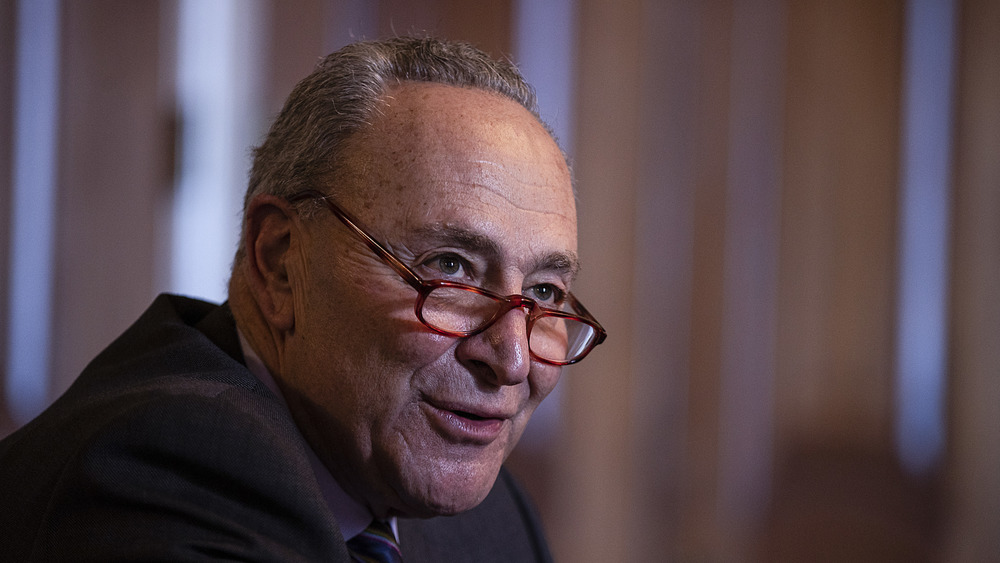 Tasos Katopodis/Getty Images
It's no secret that being a politician is hard and comes with many challenges, including having to make countless public speeches. Legislators can be forgiven if they commit a blunder on live television or in the United States Senate — one of the biggest stages in politics. The embarrassment, on the other hand, might be hard to live down. Just ask Senate Majority Leader Chuck Schumer.
The New York Democrat — and cousin to comedian Amy Schumer – made a hilarious gaffe while addressing the Senate on Jan. 22, 2021. Schumer was urging his colleagues to set a date for former President Donald Trump's impeachment trial on an article charging that Trump incited the deadly riot at the Capitol on Jan. 6, 2021. During his remarks, Sen. Schumer fumbled his words and went viral on social media. Keep reading to find out what Schumer said that has everybody talking.
Chuck Schumer said Donald Trump 'incited the erection'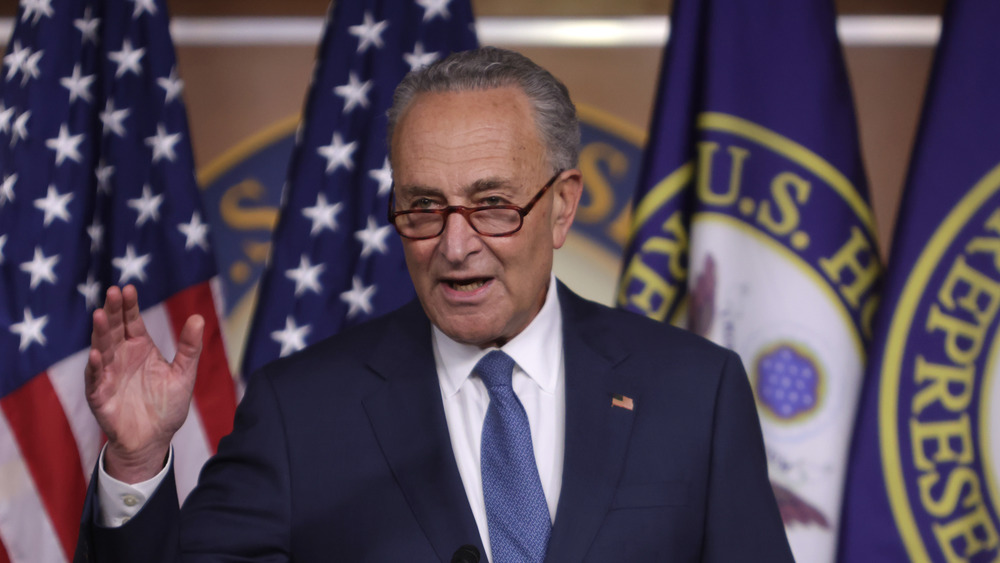 Alex Wong/Getty Images
During his remarks to the U.S. Senate, which was broadcast live on television, Majority Leader Chuck Schumer said, "Make no mistake: there will be a trial, and when that trial ends, senators will have to decide if they believe Donald John Trump incited the erection." The longtime legislator immediately realized his mistake and corrected himself to say, "insurrection against the United States."
Too late. That brief moment quickly went viral, with users and celebrities flooding Twitter with comments about how funny it was. "He incited the what?" former professional basketball player Rex Chapman tweeted, alongside a video of Schumer's slip-up. Comedian Ken Jeong tweeted, "Trump's erection was rigged." Other users reacted with assorted laughing GIFs. One Twitter critic wrote that mistakes like Schumer's happen when "you try to sound smart by using big words."
For his part, Schumer pursed his lips, perhaps realizing that his fleeting flub would live on in infamy on the internet.
He incited the what? pic.twitter.com/T57FrN2X0q

— Rex Chapman🏇🏼 (@RexChapman) January 22, 2021