Marc Anthony Separates From Wife Days After Kissing J. Lo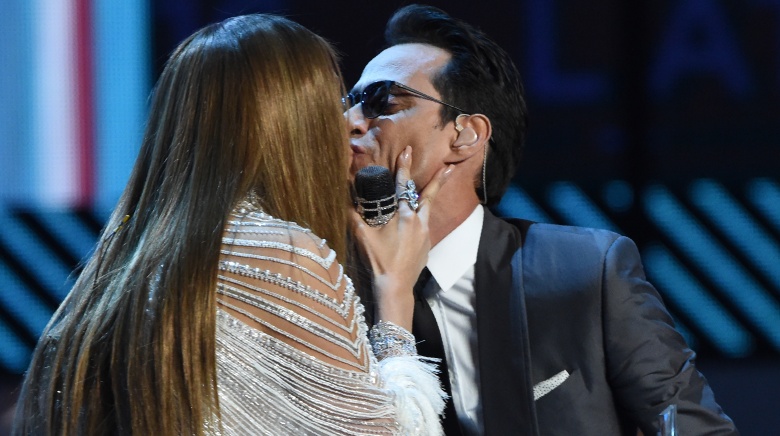 Getty Images
Marc Anthony is on his third failed marriage. The 48-year-old singer and model Shannon De Lima, 28, have separated after two years of marriage, E! News reported. Anthony and De Lima began dating in early 2012, about five months after he and ex-wife Jennifer Lopez announced their own separation in the summer of 2011.
People reported that Anthony and De Lima briefly split once before in 2013 before reuniting in his music video for "Flor Pálida" later that year.
News of the latest split emerged just days after Lopez, 47, kissed Anthony on the lips at the Latin Grammys when she introduced him as person of the year at the ceremony on Nov. 17, 2016. "You will always be many things in my life—a mentor, a soulmate, a father," she told him (via People). "He is not only a person of the year, he is a living legend," she said.
The tender moment occurred after the former lovers performed their new single, "Olvídame y Pega la Vuelta" at the award show. "He will always be a lot of things to me. He's my kindred spirit. My love," she said (via UPI). The audience reportedly chanted "beso (kiss)," and the former couple obliged with a peck on the lips, after which Anthony joked, "She's like my sister."
In his acceptance speech, Anthony noticeably left De Lima out of his acknowledgements, People noted, and focused just on his kids. "You have sacrificed—more than anyone—to see Daddy standing here after 30 years," he said from the stage. "You guys are living this moment with me. Alex, Arianna, Christina, Ryan, Max and Emme—I am yours."
Lopez told Access Hollywood (via the The Huffington Post) in September 2016 that she and Anthony remain close for their kids. "When we sing together, when they see us together, knowing our history, it brings a certain nostalgia. They know we care about each other and still love each other," Lopez said. "We have two kids together and they love to see that things are good between us."
Still, don't expect a reunion anytime soon between Lopez and Anthony. Though, as Nicki Swift previously reported, Lopez and beau Casper Smart split in August 2016, she and Anthony are reportedly strictly platonic. Lopez's longtime manager, Benny Medina, told TMZ that Lopez and Anthony are "absolutely, categorically, 100 percent not back together."