The Truth About Martha Stewart's Date With Larry King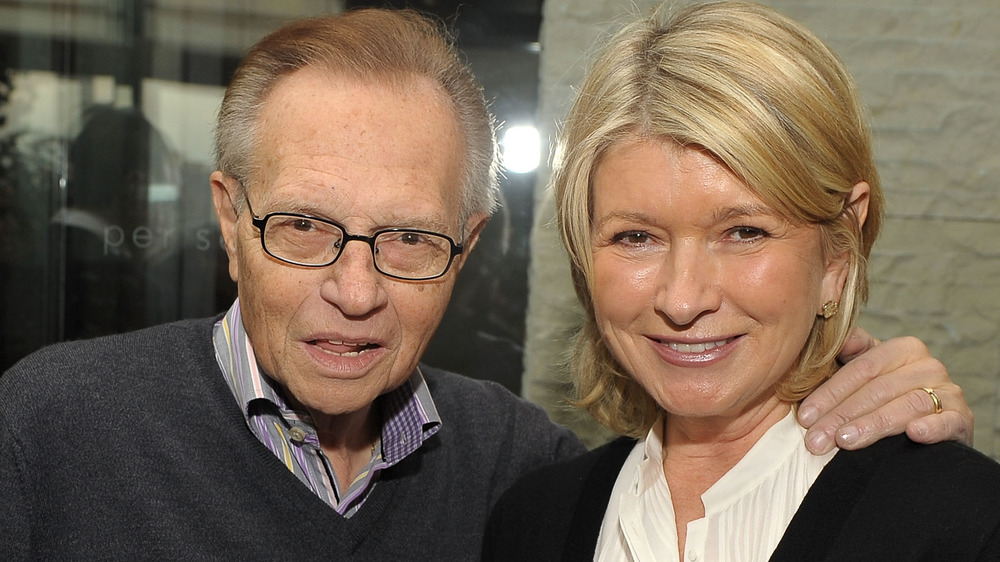 Stephen Lovekin/Getty Images
Martha Stewart is famous for being a respected television personality and the kind of star who has enjoyed a long and successful career on camera. The same can be said for the late Larry King. That's perhaps why it shouldn't be surprising that the two had a connection. When King died in January 2021 at the age of 87, Stewart took to Instagram to share a tribute.
"Dear @LarryKing. Rest In Peace. You were the iconic 'people person,' a very excellent interviewer and a hell of a guy!!!!" Stewart wrote. She also shared a photo of herself and King that showed the two standing next to each other with smiles on their faces while King's arm was around Stewart's shoulder.
Although it's clear that the two stars were fond of each other, it turns out that they could have been more than just friendly figures in the same business. In fact, they were once on the verge of a potential romance thanks to a date that wasn't exactly what Stewart was expecting.
Martha Stewart was confused about her date with Larry King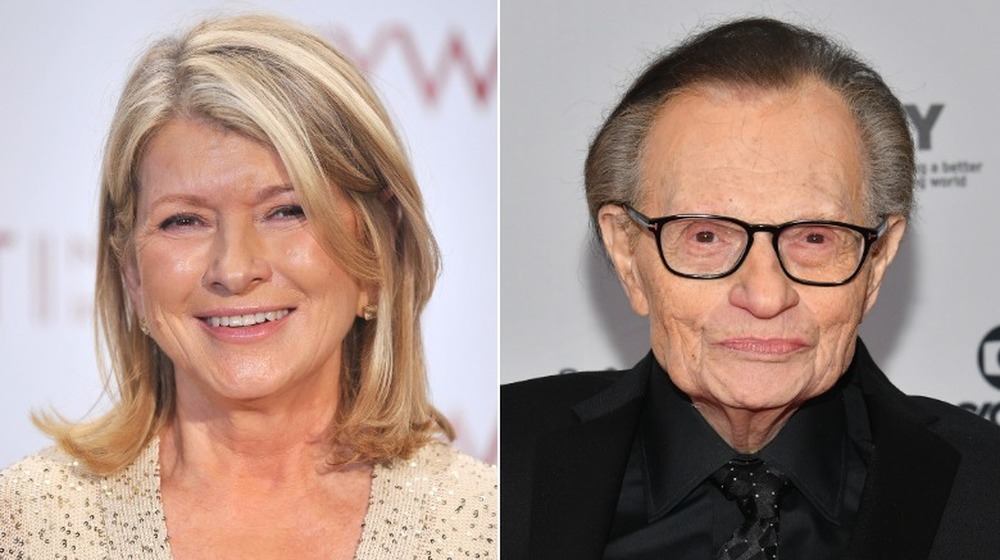 Fernando Leon, Dia Dipasupil/Getty Images
While you've surely been aware of Martha Stewart's delicious recipes and stylish decor tips for years, you may not have known that she was married to a man named Andrew Stewart for 29 years. As for Larry King, it was well known that he "was married eight times to seven different women," according to People. However, did you know that Stewart and King could have been an item?
Stewart brought that surprising fact to light on Jan. 25, 2021, when she posted a video on Instagram of herself welcoming King to her show. She captioned the clip by writing, "Larry king and I were friends and I was interviewed by him many times. It was fun to turn the tables once or twice and I interviewed him a couple of times on my show!"
In the actual video, Stewart's introduction of the fellow star included a memory of a past encounter between the two. "I have a secret to reveal: We actually went out on a dinner date," she said with a smile. Stewart admitted, "I thought it was a business date, but turned out it was sort of a dinner date." While Stewart's confession earned a good-natured laugh from her audience, we also assume she and King were able to chuckle over the little misunderstanding themselves.