The Transformation Of Teen Mom's Amber Portwood
Amber Portwood has come a long way since her days on 16 and Pregnant. When we first met Amber, she was in a relationship with Gary Shirley, and the two were expecting their first child, Leah, together. At the time, Amber (pictured above in 2008) was only 16, and fans watched as she struggled to juggle motherhood with a teenage social life. 
Meanwhile, her relationship with Gary was tumultuous. Amber eventually went on to star in Teen Mom, in which her relationship became even more unstable. After years of an on-again-off-again relationship, Amber and Gary broke up for good and began navigating a life of co-parenting. Since her life has been in the spotlight, Amber has had her fair share of highs and lows, and fans have followed her journey every step of the way. Amber is now 30 years old and life has been a rocky road since her days on 16 and Pregnant — and we've got all the details.
Amber Portwood has gone through tough times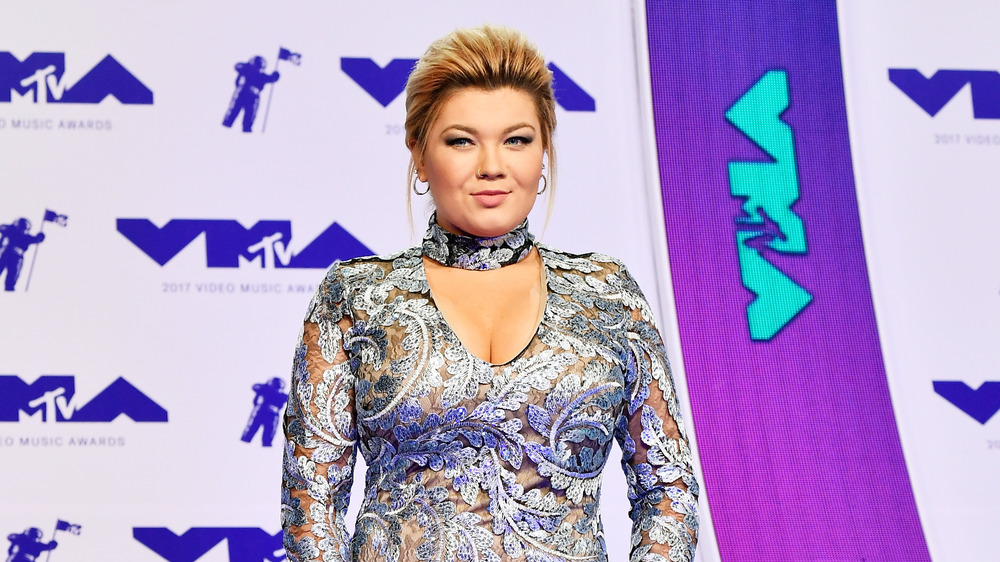 Frazer Harrison/Getty Images
After years of back-and-forth with baby daddy Gary Shirley, Amber Portwood's relationship troubles didn't end there. After breaking it off with Gary, Amber (pictured here in 2017) began dating amateur DJ Matt Baier in 2013, and the couple almost married, according to Who's Dated Who. Amber went on to date Andrew Glennon, with whom she welcomed a son in 2018. 
Unfortunately, it was not smooth sailing for the reality star and her new beau. In July 2019, Amber was arrested for a domestic violence altercation and ended up serving 17 months in jail, according to People. This wasn't the first time Amber had a violent altercation with a boyfriend; in 2010, she was booked on domestic violence charges related to then-boyfriend Gary Shirley, per People. By 2011, the teen mom was arrested once again for violating her probation, and after a back-and-forth with the court, Amber decided to serve her five-year sentence instead of complying with her court-ordered drug program, according to E! News. Amber went on to serve a bit less than two years.
Despite a rocky relationship with the law, Amber is focused on moving forward. According to E! News, Amber and Gary are back on good terms and are committed to supporting one another. Per E!, Amber is fighting for custody of her son, and has obtained a restraining order against Andrew. Throughout years in the spotlight, Amber has faced plenty of turmoil, but here's hoping that her transformation continues on an upward trajectory.