The Truth About Wendy Williams' Son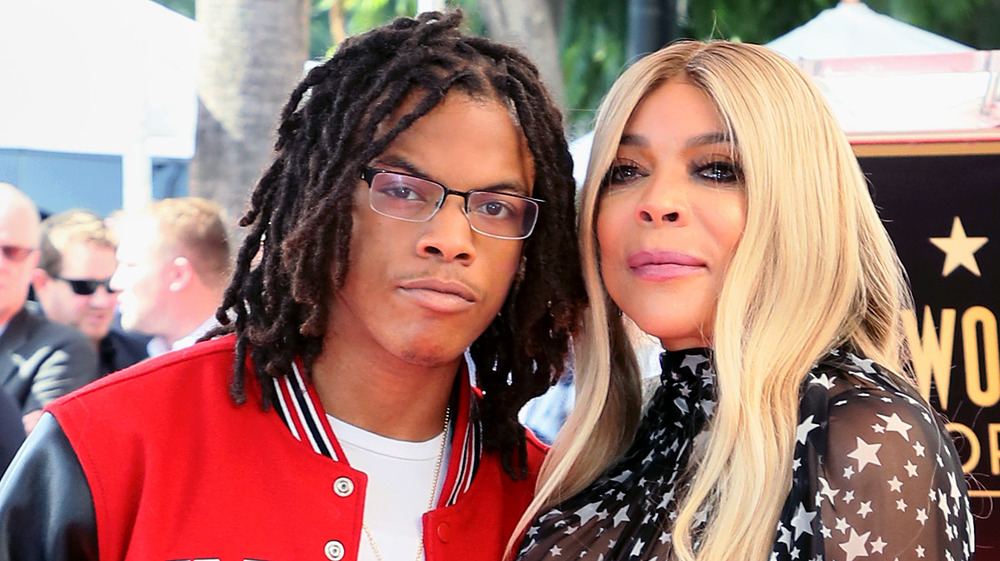 David Livingston/Getty Images
Some stars revise history for the sake of their image, but Wendy Williams isn't one of those celebrities. She's not holding back in her biopic Wendy Williams: The Movie, on her talk show, or just in general. The radio legend is at a point where she wants to tell it all, even if it's at her own expense. However, there's one topic that is all positive for Williams. The Wendy Williams Show viewers know she glows when she talks about her son, Kevin Hunter Jr. That's why her biggest fans weren't shocked by the birthday message she shared for his 20th birthday in August 2020, which was a bit... unusual.
She told her Instagram followers, "If you look closely you'll see remains of 1st hair cut, my cerclage is on sneaker, like a mom... I DO have all his teeth." Page Six described the birthday tribute as "creepy," citing an Instagram comment that said, "I'm more concerned about the cerclage. it's the stitch(es) that hold your cervix closed. Whhhhyyyyy." 
Anyone who's been following Williams knows that she went through a lot to have a child. During the 2015 PBS special American Masters: The Women's List, Williams said, per Essence, "I fought tooth and nail to be a mother. I suffered several miscarriages including two at five months." Williams said she and ex Kevin Hunter Sr. "went through that not once but twice," describing their son as a "hard-won child," which is partly why the mother-son duo is so close.
Wendy Williams' son fought her ex-husband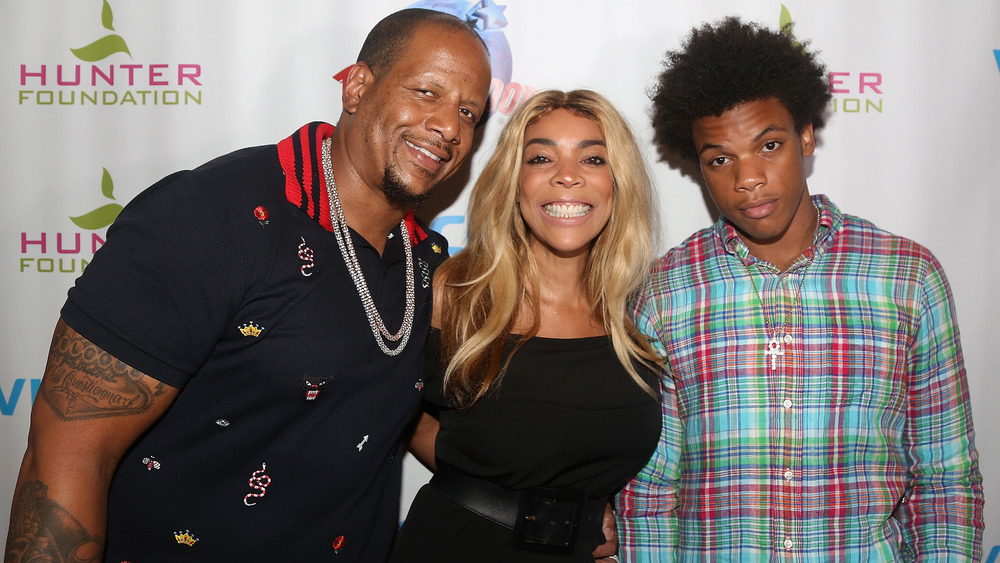 Bruce Glikas/Getty Images
According to Page Six, Wendy Williams and Kevin Hunter Sr.'s son Kevin Hunter Jr. goes to college in Miami. Before that, he lived with his family in New Jersey, before his parents' ugly split in 2019 because Kevin Sr.'s alleged mistress Sharina Hudson was supposedly pregnant with his baby. In May 2019, Williams' son, who was then 18, got into a physical altercation with his dad, TMZ reported. Allegedly, Kevin Jr. was upset that his dad wanted spousal support from Williams. Reportedly, Kevin Sr. "put his son in a headlock," and he "punched him in the nose to break the hold."
This resulted in Kevin Jr.'s arrest for assault, despite the father telling TMZ, "I love my son very much and I will not be pursuing this matter legally." The next month, Kevin Jr. pleaded not guilty, and the case was dismissed, according to Us Weekly.
Months later, Williams mentioned her son when she got a star on the Hollywood Walk of Fame, declaring, "It's me and you kid," per In Touch Weekly. Although Williams was a public figure long before Kevin Jr. was born, he doesn't live his life in the spotlight. He has an Instagram account with only nine photos, including a picture with his mom (obviously) and Diddy (no big deal). The world may not know much about Kevin Jr., but it is very clear how much Williams loves being his mom and that he's one of her biggest supporters in return.
Wendy Williams helped her son get through drug addiction
In a 2018 Cosmopolitan interview, Wendy Williams discussed how she helped her son Kevin Hunter Jr. through his struggles with synthetic marijuana usage. The pop culture icon said, "Kids are out there smoking that mess. It'll turn you into a different person." When Kevin Jr. was at a low point, she did not know "whether [he] would ever return to school." In the midst of all that, Williams was still hosting her talk show every weekday, confessing, "The whole time we're nursing him through [recovery], I'm supposed to make fun on the show like, 'Hi! Here's Wendy! Hahaha!' But I'm dying inside." She admitted that withdrawal was a "slow process" and that she and her then-husband Kevin Hunter Sr. elected not to "involve psychiatric drugs or a psychiatrist" in their son's recovery plan.
Following the worries she had for Kevin Jr., Williams couldn't be more proud of her boy's progress, gushing about him graduating from high school with honors and getting into college. She described Kevin Jr. as a "businessman" who wants to "be an example for people as well regarding substance abuse," but she didn't explicitly mention what he was studying in school. Despite living her own life out loud, Williams does what she can to keep things "as normal as possible" for Kevin Jr., becoming a "very private" and "very mysterious" family to keep his personal life out of the "hot topics" that she discusses every morning.

If you or someone you know is struggling with substance abuse and mental health, please contact SAMHSA's 24-hour National Helpline at 1-800-662-HELP (4357).