The Truth About The Rick Ross Controversy That Is Turning Heads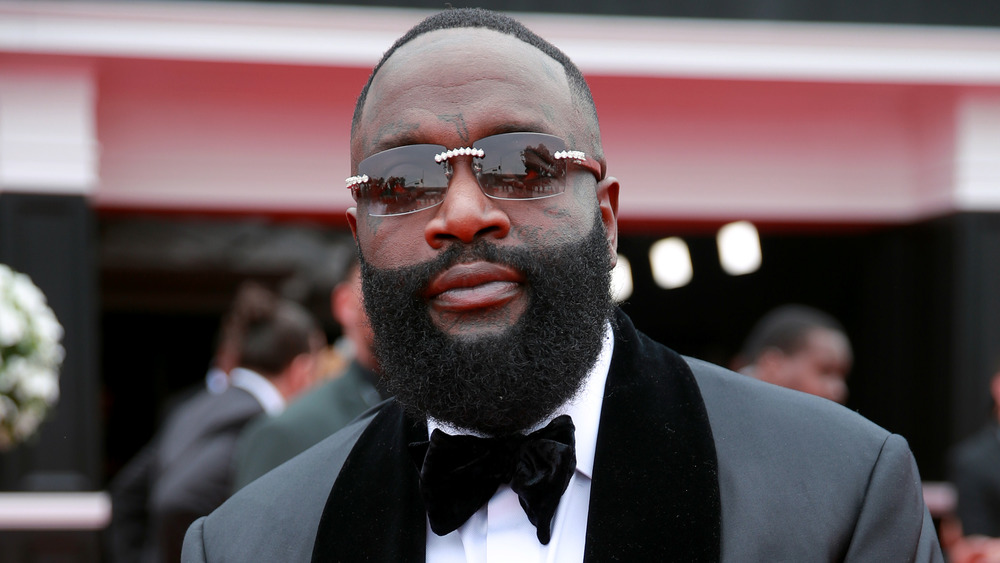 Rich Fury/Getty Images
After a clip from his 2017 VH1 show Signed resurfaced on Twitter in late January 2021, Rick Ross is being accused of colorism. Critics believed that Ross was biased between two contestants, Just Brittany and Kaiya, who performed in front of him and fellow judges The-Dream and Lenny-S. When Brittany performed, she received praise from a smiling Ross despite being off-key. But after Kaiya's effortless performance, Ross cut her short and told her the song "wasn't the best platform for your voice."
Twitter users slammed the "Aston Martin Music" rapper, saying he showed more favor to Brittany because she has a lighter skin complexion than Kaiya. One critic tweeted, "The colorism and misogynoir is real. They all knew that first girl was garbage." 
Kaiya addressed the video in late January 2021, describing its resurfacing as "surreal." She told The Shade Room, "I'm humbled that a lot of people have come out in support of my journey. Colorism is a topic that needs to be discussed wholly and not summed up in one response, but it's very disheartening to know so many go through this male or female." Ross has yet to comment on the clip as of this post.
The viral video became the topic of a discussion surrounding how the music industry treats darker-skinned women. It also opened up a conversation regarding Ross' previous comments about signing female artists.
Rick Ross' reason for not signing female artists raised eyebrows
Paras Griffin/Getty Images
This is not the first time that Rick Ross has been the center of controversy around female artists. In July 2017, he told The Breakfast Club that he hadn't signed any women to his Maybach Music Group record label because he'd eventually want to have sex with them. "You know, I never did it because I always thought, like, I would end up f***ing a female rapper and f***ing the business up," Ross said. "I'm so focused on my business. I just, I gotta be honest with you. You know, she looking good. I'm spending so much money on her photo shoots. I gotta f*** a couple times." Ew. The rapper later apologized for his comments in a Facebook post promoting his Signed show.
Clearly, Ross' failed Signed competition didn't help his case. In another viral clip, the "Diced Pineapples" crooner implied that he gave Just Brittany special treatment because he found her attractive: "I showed [Brittany] a little extra love ... Of course, I had a fun time with her. I was flirting with her, but at the end of the day, I wanted to see her win."
Just Brittany also spoke out on the controversial clip on a Jan. 24, 2021 Instagram post: "I'm happy this video is making its rounds and I want to say that colorism definitely plays a role in lighter skinned women, like myself, having more access in the industry. Kaiya is extremely talented and I wish darker women were seen more."