Here's What H.E.R.'s Name Really Means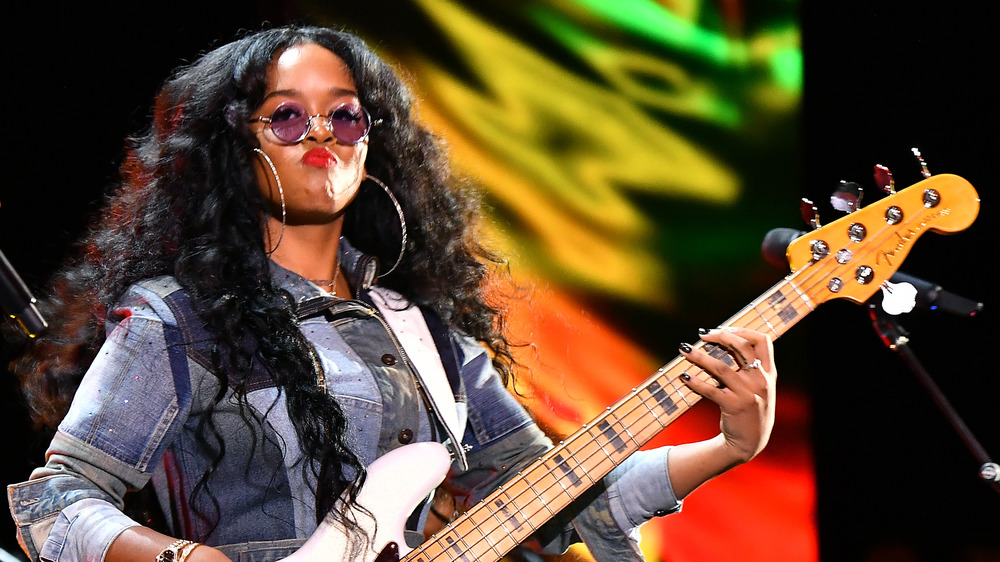 Paras Griffin/Getty Images
Two-time Grammy Award winner H.E.R. (born Gabriella Sarmiento Wilson) has had quite the unconventional journey to stardom since her EP, H.E.R. Vol. 1, debuted on Sept. 9, 2016 — with her identity completely hidden. She did little promotion for the album, but things truly got going for the R&B crooner when pop superstar Rihanna lent a hand by using her song "Focus" in the background of a 2017 Instagram video. "I was shocked but excited when I saw the video ... which low-key fits perfectly," H.E.R. gushed to Fader, calling herself "a huge Rihanna fan."
Afterwards, H.E.R. dropped two follow-up EPs, H.E.R. Vol. 2 and H.E.R. Vol. 2: The B Sides in June 2017 and October 2017, respectively. The R&B crooner put out a compilation album of all three EPs October of that year, titled H.E.R., and received multiple Grammy nominations in 2018, including Album of the Year and Best New Artist. H.E.R. ended up scooping up awards for Best R&B Album as well as Best R&B Performance.
H.E.R. received more good news in 2019 (which scored her multiple Grammy noms once again). And when the 2020 Grammy nominations were announced, she was listed as a contender to win Song of the Year and Best R&B Song. So who is the tour de force behind the talent and what does her acronym name truly stand for? Keep reading to find out.
H.E.R.'s stage name emerged after a rocky relationship
Frazer Harrison/Getty Images
H.E.R.'s stage name, which stands for "Having Everything Revealed," was born following a difficult relationship, the singer revealed to the Los Angeles Times in 2016. "I remember saying... I'll never be that girl that falls for the wrong guy. I was constantly criticizing that girl and eventually I found myself being that girl, being her," she said. H.E.R.'s music definitely deals in its share of wallowing in heartbreak. Rolling Stone described her songs as "slow-burning R&B that zooms in on emotional highs and lows."
H.E.R. told the Los Angeles Times that the choice to hide her identity was an artistic one, saying "The mystery is a metaphor for who I am, or who I was at the time of creating the project... I feel like oftentimes we don't like to be open as people about our emotions." H.E.R. also explained to Rolling Stone that drawing attention away from her face and name allowed listeners to focus on the work itself. "This project came from emotion, and that's what I want it to be about — not what I look like or who I'm with," the musician said. 
As H.E.R. put it to NPR in 2016, music was no longer about the celebrity behind the songs. "I feel like this is the era of the anti-star," she said. With artists like Sia hiding her face in public for similar reasons (as per Allure), it seems like H.E.R. is right about that!