What Tom Brady Really Thinks About Patrick Mahomes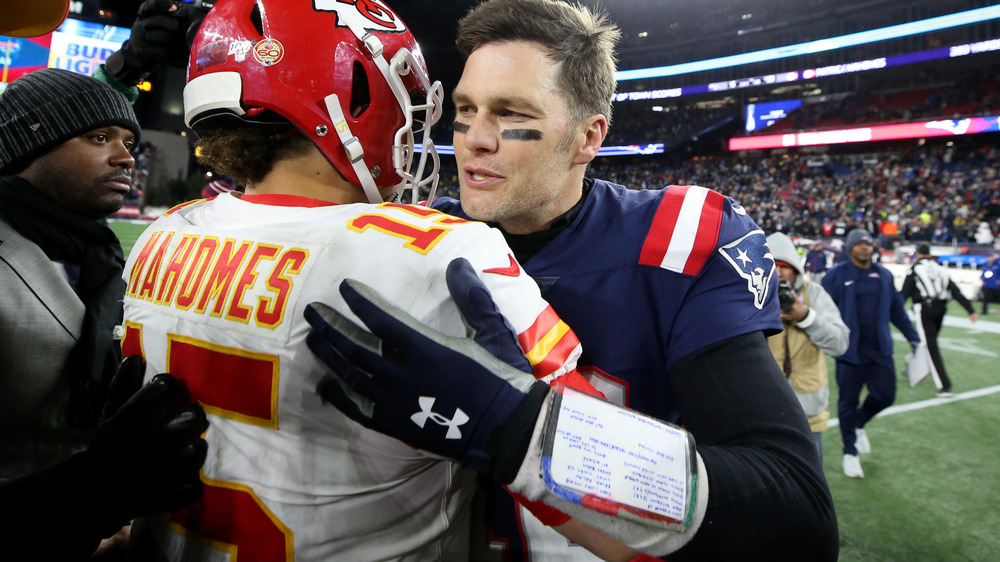 Maddie Meyer/Getty Images
With Super Bowl LV on the horizon, football fans (and halftime show enthusiasts) are gearing up to watch on Feb. 7, 2021. But beyond the promise of great entertainment and hopefully an even better game, people are excited to see Tampa Bay Buccaneers quarterback Tom Brady go head-to-head with Kansas City Chiefs quarterback Patrick Mahomes. 
This real-life clash of the titans features Brady in his 10th Super Bowl appearance, which is double that of quarterback John Elway, who previously set the standard at five appearances (via CBS Sports). As Patriots beat reporter Jeff Howe put it, "Brady has been more likely to play in a Super Bowl (52.6 percent) than Michael Jordan was to hit a shot (49.7 percent)." (Pause for a moment to let that sink in.) 
So, does Mahomes really stand a chance at taking down "the greatest of all time"? Maybe. At just 25 years old, Mahomes is the youngest player in NFL history to play in multiple Super Bowls, ironically, edging out Brady who was 26 when he won his second Super Bowl (per CBS Sports). Mahomes has been breaking records left and right ever since stepping onto the field and, just like Brady, he becomes even more deadly under pressure. To beat Mahomes and the Chiefs, Brady will have his work cut out for him — and he knows it. Here's what he had to say about his challenger.
Tom Brady has plenty of respect for Patrick Mahomes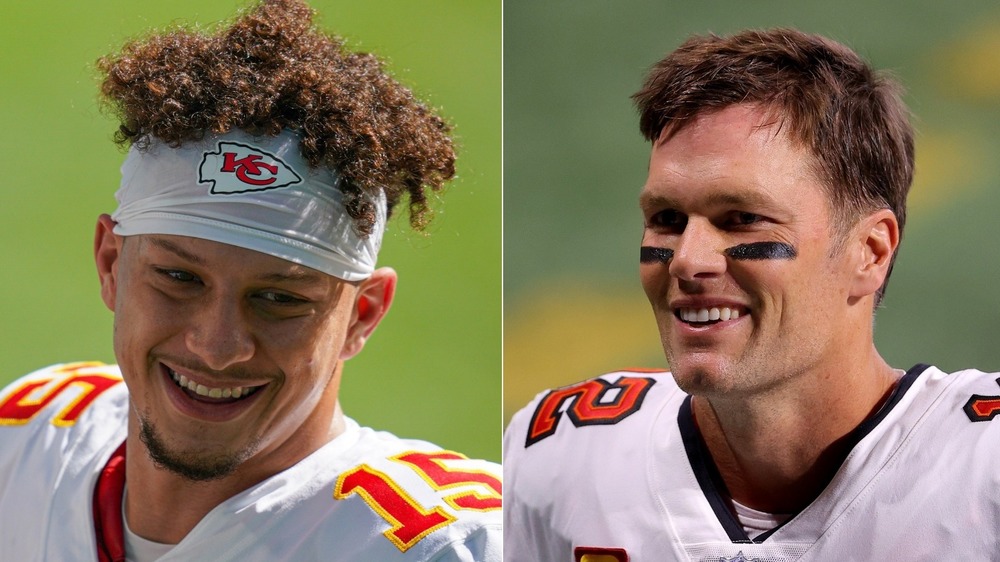 Mark Brown, Kevin C. Cox/Getty Images
Patrick Mahomes and Tom Brady have faced each other before, most notably when the New England Patriots (Brady's former team) defeated the Kansas City Chiefs, 37-31, in the 2018 AFC Championship. After the game, Brady went to speak to Mahomes in the locker room, a move the Chiefs Head Coach Andy Reid described as "unique" (per USA Today). "I think it was a tremendous gesture and it was heartfelt," Reid added. "There was nobody there to really see it, so it was really just his respect for Pat and in return, Pat's respect for him."
It's clear Brady holds Mahomes in high esteem. Ahead of the playoff season, he praised Mahomes as "a terrific player," according to the Buccaneers' official website. "50 touchdowns is pretty hard to do – there's not many guys who have done that," Brady said. "To continue that last year with the Super Bowl championship and playing at an extremely high level this year ... he's just doing a tremendous job. ...We know we're going to have to play really well to beat them [the Chiefs]." 
Mahomes returned the favor by calling Brady "a global star" (per ESPN). More recently, he joked about how he's looking forward to playing Brady in his "150th Super Bowl." Will Sunday, Feb. 7 mark the start of a new dynasty? Maybe. Or maybe not.