Clark Hunt: How Much Is The Chiefs Owner Worth?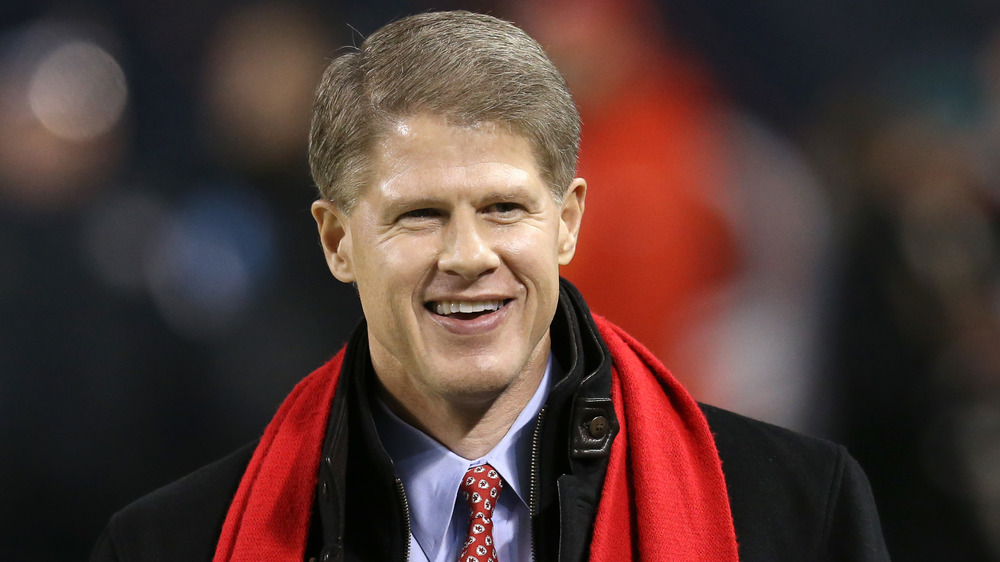 Dylan Buell/Getty Images
Kansas City Chiefs owner Clark Hunt is sitting pretty, especially now that his beloved team, led by star QB Patrick Mahomes, has made its way to the Super Bowl. In fact, the Hunt family was fundamental in shaping the National Football League into what it is today. You see, Hunt's father, Lamar Hunt, founded the Chiefs in 1959, but back then they were called the Dallas Texans, and were, obviously, not in Kansas City, per PF. Thanks to his own wealthy father, oil tycoon H.L. Hunter, Lamar had money to burn and tried to buy an NFL team. When that didn't pan out, he just founded his own franchise, and ultimately, his own league, the American Football League, which later merged with the NFL in 1970. Before joining forces, the Texans were based in Dallas and won four AFL Championships in addition to one Super Bowl win in 1969 — at that time, they had already relocated from Dallas to Missouri. The Chiefs wouldn't win another Super Bowl until 2020, breaking a 50-year drought.
The Kansas City Chiefs organization has been in the Hunt family since 1959, and it looks like they want to keep it that way. Following Lamar's death in 2006, Clark was dubbed the "de facto owner" of the team and is still in charge of all ownership dealings, as of this writing. With all that he and his family have achieved, it's no surprise they are living on easy street. Keep scrolling to see how much Clark Hunt is worth.
Clark Hunt is set for life thanks to his sports entrepreneurship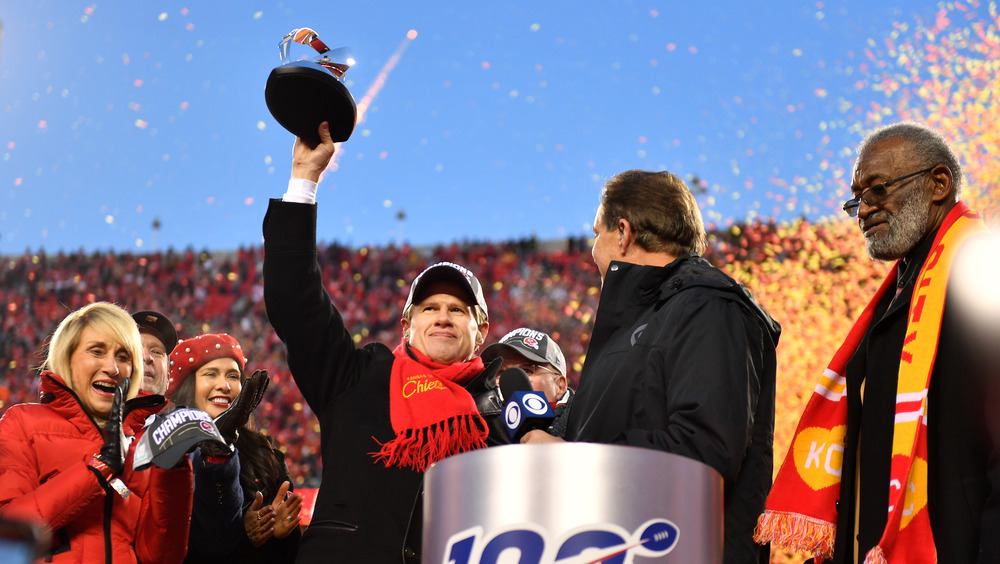 Peter Aiken/Getty Images
Aside from the massive fortune his grandfather amassed, it was Clark Hunt's father, Lamar Hunt, who pushed the family into sports entrepreneurship, significantly boosting their collective net worth. When Lamar died, Clark took over as chairman of the Kansas City Chiefs in 2006 and later, as CEO in 2010. Elsewhere in the sports world, Clark was fundamental in creating Major League Soccer and owns FC Dallas, per PF.
During an even earlier, yet possibly just as fruitful career track, Clark worked at Goldman Sachs as an analyst, and is reportedly worth a whopping $2 billion, according to Celebrity Net Worth. However, the overall net worth of the entire Hunt family is estimated to be $15.5 billion, Forbes reported. As of December 2020, that combined net worth makes the Hunts the 18th richest family in America, not far behind the renowned Busch family, which is reportedly worth $17.6 billion.
Despite his large fortune, it looks like Clark is a pretty modest and private guy — and a generous one, too, since his head coach Andy Reid isn't exactly living in the poorhouse these days, either. But while Clark doesn't show off his lavish life on Instagram, his daughter Gracie definitely makes up for her dad's lack of a social media presence. She's posted photos of herself aboard private planes and enjoying other perks of a living a luxurious life. It sounds like the Hunts have nothing to ever worry about.