The Real Meaning Behind Miley Cyrus' 'Plastic Hearts'
Miley Cyrus's father, country star Billy Ray Cyrus, may have sung about an achy-breaky heart, but his daughter's November 2020 album is focused on ones of the plastic variety. Plastic Hearts sees Cyrus veering from the propulsive, rhythmic pop that buoyed much of her musical career into 80s-inspired synth-pop. Rolling Stone also noted in their ⅘-star review of the album that it featured many returns to her country roots, writing that it "pays homage to her New Wave heroes and channels classic country." 
Plastic Hearts features guest appearances from pop sensations of both yesteryear, such as Joan Jett and Billy Idol, and of the late 2010s like Dua Lipa on "Prisoners." With Rolling Stone calling it Cyrus' "most self-assured album" to date and Pitchfork hailing it as Cyrus "stepping confidently into her 'rock era,' we wonder what the titular track, "Plastic Hearts," signifies for the singer, who had lost her original recordings of the album in a 2018 wildfire. Is the song, as the title suggests, about romance or something more general? Read on to find out the true meaning behind "Plastic Hearts." 
'Plastic Hearts' explores fleeting connections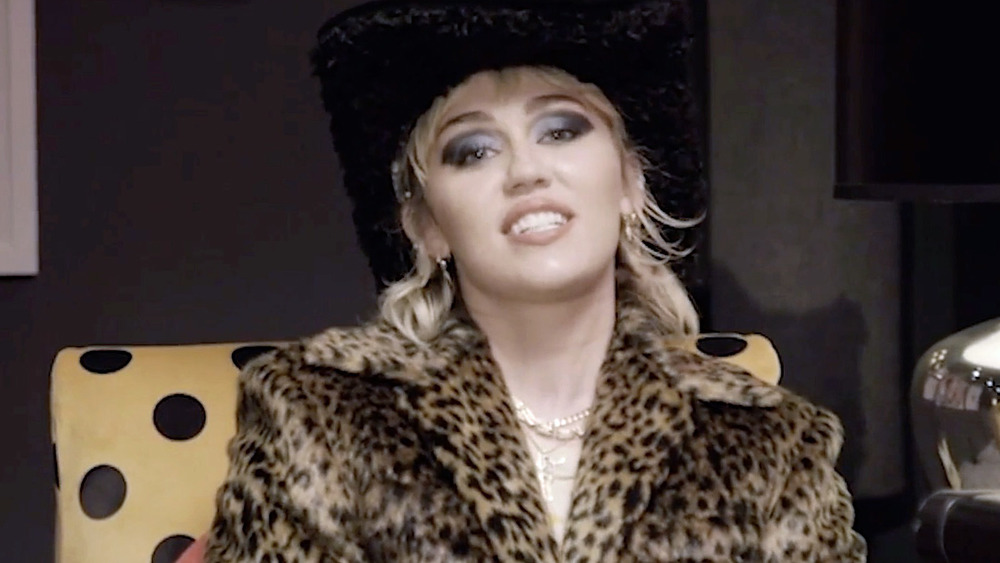 2020 Billboard Women In Music/Getty Images
With Miley Cyrus set to perform at the first-ever pre-game "Tik-Tok Tailgate" at the 55th Super Bowl on Feb. 7, 2021, indubitably her set will include songs from Plastic Hearts — perhaps even the titular track. "Plastic Hearts," which follows the album opener (the attitude-packing anthem, "WTF Do I Know"), is a midtempo dance bop complete with a guitar solo. Its opening line, "Hello/the sunny place for shady people " seemingly alludes to Cyrus' home of Los Angeles, from where she has worked in the entertainment industry for more than half her life and one that has a reputation for having less-than-honest individuals. In a Spotify interview promoting Plastic Hearts, Cyrus told a fan when asked of her way of coping with toxic people, "I try to keep, like, an invisible shield of protection around me and my energy, and try to not take on other people's emotions too much."
With woeful lyrics like the chorus' line, "I just wanna feel something / But I keep feeling nothing all night long," MTV News described the song as Cyrus "wanting to feel deeply connected to someone or something, but only being able to for a short time." The outlet continued, quipping that "this song will have you thinking about your last IRL hookup or virtual date" and categorized it as the perfect listen for when one is feeling "thoughtful." Sounds like a solid recommendation.