What Barack Obama Said To Make Cicely Tyson Blush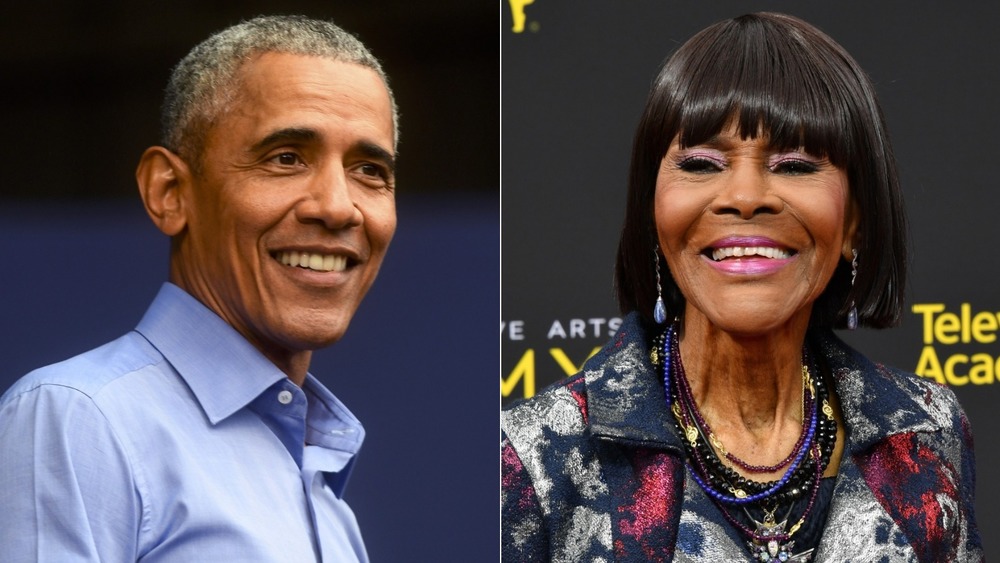 Mark Makela, Amy Sussman/Getty Images
Barack Obama was among the many famous faces to pay tribute to Cicely Tyson, who died at age 96 on Jan. 28, 2021. The iconic actress, whose inspirational career paved a way for Black women in Hollywood, left a mark on the former President of the United States and "on the world that few could match." Obama shared a touching note via Instagram, remembering Tyson's heart which was "unlike any other." He wrote, "Michelle and I were honored when Cicely came to the White House to accept the Medal of Freedom, knowing she was one of the many giants upon whose shoulders we stood  —  a trailblazer whose legacy couldn't be measured by her Emmys and Tony and Oscar alone, but by the barriers she broke and the dreams she made possible." 
Obama closed out his statement, writing, "We are sending our thoughts and prayers to every member of Cicely's family and to all of those who loved her. And while we are saddened that her heart finally came to a rest today, there is comfort in knowing that she will always live on in ours." It turns out, Obama and Tyson shared a memorable moment during her Medal of Freedom ceremony — one that made the legendary star reportedly blush "like a schoolgirl." Here's what happened. 
Barack Obama commented on Cicely Tyson's beauty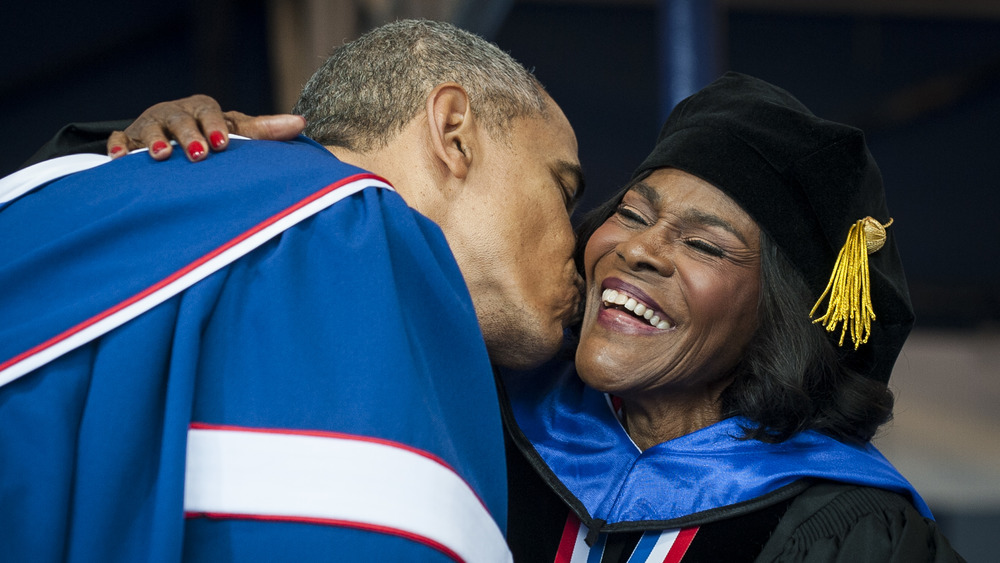 Bloomberg/Getty Images
In 2016, Barack Obama presented the late Cicely Tyson with the prestigious Medal of Freedom, which is given to people who have contributed to "security or national interests of the United States, to world peace, or to cultural or other significant public or private endeavors," per The White House. During the ceremony, the former president honored the legendary actress with a heartfelt speech before ending his tribute with a sweet remark. "And she's just gorgeous," he said. At the time, Essence reported "The room agreed as Ms. Tyson blushed like a schoolgirl" before Obama placed her medal around her neck. Later, Tyson admitted the same thing to Variety, saying, "I was so embarrassed, I was red as a beet!"
Funny enough, Tyson revealed in her memoir, Just as I Am, that she nearly missed the call from Obama to invite her to the Medal of Freedom ceremony because she thought it was a prank. "'Oh please,' I said laughing, feeling sure it was a prankster talking some foolishness," she wrote, according to Vulture. "'How did you even get this number?' She tried to persuade me that her declaration was true, but I wouldn't hear of it." Tyson even hung up the phone before realizing it was, in fact, the White House calling.