What Troy Polamalu Is Doing Now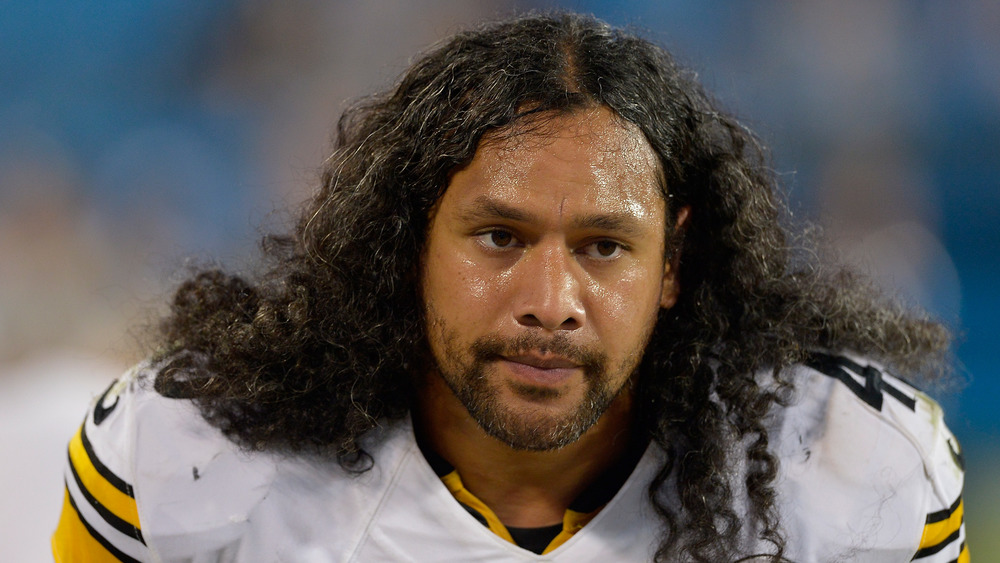 Grant Halverson/Getty Images
Troy Polamalu left a lasting impact during his Hall of Fame playing days with the Pittsburgh Steelers. He racked up eight Pro Bowl Selections, won two Super Bowls, and was the 2010 Defensive Player of the Year, as per USA Today. On top of his impact on the field, Polamalu has left an impression off the field as well. 
The NFL legend is an active philanthropist and works alongside his wife Theodora for charitable work. They started the Troy & Theodora Polamalu Foundation Fund along with the Harry Panos Fund for Veterans, according to the Pittsburgh Post-Gazette. In addition to these endeavors, Polamalu is a man of considerable religious faith. A 2011 feature piece in GQ about the defensive stalwart described him as "a mystic, a man more fourth century than 21st, living in constant dialogue with the Deity."
In 2020, Polamalu was the only first-ballot player named to the Hall Of Fame. The selfless Steelers safety was humble when speaking about his induction. "I never thought about my legacy nor did I ever care about leaving one," he told CBS in September 2020, "Truly there's a lot of great players that have left inspiring legacies that were literally born in the hood that came from nothing and overcame a lot of things."
One thing that made Polamalu stand out besides his ferocious play was his long curly hair. Long after his playing days, the NFL star found himself back in the spotlight thanks to his flowing locks.
Troy Polamalu has a hair rival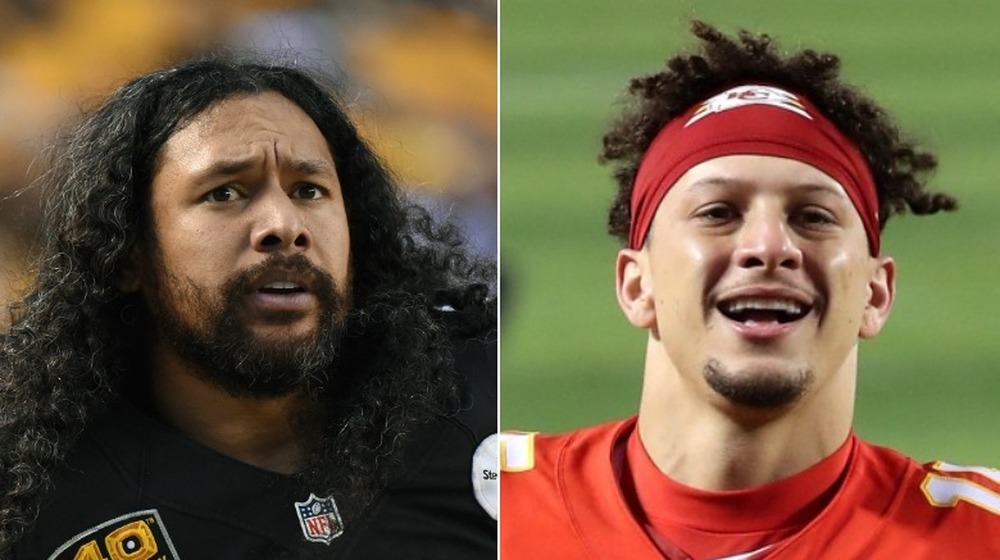 George Gojkovich, Jamie Squire/Getty Images
Troy Polamalu was a spokesperson for Head & Shoulders shampoo during his playing days. The company even took out a record-breaking insurance policy on his hair to protect their investment, according to The Huffington Post. In 2019, the Steelers legend once again had his number called to star in commercials for the company, but this time it was opposite a young talent.
Head & Shoulders had Kansas City Chiefs quarterback Patrick Mahomes and his curly hair as a representative, and they brought back Polamalu as his on-screen counterpart. The brand released a commercial in 2019 which saw Mahomes and Polamalu argue over whether it was more important to be on the defense or offense when battling dandruff. A year later, the duo appeared in a follow-up ad series that saw them battling over who could "Take It Up To 100" the most.
Speaking to Bleacher Report about the commercials, the always humble Hall of Fame player deferred to the young quarterback, "When we filmed that last commercial, I told Pat, 'I'm just riding your coattails, man.'"
During that campaign, Polamalu petitioned Madden NFL to update their video game and allow hair rankings. When describing the message behind the commercials, the tenacious defensive icon told Bleacher Report, "It's really just giving 100 percent and taking advantage of every day and really trying to be your best self every day ... To me, that's what taking it to 100 means."