Jennifer Garner Is Unrecognizable Without Makeup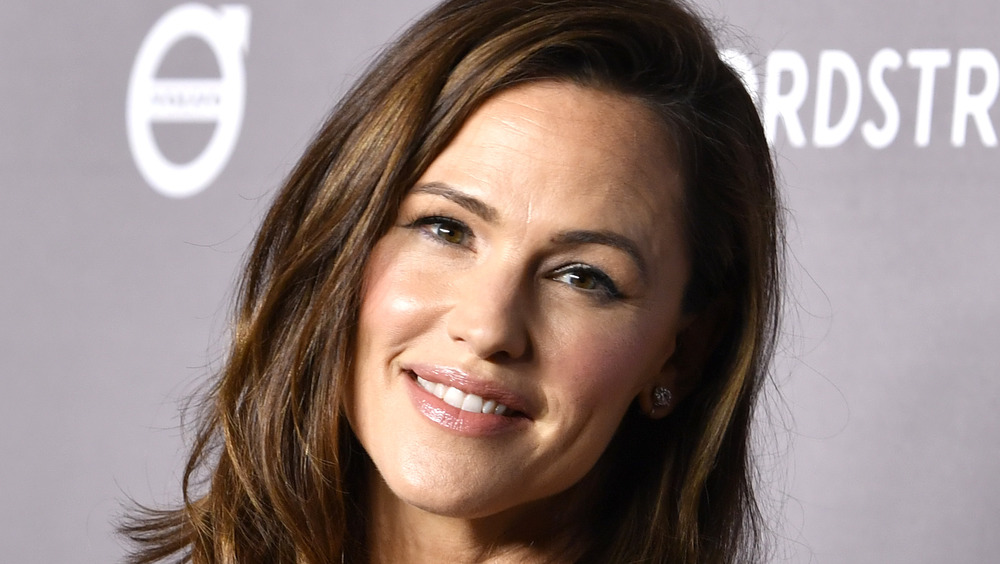 Frazer Harrison/Getty Images
While most siblings bear some physical resemblance, the internet understandably went haywire when actor Jennifer Garner posted an Instagram photo of her two rarely seen sisters, Melissa and Susannah, on Jan. 30, 2021. Why? The three — with their matching deep-set hazel eyes and wide, dimpled smiles — looked more like triplets, despite Garner being the middle child, observed PureWow. "As a little kid, I was tortured by my sisters' birthdays, as their celebrations were within two weeks of each other and right after Christmas," the star jokingly huffed in her caption.
Garner is known for her understatedly classic looks on the red carpet. She may have donned colorful wigs aplenty as an undercover CIA operative on Alias, but Garner opted, as Insider noted, for "sleek pantsuits and casual ensembles" in her early red carpet days. That eventually evolved as Garner's stardom grew with increasingly high-profile film roles (like 2003's superhero blockbuster Daredevil, during which she met ex-husband Ben Affleck).
Garner is now often seen posing at Hollywood events in Valentino and Oscar De La Renta gowns with neutral-toned eyeshadow, nude lip gloss adorning her full lips, and her naturally straight hair worn in soft, cascading waves. Even with these muted red carpet looks, Garner showed just what a difference a little cosmetic aid can make when she shared a bare-faced selfie a few years back.
Jennifer Garner prefers the all-natural look in her daily life
"You'll never need coffee more than the day after 'Yes Day!'" captioned a makeup-free Jennifer Garner on her September 2017 Instagram photo share. (The Yes Day! reference alludes to one of Garner's favorite children's books.) The Peppermint star appeared to still be lying in bed and her pajamas, with eyelids heavy and open only halfway. "You still look gorgeous even when you're half asleep, and I absolutely love the natural beauty!!" enthused one Instagram user in the comment section. More raves came in for Garner's natural look, with another fan chiming in, "Dear god. I don't look that good fully rested and fully primped!"
Garner often appears with little-to-no-makeup in her self-made social media content. In a Jan. 18, 2021 interview posted to her Instagram with New York Times best-selling author Meena Harris, the actor wore a turtleneck, thick-rimmed glasses, and her trademark dimples. Garner is also a fan of sharing cooking videos with her social media followers, such as her Nov. 20, 2020 post of her attempting a bagel bread recipe. "#PretendCookingShow," she humorously captioned her video. To tackle this culinary effort, Garner threw her hair in a half-up, half-down bun style and kept things comfy with a grey hoodie.
After all, with those famously razor-sharp cheekbones and pillowy lips many pay money to have, who can blame Garner for skipping the hassle of a lengthy daily beauty routine?