You Might Not Recognize Nick Jonas In His New Super Bowl Commercial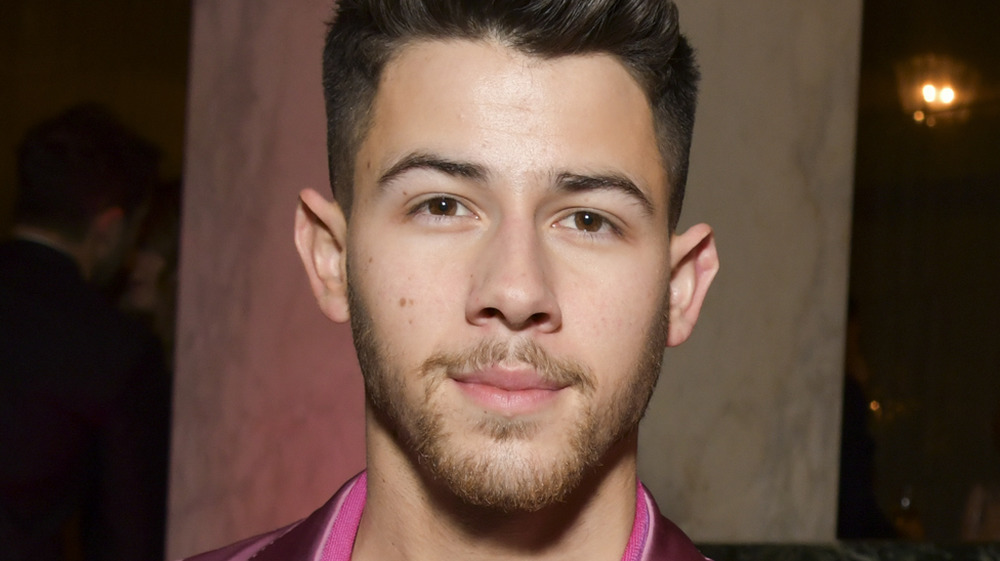 Rodin Eckenroth/Getty Images
At first blush, Nick Jonas starring in a Super Bowl LV commercial for a diabetes medical aid may seem a different marketing choice for those unfamiliar with the "Find You" singer. Jonas, however, has long been outspoken about his diagnosis of Type 1 diabetes at age 13. In a February 2021 Today interview, Jonas shared the dual significance of appearing in the Dexcom G6 ad, which will air during the big game on Feb. 7, 2021. "It's always been a dream to be in a Super Bowl commercial, and to have it be something that's so personal to me ... is so special," he shared.
Dexcom G6 devices, per their official website, come in several wearable forms and have the unique benefit of allowing those with diabetes to have glucose readings sent directly to their smartphones. As Jonas himself knows, blood sugar readings make a crucial difference in the health of people with diabetes. In a November 2018 Instagram post, Jonas offered followers a side-by-side comparison of him when first diagnosed — just after "having lost so much weight from my blood sugar being so high," his caption read — and him in 2018, looking significantly healthier. Jonas attributed the transformation to "working out and eating healthy and keeping my blood sugar in check."
Despite the subject matter, Jonas and Dexcom G6 joined forces in an upbeat TV spot promoting the product. Keep reading to find out how they kept things light — and funny — in the ad!
Nick Jonas turns decades older in Super Bowl LV ad for a diabetes aid
Nick Jonas' slickly produced Super Bowl LV ad for Dexcom G6, on the surface, has the appearance of a luxury automobile commercial with gliding graphics and CGI-induced television magic. The ad spot immediately opens with Jonas, looking sleek in a black leather jacket, saying, "We have the technology to do this," and snapping his fingers — only to reveal a comically exaggerated decades-older version of himself, driving home the point of how far Hollywood's CGI tech has come. "Drones deliver packages," Jonas continues in a voice-over, noting "And people with diabetes are still pricking their fingers?"
Jonas also points out in the ad other technological advancements of mankind that have preceded those of diabetes aids, such as self-driving cars, Roombas, and LED glue-on eyeliner. "And finger sticks, really?" Jonas says incredulously about the comparatively old-school devices for diabetes. "Well, that's all about to change," he then says triumphantly, pulling out his phone displaying a Dexcom G6 device's glucose reading. "Finally, technology that makes it easier for us to manage our diabetes." Certainly, we agree with Jonas that it is time life could become a little easier for those who have diabetes.