'Courtside Karen' Is Trying To Make Amends With LeBron James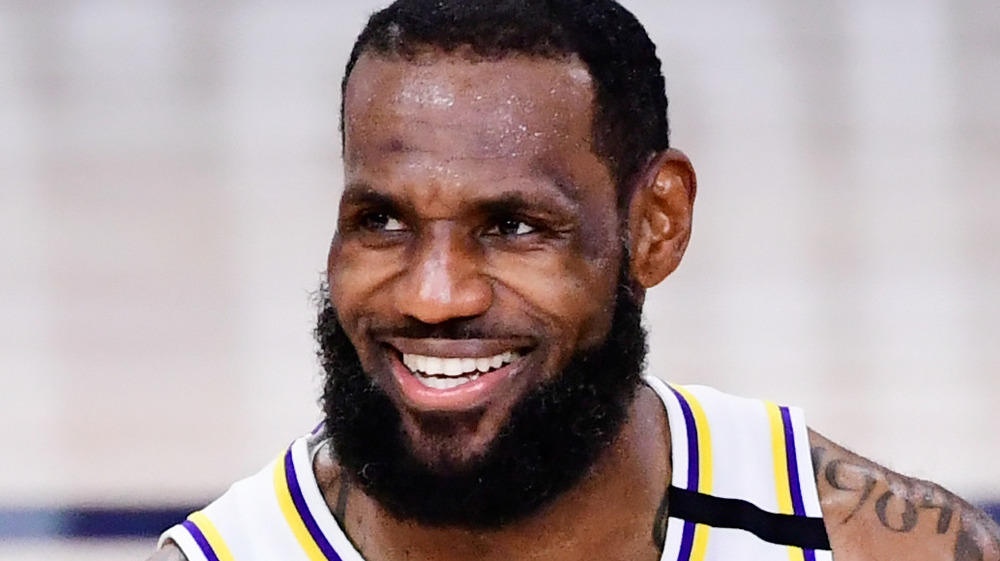 Douglas P. Defelice/Getty Images
If you've been scratching your head following the whole "Courtside Karen" upset, look no further. You see, the hubbub began on Feb. 1, 2021, when four people sitting courtside at the Lakers vs. Hawks game were kicked out after one maskless fan, who has been identified as influencer Juliana Carlos, started to argue with LeBron James himself, per ESPN. According to video footage, Carlos can be seen being taken out of the arena with husband Chris Carlos after standing up and briefly pulling down her face mask to yell, "Shut the f**k up. Don't talk to my husband like that."
Shortly after, a few clips of the scene made its way to the internet, including Carlos' own social media posts. "So, I'm minding my own business, and Chris has been a Hawks fan forever. He's been watching the games for 10 years. Whatever, he has this issue with LeBron. I don't have an issue with LeBron. I don't give a f**k about LeBron," she said in her own clip. "Anyway, I'm minding my own business, drinking my [beverage], having fun. All of the sudden, LeBron says something to my husband, and I see this and I stand up. And I go, 'Don't f**king talk to my husband.' And he looks at me and he goes, 'Sit the f**k down, b***h.' And I go, 'Don't f**king call me a b***h You sit the f**k down. Get the f**k out of here. Don't f**king talk to my husband like that.'" Scroll for more details.
LeBron James wasn't sweating over his courtside beef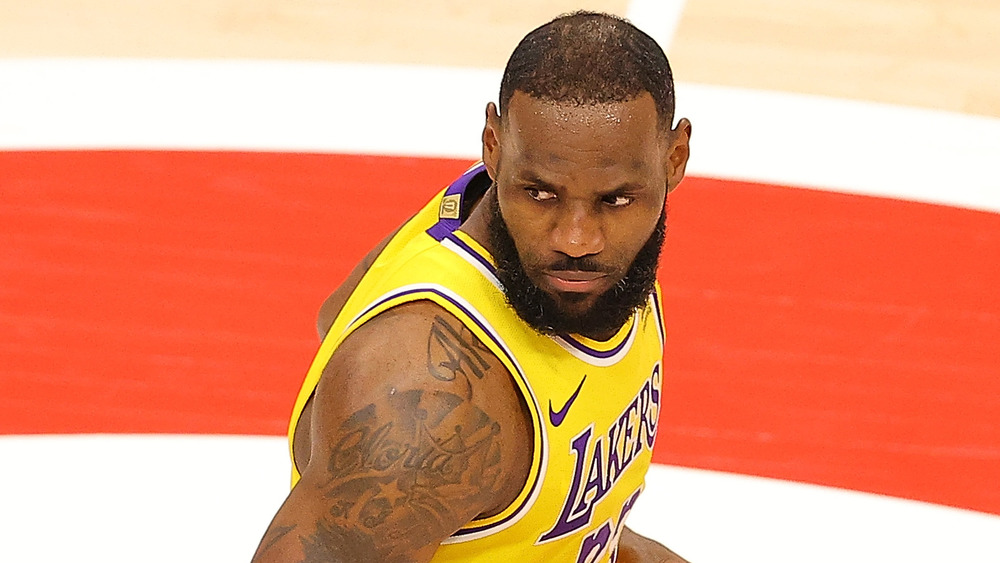 Kevin C. Cox/Getty Images
It's still unclear what exactly LeBron James said to sports fan Chris Carlos, who is a partner at Republic National Distributing Co., the second largest distributor of premium wine and spirits in the country, to set off his wife, Juliana, but James kept his cool while discussing the incident post game.
"At the end of the day, I'm happy fans are back in the building," he told reporters. "I miss that interaction. I need that interaction; we as players need that interaction." However, he said the Carlos' removal from the arena wasn't "warranted." Shining a little light on what actual transpired, James said, "There was a back and forth between two grown men" and "we said our peace, he said my peace and I said his peace and then when someone else jumped into it, they said their peace." 
Although he didn't think kicking the couple out was necessary at first, he understands the referee's decision because if they had allowed the pair to stay, "the game wouldn't have been about the game" anymore. Regarding COVID-19 concerns, James assured fans he was a safe distance away from the heckler when they exchanged words.
Despite claiming he and the troublemakers left their beef courtside, James took to Twitter to bestow a new nickname to the maskless blonde. "Courtside Karen was MAD MAD!!" he wrote with several laughing emojis. Of course, his remark went viral and drew attention to the now-infamous couple. 
Courtside Karen is trying to make amends
As some fans chuckled at LeBron James' "Courtside Karen" nickname, others pointed out some revelations about the kicked-out couple. "LMAOOO she was about to call the manager," one Twitter user replied. "LeBron let me introduce you to Juliana Carlos (25), her husband is Chris Carlos (50's) and he's worth over $1 Billion. I'm sure she's with him for his personality," another added. Additionally, some highlighted how James and Carlos' feud goes way back, referencing a 2017 post from the businessman who wrote "I don't like this guy" on a courtside photo of the foes.
Shortly after the backlash, Juliana Carlos took to social media in an attempt to right her wrongs. "To say things escalated quickly at yesterday's game is an understatement, and I want to apologize for losing my cool and removing my mask in the heat of the moment," she wrote on Instagram on Feb. 2, 2021. "My husband is a huge sports fan and we're passionate people, and let's be real: sports wouldn't be sports without a little trash-talking."
She continued to acknowledged how her interjection wasn't necessary, adding, "What should have been a quick back-and-forth between two adults got out of hand and my natural instinct to stand up for the man I love kicked in." She continued, "Did I get defensive when that happened? Yes. Did I use offensive language when I could have taken the higher road? Yes. And for these things, I take full responsibility."