The Real Reason AOC Is Causing Such A Stir On Twitter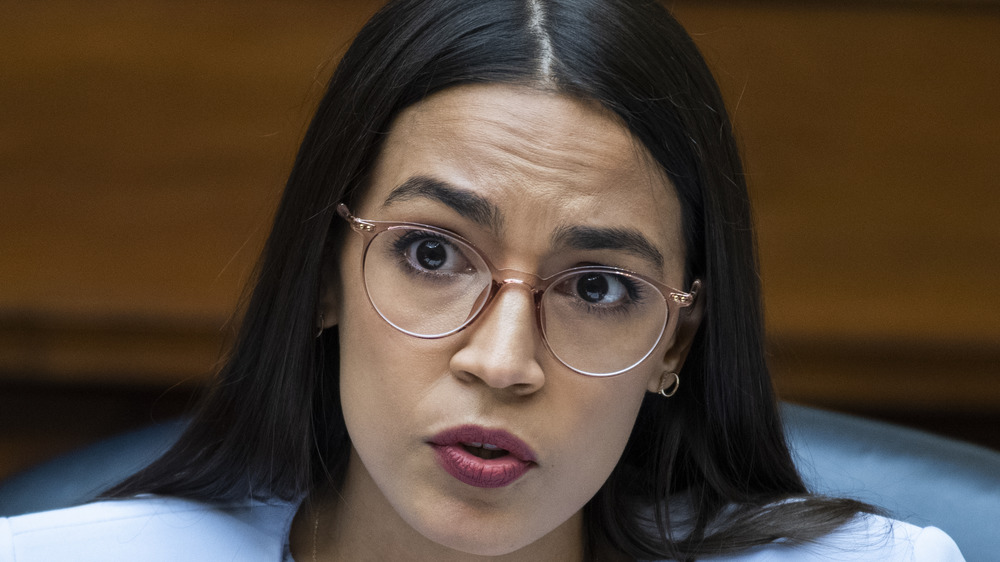 Pool/Getty Images
Way to flip the script! Following accusations Congresswoman Alexandria Ocasio-Cortez lied about her experience at the Capitol riots, K-pop fans have banded together in her defense. 
It all began when AOC herself went live on Instagram to detail her personal account of the riots that took place on Jan. 6, 2021, which caused destruction and left five people dead. "In between the screams and the yells, I mean, I thought I was going to die," Ocasio-Cortez said to her followers on Feb. 1, 2021 (via Newsweek). Also during her statement, the politician revealed she's a sexual assault survivor, using her platform to illustrate the similarities between domestic abusers and the tactics she claims are used by the Republican party.
Despite AOC's vivid account of the Capitol riots, some accused her of lying and falsely claimed her office wasn't in the line of fire. But in fact, AOC's desk is located in the Cannon Building, one of the many government buildings evacuated during the riots, and it is part of the Capitol Building complex, per Newsweek. Her office can be found by traveling through the main Capitol Building and into a tunnel.
AOC's accusers included outspoken Republican author Candace Owens, who claimed on Twitter that Ocasio-Cortez once "staged a photo shoot" to protest immigration laws and that "faking her own attempted murder was the next logical step." Keep scrolling to see how K-pop fans tried to stop the spread of criticism and false information about AOC.
K-pop fans are standing up for AOC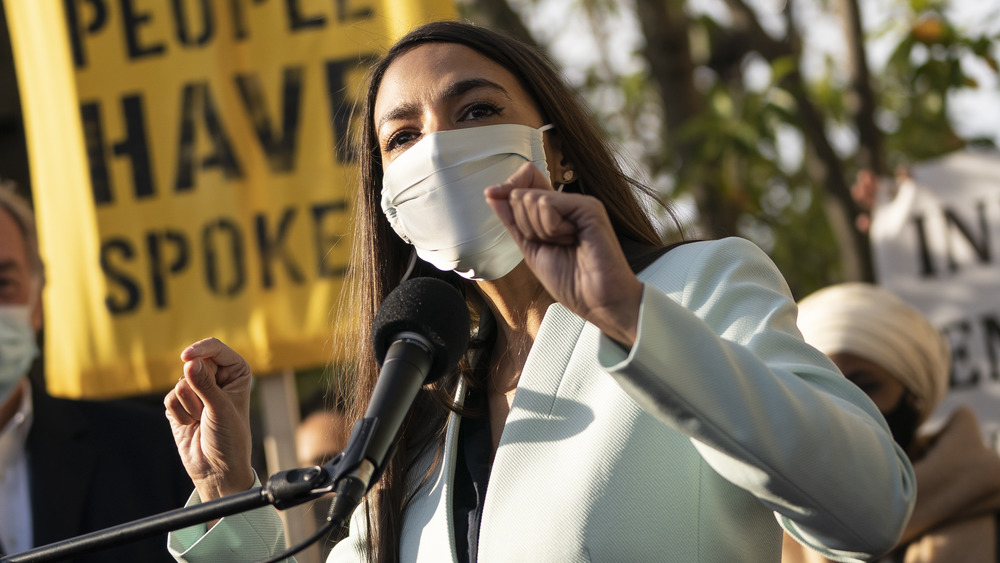 Drew Angerer/Getty Images
Several unfavorable hashtags about Alexandria Ocasio-Cortez began trending on Twitter after her Instagram Live, perpetuating the claims that she lied about her Capitol riots experience, per Newsweek. The hashtags included #AOCLied and #AlexandriaOcasioSmollett, which is a reference to actor Jussie Smollett's allegedly staged hate crime in January 2019.
However, K-pop fans took matters into their own hands and reclaimed the hashtags as their own. They flooded the hateful hashtags with K-pop photos, GIFs, and videos in an attempt to flip the script on AOC's detractors. "#AOClied never," one user tweeted with a dancing K-pop GIF, while another added, "#AOClied no, she didn't. It's not her fault you don't know how the Capitol is structured," with a GIF of a woman sipping tea.
The effort to take over the hashtags also seems to have turned into a cute pet contest of sorts, with people posting pictures of their furry friends under #AOClied. "#AOClied about literally nothing anyways here's my cat Coraline," one person tweeted with pics of her feline. "Loving this idea of the pet takeover...here's my best recent cat pic #AOClied," someone else said, while another added, "#AOClied not really but loving the beautiful animal trend." Together, K-pop fans and pet lovers are a force to be reckoned with.