Mariah Carey Spotted Smooching Backup Dancer In Hawaii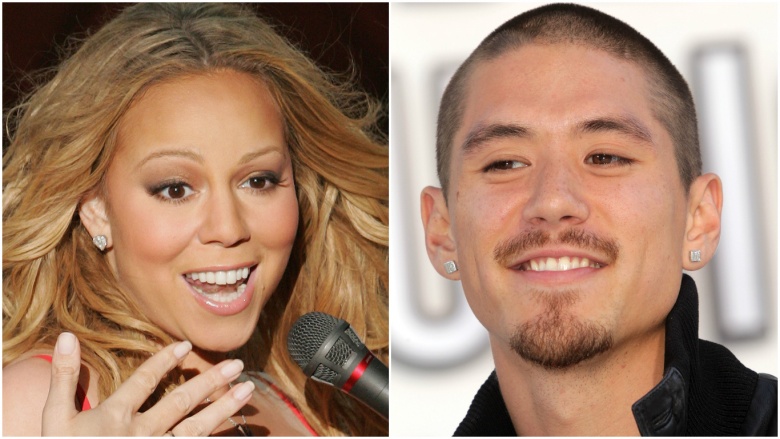 Getty Images
Just in time for her favorite season, it appears Santa may have brought Mariah Carey a rebound.
The "All I Want for Christmas Is You" singer was spotted smooching her beautiful backup dancer, Bryan Tanaka, while frolicking on the beach in Hawaii.
A source told Us Weekly, "They were all over each other, making out and not wanting to be more than a few feet apart. They swam in the ocean and he picked her up to kiss her. She was jumping into his arms, and he bent her back over his knee like they were dancing." "Then they walked on the beach holding hands, and he gave her a piggyback ride," the witness continued. "They had a lot of fun together, and were very playful. She was kicking up the water to splash him, and he was laughing."
As Nicki Swift previously reported, Carey, 46, has been getting closer with Tanaka, 33, since her abrupt breakup from Australian billionaire James Packer. The pair cozied up over dinner in full view of paparazzi on Oct. 27, 2016, likely to the chagrin of Packer, 49.
TMZ previously reported that Packer had lashed out at Tanaka in Carey's dressing room while they were still together because the choreographer attended one of her Las Vegas residency performances even though he was injured and couldn't dance. Packer allegedly then used his casino connections to get Tanaka banned from Caesar's Palace. Packer was reportedly also furious when Carey delivered a lap dance to Tanaka, even though it was standard practice for her residency set—and that other stars, including Blac Chyna, were treated to the experience too.
Still, despite the arguing, Carey was reportedly heartbroken at the split.
"First the split didn't seem to faze Mariah. It was like she expected things to be fine soon," a source told People in early November 2016. "Now she realizes that things aren't fine and not being with James makes her depressed."
Hopefully, she's feeling better, because her romance with Tanaka may be getting serious: People reports that Tanaka spent Thanksgiving with the singer, as well as her ex-husband Nick Cannon and their twins, Moroccan and Monroe.
Tanaka's crush on the singer is featured on Mariah's World, her docuseries that premieres next week—and so is her wedding planning to Packer.
"All of those moments are bittersweet, but you just have to focus on whatever you're focusing on and keep it moving," Carey told Entertainment Tonight of watching herself trying on wedding dresses. She also told Ellen DeGeneres, "Everything happens for a reason. Things are the way they are."