The Real Meaning Behind Gigi Hadid's New Tattoo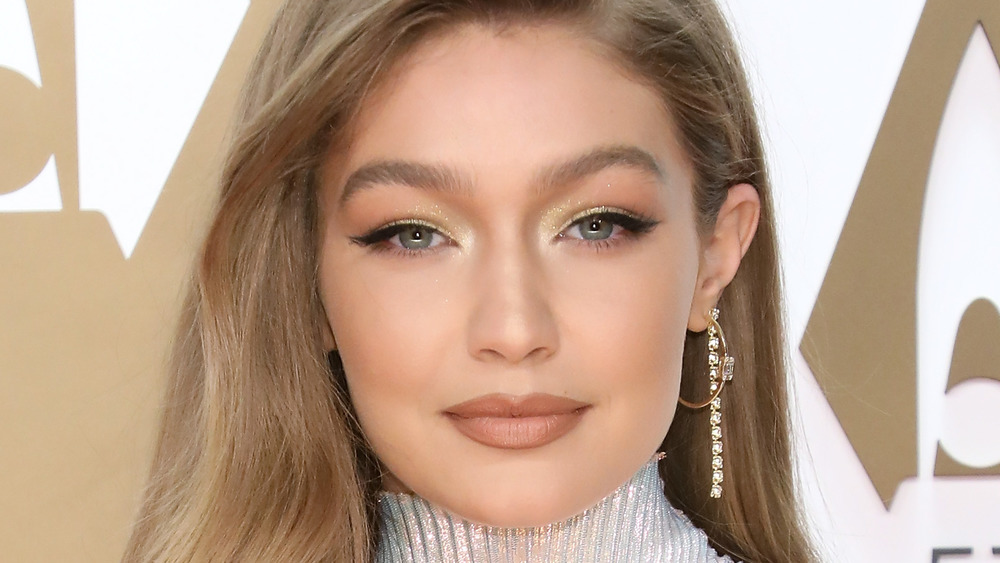 Taylor Hill/Getty Images
Supermodel Gigi Hadid really can do it all, and her new tattoo is proof. 
From balancing motherhood to posing for the March 2021 cover of Vogue, Gigi Hadid's career is soaring alongside her personal life. Rumored to be engaged to her boyfriend Zayn Malik, of One Direction fame, Hadid has conquered first the fashion world, and now her new role as mom to daughter Khai. 
The star has had her share of ups and downs with Malik, even dating Bachelorette alum Tyler Cameron during an "off" period with Malik. So it's no wonder that fans were surprised by Hadid's pregnancy announcement in April 2020, only two months after rekindling her romance with Malik. And according to TMZ, Hadid was already 20 weeks along by the time she made the news public. Hadid kept her growing belly under wraps (literally!) to create an "optical illusion" (per Elle); Hadid only revealed her pregnancy to Instagram followers in August 2020, a month before her daughter was due. 
Hadid and Malik welcomed their daughter Khai on Sept. 19, 2020, with a home birth in Pennsylvania, according to Page Six. So what does Hadid's new tattoo have to do with motherhood? Keep scrolling to find out!
Gigi Hadid honors her daughter with new body ink
From runway to rompers! Gigi Hadid and beau Zayn Malik have kept their new roles as parents private, for the most part. They didn't even make their daughter's name public until January 2021, four months after she was born. Per Harper's Bazaar, Hadid subtly changed her Instagram bio to include "khai's mom." The name Khai has Arabic origins, and means "the chosen one, royalty, or nobility." With Hadid and Malik as parents, little Khai is certainly Hollywood royalty. 
However, Hadid wants to keep Khai out of the social media spotlight — much like her A-list friends Ryan Reynolds and Blake Lively have done with their three children, per Vogue. Yet E! spotted a permanent nod to Khai on Hadid's bicep during a Vogue beauty tutorial video: "Khai" written in Arabic. This is reportedly Hadid's first and only tattoo. Malik also shares the same permanent ink on his wrist, according to Page Six. 
Hadid's sister, model Bella Hadid, already sports a series of Arabic tattoos including translations for "I love you" and "sweetheart" on her upper arms. Could she also be planning to add an homage to her baby niece, Khai? It's clear the Hadid-Malik family's love for the new addition is as timeless as a tat!