Winona Ryder's Cameo In Cadillac's Super Bowl Ad Is Turning Heads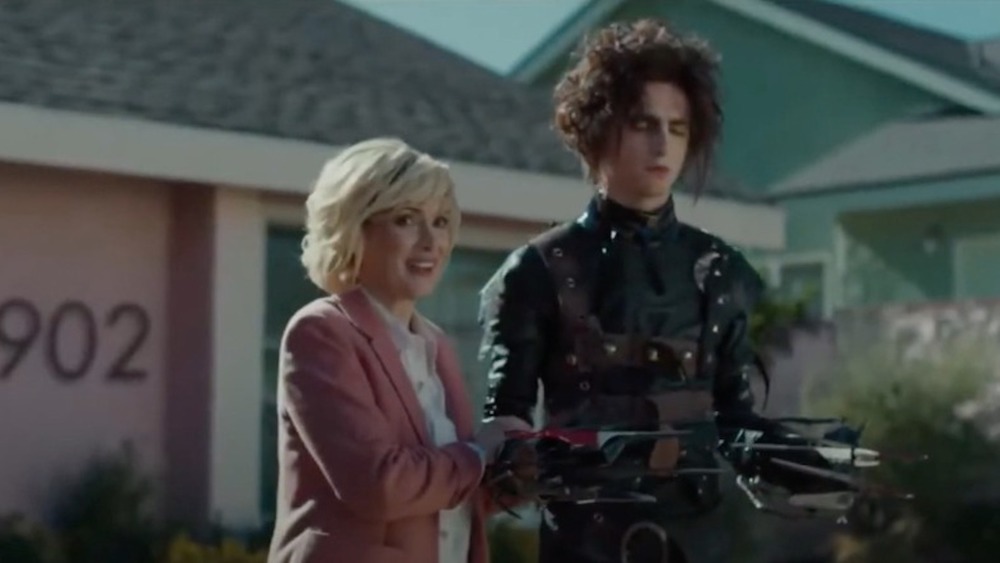 Cadillac
No one does an unexpected ad cameo quite like Winona Ryder, and her appearance in a Super Bowl LV commercial for Cadillac is no different. The ad, which also featured internet softboi boyfriend Timothee Chalamet, was a riff on the classic Tim Burton movie Edward Scissorhands.
If you don't remember the movie, the basic plot follows Johnny Depp as Edward, a man who has scissors for hands, who finds himself in the suburbs and falls in love with a blonde, teenage Ryder as Kim Boggs. It doesn't make a whole lot of logical sense but that's really not the point.
The Cadillac commercial takes the plot one step further, checking in on the Scissorhands family here in the modern age — and social media is lighting up with commentary. What is clear is that Chalamet was possibly born to play this character even more than Depp was and that Ryder is delightful in everything she appears in.
Winona Ryder's reprisal of a beloved character has fans buzzing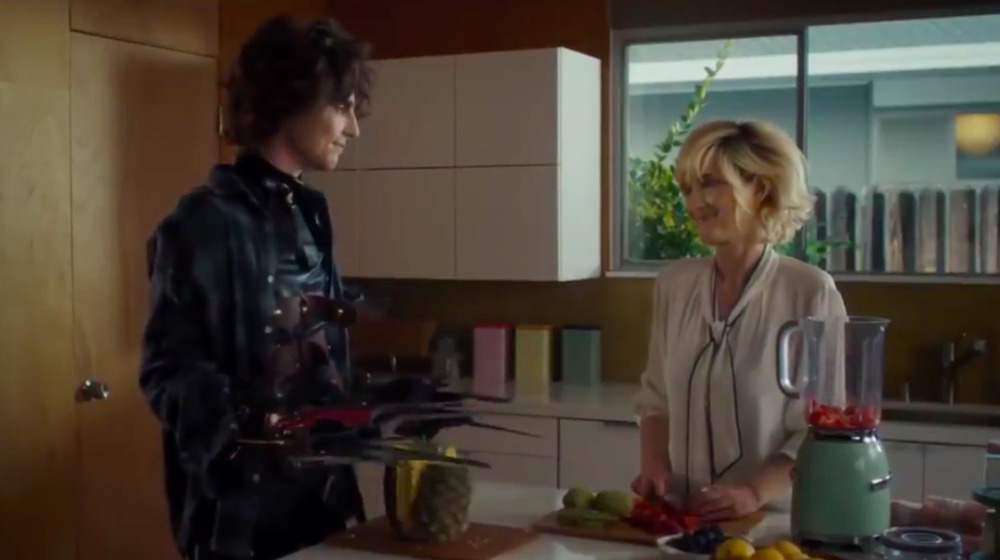 Cadillac
The Cadillac commercial that aired during the Super Bowl had viewers thrilled to watch Winona Ryder reprise one of her most famous roles, alongside Timothee Chalamet as her scissor-handed son.
The ad references the movie Edward Scissorhands, in which Ryder plays a teenager who falls in love with the oddly endearing Edward, and his scissorhands. In the commercial, Chalamet plays Ryder's son, Edgar Scissorhands – and it's amazing. Social media couldn't get enough of the pair. And more than one fan observed that it feels like they were born to play mother and son. (Once you see it you can't unsee it.)
As a matter of fact, Ryder herself noted how perfect Chalamet was as Edgar, saying in an interview with Vanity Fair, "It was quite a moment. Very surreal and also just a very, very sweet moment for me," referring to when she first saw him as the character. "I was really blown away by him and everyone's work putting the character together. He is such a beautiful guy, so talented, so incredibly kind and unique. Really the perfect person to embody that character."