What's Going To Happen To The Super Bowl Fan That Ran On The Field?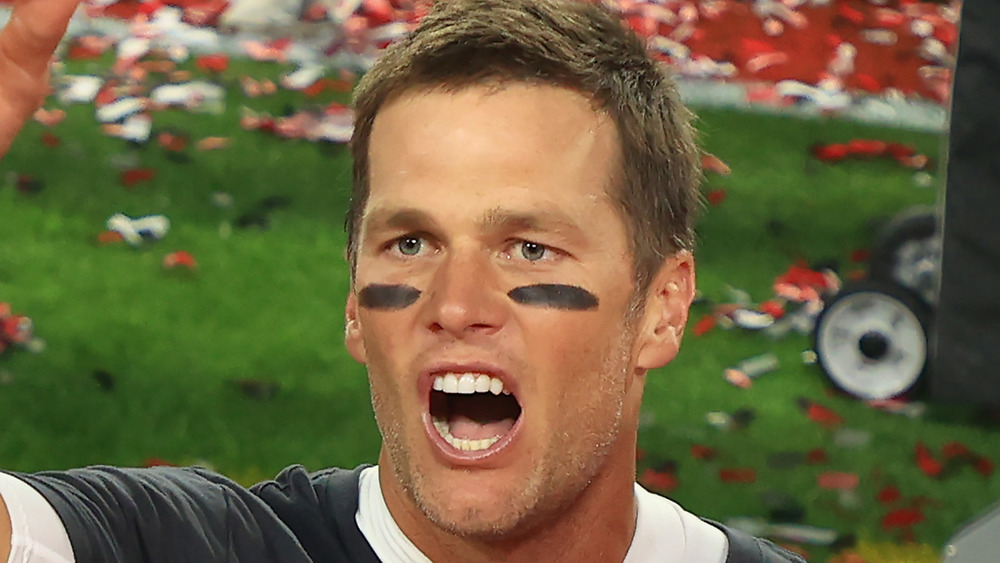 Mike Ehrmann/Getty Images
It's a sight seen too often — and often too revealingly — at major sporting events. In the fourth quarter of Super Bowl LV, as the Tampa Bay Buccaneers cinched a victory over the Kansas City Chiefs, a man wearing nothing but a Borat-like bodysuit, skintight shorts (which he later dropped), neon shoes, and a medical mask (which he removed) ran onto the field, stopping the game dead in its tracks. The fan, as Yahoo! Sports noted, made it all the way to the end zone — something the Chiefs, who lost to the Buccaneers 31-9, failed to achieve throughout the entire game.
Fans on Twitter also complimented the intruder's athleticism as he juked security guards trying to detain him. One viewer tweeted: "We have a STREAKER!!! The spin move was electric!" Twitter meme account @NFL_Memes joked, "That streaker just picked up more yards than the Chiefs offense has all night." The admittedly humorous turn of events even had the Super Bowl announcers joining in on the fun, with retired star quarterback Tony Romo asking announcing partner Jim Nantz, "Jim, did you run down there?"
Sure, we all like to have a good laugh during the Super Bowl, but what really happens to a fan who unleashes their inner wild child and streaks across a football field? Penalties can vary from a small slap on the wrist to something much more severe.
The Super Bowl streaker could pay a high price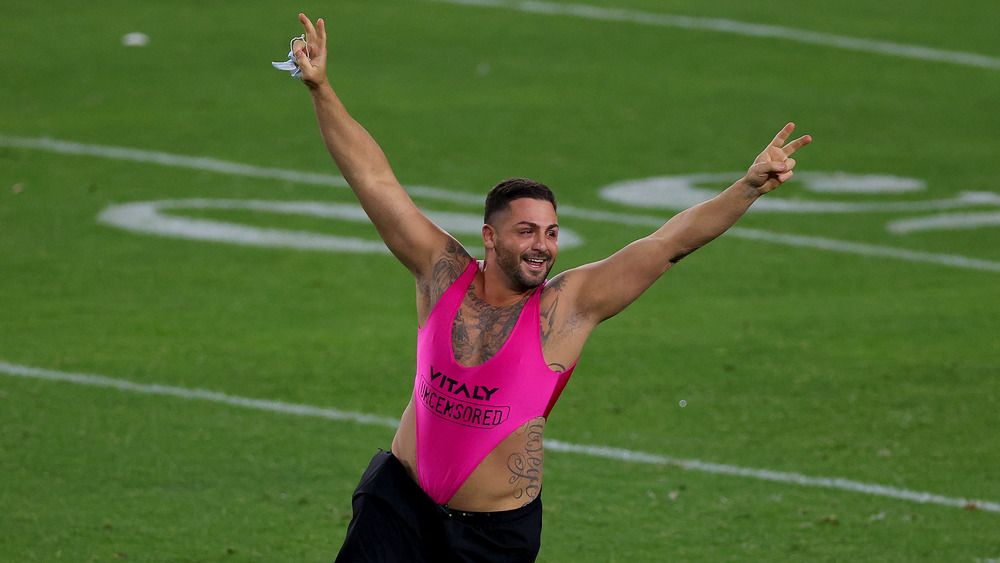 Kevin C. Cox/Getty Images
From the looks of it, the fan who disrupted Super Bowl LV by streaking across the field aroused the extreme annoyance of Tampa Bay Buccaneers quarterback Tom Brady, who was moments away from his seventh Super Bowl ring and fifth MVP title. 
According to Complex, the penalty for a fan streaking during a sporting event is usually decided by the presiding jurisdiction. Typical punishments reportedly include a criminal trespass charge, one night of jail time, and a lifetime ban from the venue. In Ohio, streaking onto any professional field can earn you up to six months of jail time and a $1,000 fine, the magazine reported. Under New York City's "Calvin Klein" law – so named after the famous fashion designer walked, unsolicted, onto the court during a New York Knicks game to speak to a player — a culprit can receive a year in jail and a fine of $25,000.
Some streakers do gain a degree of notoriety, such as Cleveland Cavaliers fan James Blair, who sent a heartfelt message in 2013 to former Cavaliers star LeBron James when James returned to play at his former stomping ground. Blair's shirt, as he ran toward James, read "We Miss You, 2014 Come Back." According to Complex, Blair gained about 8,000 Twitter followers overnight — a night he spent in jail. 
The future prospects of the man who bared his backside during Super Bowl LV remain to be seen, but believe it or not, that wasn't the only moment that had some fans turning away from their screens during the big game.
Past streakers targeted football, tennis, and soccer games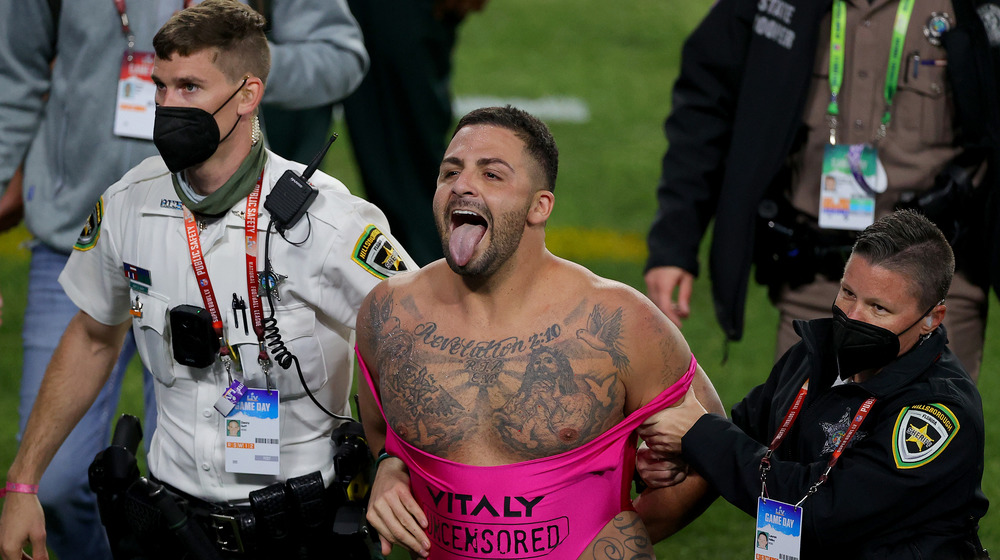 Kevin C. Cox/Getty Images
Super Bowl LV's streaker wasn't the first crazed fan in sports history to rush the field, and they probably won't be the last. Many remember Super Bowl XXXVIII in 2004 which pitted the Carolina Panthers against the New England Patriots in Houston, Texas. It was at that game that the infamous Super Bowl halftime moment went down between Janet Jackson and Justin Timberlake in front of a national audience. In light of that incident, fans often forget the streaker who hit the field moments later.
According to Yahoo! Sports, a man named Mark Roberts decided to rush the field fully nude. He told the outlet that he thought to himself, "I can't do it during the game. It has to be before the game is in play. I don't want to interrupt the game ... I'm a professional." Coincidentally, Tom Brady was part of both aforementioned Super Bowls.
"Professional" streakers don't just target football games. In 1996, a blonde woman rushed the court at a Wimbledon match between Richard Krajicek and MaliVai Washington completely naked. The blunder wasn't just in front of tennis fans, but a few members of the royal family, per FanBuzz. 
In the soccer world, David Beckham is no stranger to watching a streaker disrupt his games. The famous soccer player previous noted, "I have seen it before" after a streaker rushed the field in 2007 during a Los Angeles Galaxy and Vancouver Whitecaps game. "We've had it a few times in Europe [and] you try and run the other way", he said (via CBC Sports). Beckham continued, "Shame there wasn't any goals. Hope [the fans] enjoyed it, with the streaker and other things."