Twitter Reacts To The 2021 Super Bowl Halftime Show
Kevin Mazur/Getty Images
The Weeknd has been preparing for his Super Bowl LV performance for years, according to his co-manager Amir "Cash" Esmailian in a January 2021 interview with Billboard. "We always had the Super Bowl on our bucket list, and we've always had timelines for all of our goals," he told the publication. "It came a few years earlier than we expected."
As soon as The Weeknd officially signed on to head the show, he and his team went to work. Since September 2020, his team has been brainstorming, creating, and perfecting a show that would "be about entertainment from a truthful perspective" and "get to the core of what makes an artist special," according to halftime show co-producer Jesse Collins (via Entertainment Tonight). In fact, the Weeknd was so set on providing a stellar show for both in-person fans and at home viewers that he donated $7 million of his own money to the production so it would "be what he envisioned" (per Billboard).
The Weeknd's show was highly anticipated, especially after he was supposedly snubbed from being nominated for a single Grammy for his record-breaking 2020 album After Hours, per TMZ. Furthermore, there were rumors that the "I Feel It Coming" singer would bring some surprises with him to the stage.
The Weeknd's halftime extravaganza has come and gone. It featured a long list of hit songs and a very unique set and visuals, but not a single surprise guest. Are fans still pleased? Keeping reading to see how Twitter reacted to the 2021 Super Bowl halftime show.
The Weeknd's performance earned mixed reactions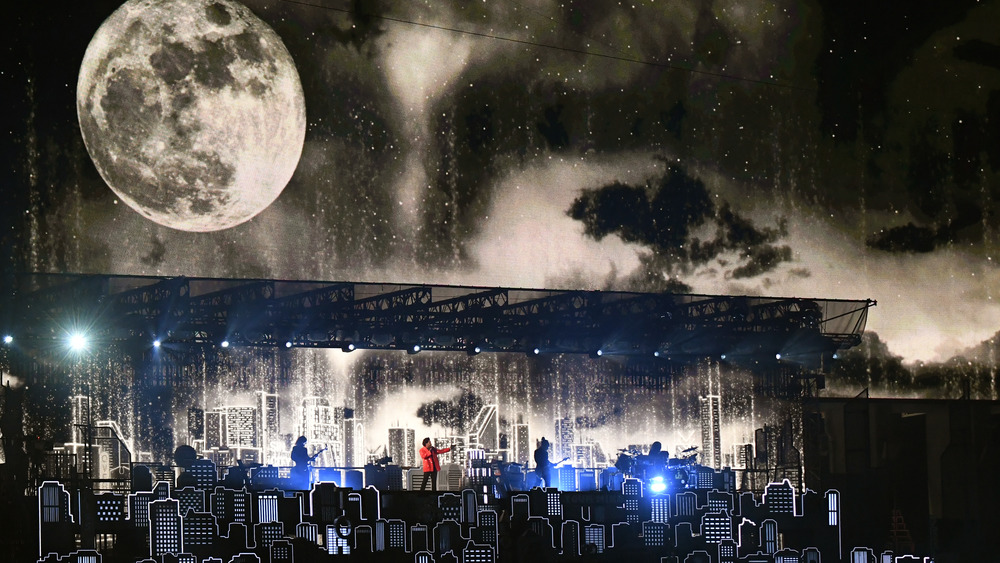 Kevin Mazur/Getty Images
The Weeknd delivered a 2021 Super Bowl halftime show that included plenty of hits, from "The Hills" and "I Can't Feel My Face" to more recent bangers like "Blinding Lights" from 2020's After Hours. While The Weeknd said he was "humbled, honored and ecstatic" to be performing on the iconic Super Bowl stage in November 2020 (per TMZ), some viewers were less than ecstatic following his performance.
"The Weeknd's halftime show was not as good as I thought it was gonna be," one critic tweeted. Another agreed, saying, "I honestly thought the Weeknd's performance was going to be amazing, I mean it was good but not as good as I would've imagined it."
However, many fans came to the "Save Your Tears" singer's defense. "How did people not like The Weeknd's performance? That's about as good it gets as far as live performances go," one fan tweeted. 
The Weeknd's show was, in fact, completely live, as confirmed by the show's co-producer in an interview with Entertainment Tonight in January 2021. "It's all happening in that stadium, in that moment," producer Jesse Collins said. "We are fortunate enough in this situation that we are able to do a live live show." 
Another fan predicted The Weeknd's performance would "go down as one of the best in Super Bowl history." Happy with the performance or not, many people found humor in the many pop culture comparisons they were able to make during the show.
The Weeknd's mask game was strong at the Super Bowl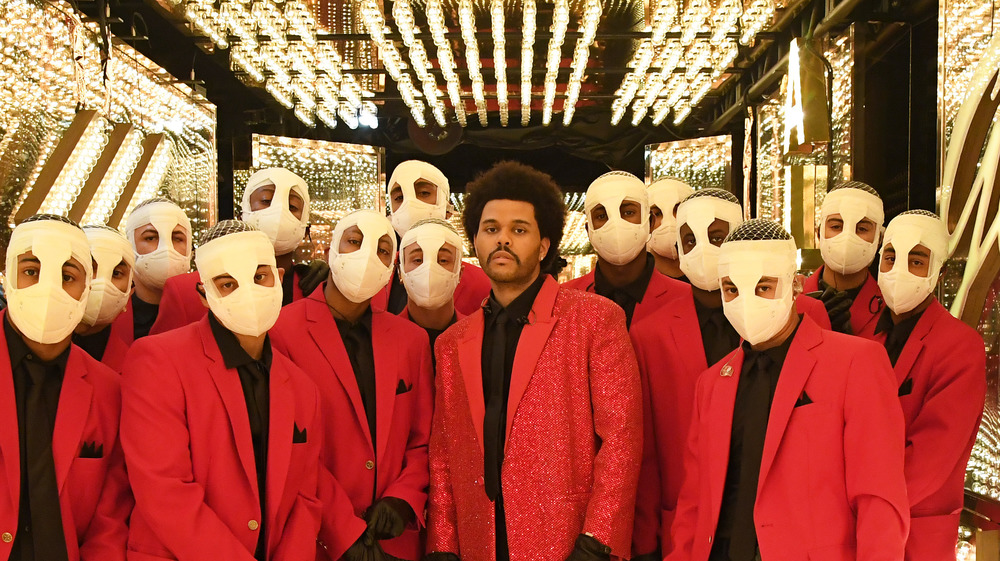 Kevin Mazur/Getty Images
Twitter was flooded with pop culture references following The Weeknd's Super Bowl LV halftime performance. His energetic show was compared to Star Wars, The Handmaid's Tale, and more. 
In a mix of tweets that showed The Weeknd's backup dancers and singers being compared to Star Wars characters, one fan wrote, "I auditioned for the #PepsiHalftime but didn't book. Congrats to C3PO & their ancestors," along with a picture of C3PO. In response to a video of The Weeknd's masked backup dancers (pictured above), one viewer quipped, "What's the name of this cult? Are they the new characters on the handmaids tale? Or is this the musical sequel to US. One unamused viewer compared the performance to the infamous scene in The Office when Kevin tries to clean up a spilled pot of chili.
Viewers were able to agree on at least one thing when it came to critiquing The Weeknd's show:  The amount of masks used for both the sake of the aesthetic and for the safety of the show was impressive. "The Weeknd had more masks in his set than the entire state of Florida," one spectator wrote. Another viewer shared a photo of The Weeknd posing with some of his masked dancers and humorously wrote, "Cdc: dancers must wear face masks the weeknd: say no more." Some of the masks worn paralleled The Weekend's recent head-turning style.
Whether he "Earned It" or not, The Weeknd's performance was certainly buzzworthy.