Camille Kostek Celebrates Boyfriend Gronkowski's Super Bowl Win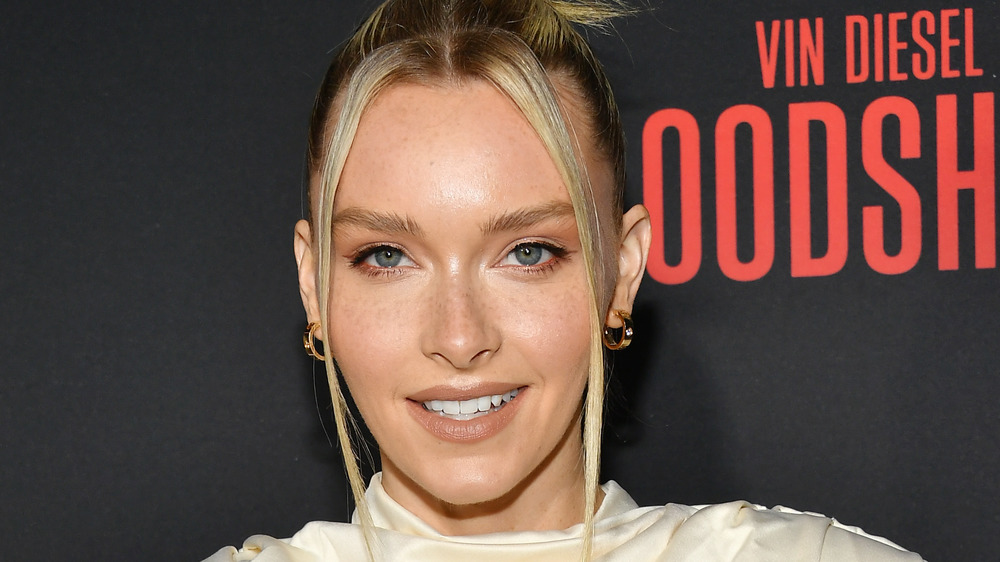 Amy Sussman/Getty Images
Are you ever so excited about something that you're simply at a loss for words? A time where no profound statements or wise quips come to mind because you're in such a state of bliss? Well, model Camille Kostek can totally relate... in a totally not relatable way. That's because Kostek's boyfriend is none other than Rob Gronkowski. And as the whole internet likely already knows, Gronk joined his pal Tom Brady in winning the 2021 Super Bowl against the Kansas City Chiefs. The news was an even bigger deal, since Gronkowski and Brady left behind their days on the New England Patriots and joined the Tampa Bay Buccaneers — and sure enough, they ended up victorious all the same.
So, yeah, the reason Kostek is on cloud nine right now may be a bit out of reach — not all of us are famous models dating famous football players — but her reaction is perfectly hilarious anyway. Following the big game and big win on Feb. 7, 2021, she took to her Instagram and shared a celebratory photo with boyfriend Gronk and his mom Diane. She captioned the smiley snapshot, "CANT THINK OF A CAPTION RN IM CELEBRATING." She also tagged Bud Light and used a #BLpartner hashtag to denote that while she's taking in the big win, she's doubling the IG post as a brand partnership opportunity. Of course, they're holding some Bud Lights in the pic. Hey, the woman sure knows how to capitalize on a moment! And we can't fault that.
Camille Kostek kept the Instagram content coming all throughout the big game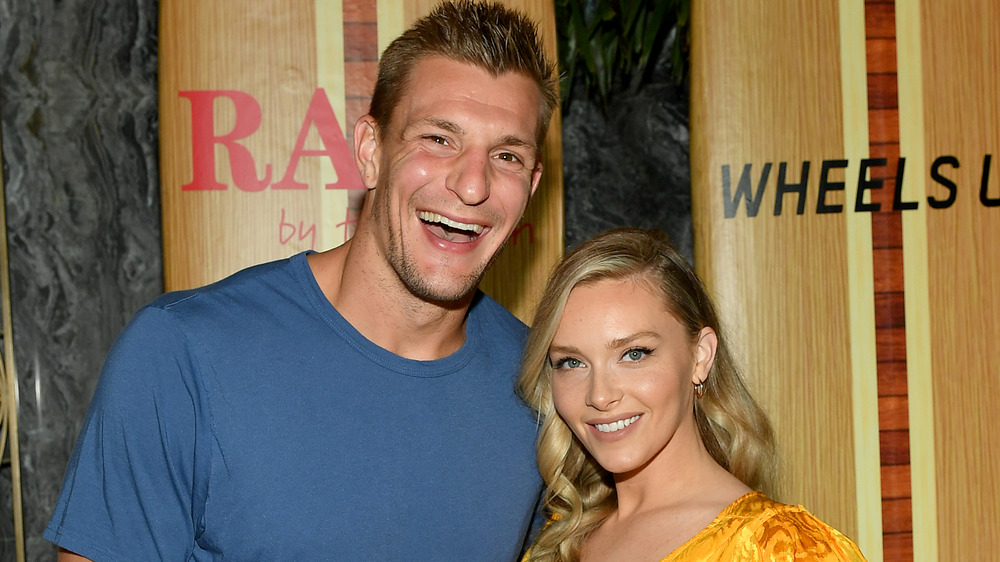 Mike Coppola/Getty Images
Camille Kostek may have been too pumped to type anything extra deep in the caption of her celebratory Super Bowl post, but that doesn't mean her Instagram content slowed down at all. She still made sure to keep her nearly 850,000 Instagram followers in the loop as she watched her boyfriend's victory-in-the-making.
Before the big game on Feb. 7, 2021, Kostek posted a video to Dua Lipa's "Levitating," where she excitedly danced around showing off her bedazzled, red coat with Rob Gronkowski's name and jersey number on the back. She captioned it simply enough, "ROBBY G BABY !!!! Super Bowl LV Swag," along with giving credit to the jacket designer, @Rebel.Britney. And the dancing didn't stop there. During The Weeknd's halftime show, Kostek posted yet another video jumping and bopping along to the music, while wearing that same red jacket with a black beanie with #87 written on it in glitter. Her caption — "#NEVERNOTDANCING SUPER BOWL LV EDITION" — feels incredibly accurate, doesn't it?
Post-game, she laid a big old smooch on Gronk, took a picture, and wrote, "tastes like a champion [heart emojis] ILY @gronk." She may think she's not good at captions, but she's pretty much nailing it! And last but not least, Kostek filmed a quick little video with probably one of the few people who can relate to how she was feeling: Tom Brady's wife Gisele Bündchen. The two nodded along as "Bad Boys For Life" played in the background.
Camille Kostek and Rob Gronkowski are no strangers to social media affection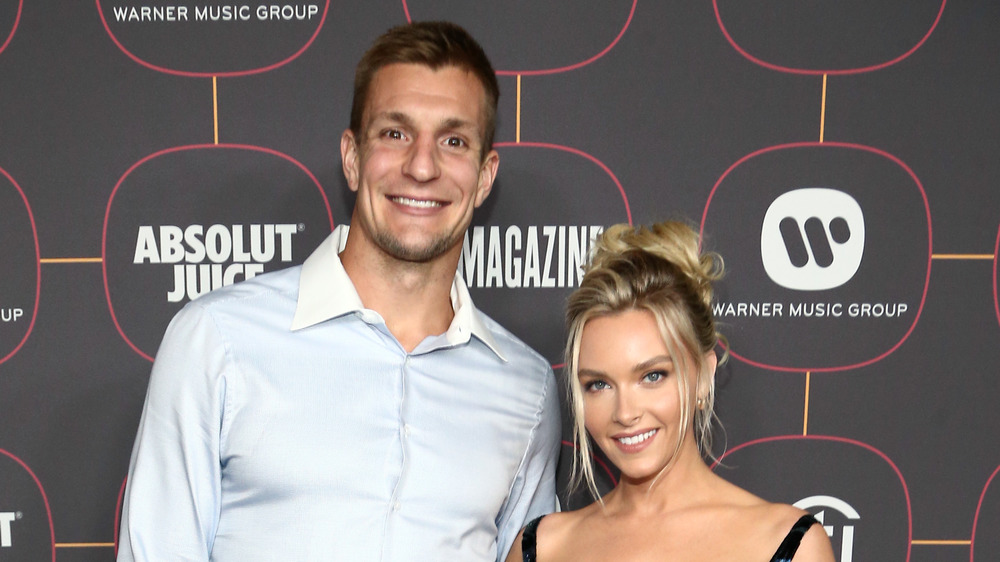 Tommaso Boddi/Getty Images
In case it wasn't clear enough already, Camille Kostek is no stranger to gushing over her man on the 'gram. But for the record, NFL champ Robert Gronkowski has done some gushing as well. For Valentine's Day 2020, a.k.a. the most romantic holiday around, Gronk shared a few photos from Disney with Kostek, including one where she's wearing Mickey Mouse ears and he's holding his own pair. He wrote in the caption, "Happy Valentines Day to my Baby! We ran around Disney World for 10 hours riding all the kiddie and adult rides! What a day it was! Much love." How sweet is that?
Meanwhile, in May of the same year, Kostek posted an adorable birthday video for her athletic boyfriend, capturing some of their best moments together. Along with the clip, she wrote on Instagram, "Happy 31st to you my love . It's no secret that I've fallen head over heels for you over the years. You bring so much adventure, motivation, laughter, and love to my life. Cheers to more life." Cheers, indeed!
It sure sounds like these two think the world of each other, so it's no surprise that Kostek was there to cheer Gronk on at the Super Bowl. Here's hoping there are plenty more victories in their future. And in the meantime, they're getting ready to head to Disney yet again — so let the celebration continue.