The Truth Behind The Man Who Ran On The Field During Super Bowl LV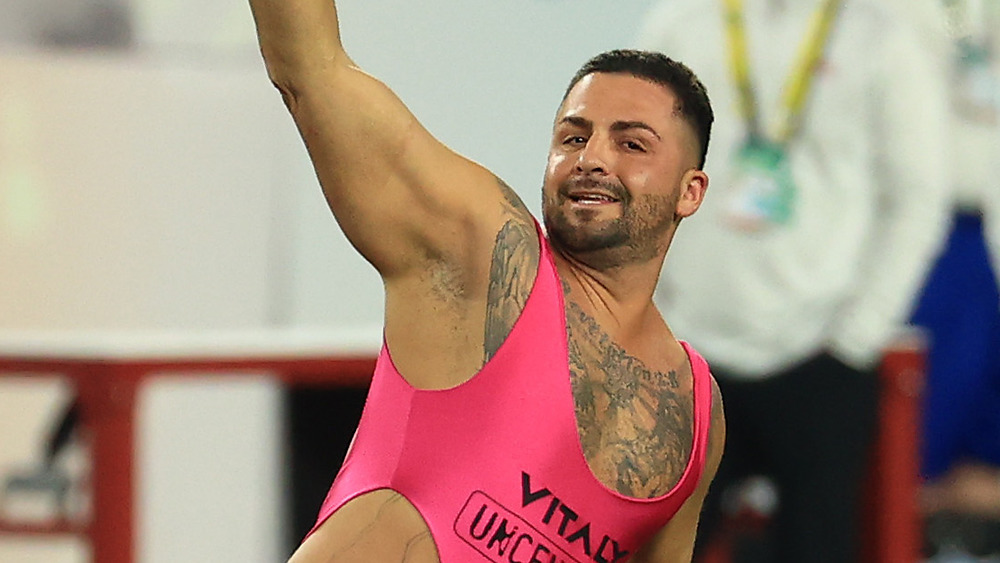 Mike Ehrmann/Getty Images
Another Super Bowl, another streaking incident — in fact, the act has almost become an art form at this point. Super Bowl LV, which saw the Kansas City Chiefs face off against the Tampa Bay Buccaneers, had a streaking incident of its own when a mystery man ran onto the football field wearing a hot pink thong onesie, via the New York Post. He grabbed everyone's attention as he was tackled by security on national television while wearing a neon one-piece with the name of an x-rated website etched across the front. The fourth-quarter streaker was later identified as Yuri Andrade. 
Andrade dubbed himself "the f**king king" after running onto the Super Bowl field in the fourth quarter, according to the New York Post. As the Tampa Bay Buccaneers prepared to close out their 31-9 victory over the Kansas City Chiefs, Andrade was seen dashing across the stadium with his shorts down wearing a neon thong onesie. "I am the f–king king now," he originally captioned a photo of his streaking feat. He later changed the caption to, "@chiefs sign me #superbowlliv."
When asked for a comment on the streaking incident by USA Today, Andrade told the outlet how he expected to get arrested for the bold move, but went for it anyway. "It was just a joke between friends, pretty much," he explained. "It wasn't nothing crazy like I was trying to harm anyone." In fact, he was hoping to benefit his friend Vitaly Zdorovetskiy.
Yuri Andrade works in 'international business'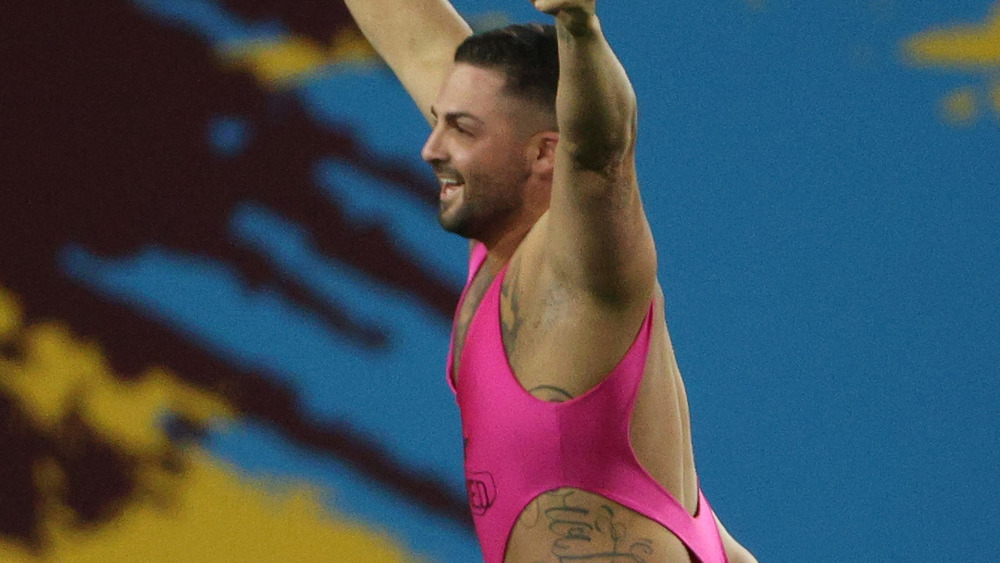 Patrick Smith/Getty Images
Yuri Andrade was arrested and charged with misdemeanor trespassing for his half-naked jog across Raymond James Stadium. The 31-year-old Boca Raton native told cops that he was "self-employed" in the field of "international business," according to USA Today. He was released from jail the morning after his Super Bowl LV arrest after posting a $500 cash bond. 
He proudly reposted the special shoutout he later received from Dwayne "The Rock" Johnson for sporting his Rock Hype sneakers during the streak. "The streaker wore your sneakers," Johnson said, while laughing and recalling his take on the "wtf do you have on outfit" that Andrade wore for the X-rated dash. "I bought these shoes 2 days ago and knew.... these were the ones," Andrade jokingly shared while mocking his Super Bowl troll moment. "This was actually a 110 yard run to be correct," he captioned a video repost of his infamous Super Bowl streaking incident. "I started from the opposite end zone ... @cheetah Run it up fam let me get that race." 
When it comes to his "international business" claims, the streaker appears to enjoy a life of luxury travel around the world. "Dream chasing," he captioned one photo that showed him relaxing in an infinity pool, while looking off into the ocean sunset. It came a few weeks after he posed for a few "Boss level" group pics with friends in front of a line of luxury vehicles. Andrade's ties to worldwide travel appear to be true.
Super Bowl LV's streaker had a troll behind him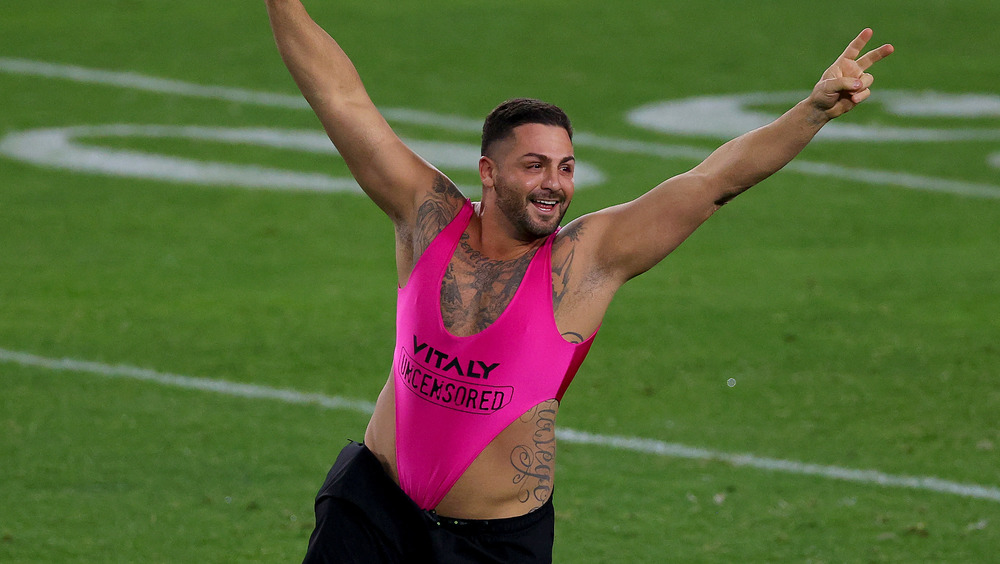 Kevin C. Cox/Getty Images
Yuri Andrade was actually working with YouTube star and prankster Vitaly Zdorovetskiy when he decided to streak at Super Bowl LV, the New York Post reported. "Don't ever tell us we can't, we will @vitalythegoat," he captioned an Instagram video of his streak, while making sure to tag his accomplice. "We f–king did it," Zdorovetskiy later tweeted, while sharing a photo of Andrade streaking in the personalized onesie. "That's how we do it baby," he responded to a fan who joked about Andrade getting "more yards than the chiefs." It looks like Zdorovetskiy had someone else do his dirty work this time around after years of being arrested for his own crude pranks. 
In 2016, he was arrested in Los Angeles after he climbed up the letter "D" on the infamous Hollywood sign, via ABC. In January 2020, Zdorovetskiy spent five days in jail after he was caught climbing the Pyramids of Giza, via Insider. Just three months later, he was arrested again after he physically assaulted a female jogger in Miami, Fla., via the New York Post. The Russian prankster had already gained international notoriety after he rushed onto the field at the 2014 World Cup and 2017 World Series. He has also done a few zombie prank videos in the Miami area. With more than 10 million subscribers on YouTube, Zdorovetskiy has built a brand for himself as the world's ultimate troll. Now, he can check a Super Bowl off his growing list of targets.