The Real Reason Gina Carano Was Fired From The Mandalorian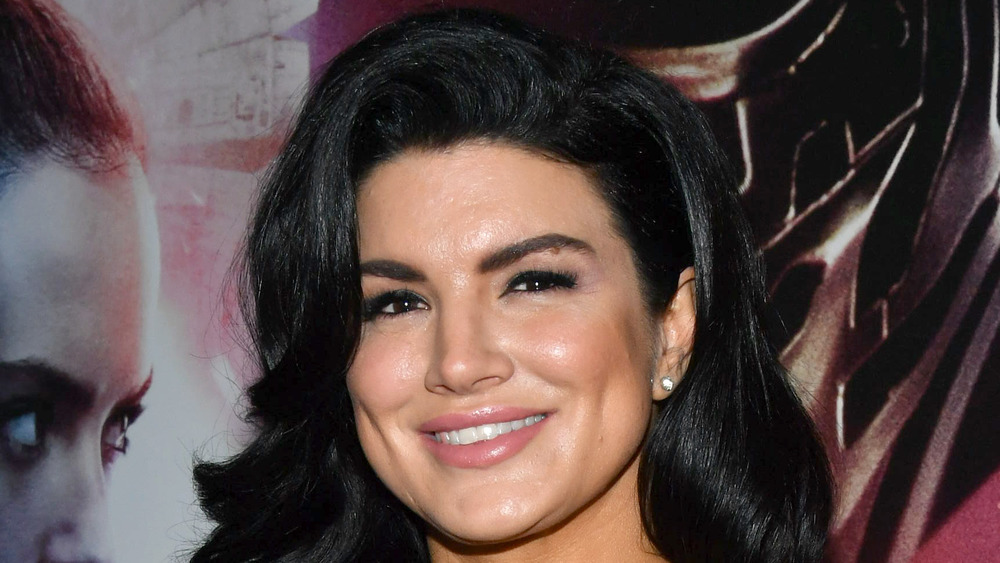 Amy Sussman/Getty Images
Gina Carano will not be returning to The Mandalorian following a backlash against her controversial social media posts. The actress and former MMA fighter's comments were called "abhorrent and unacceptable" by Lucasfilm.
According to People, fans started calling for Carano to be fired after she shared a post implying that Republicans in modern America are the equivalent of Jewish people in Nazi-era Germany. One social media user tweeted a screenshot showing the image, which had been created by another account and then shared by Carano.
"Gina Carano is not currently employed by Lucasfilm and there are no plans for her to be in the future," Lucasfilm announced in an official statement. "Nevertheless, her social media posts denigrating people based on their cultural and religious identities are abhorrent and unacceptable." According to The Hollywood Reporter, Carano has now also been dropped by her agency. 
Other sources also alleged that Lucasfilm had originally planned to create a spin-off series starring Carano, but had canceled the idea after her first controversial tweets. Disney's decision sparked a significant backlash from online commenters defending Carano and #CancelDisneyPlus began to trend on Twitter, per Page Six, but it seems that her firing was a long time coming.  "They have been looking for a reason to fire her for two months, and today was the final straw," a source told THR. 
Before her firing, Carano was frequently under fire for various posts on social media. 
Gina Carano has caused online controversy before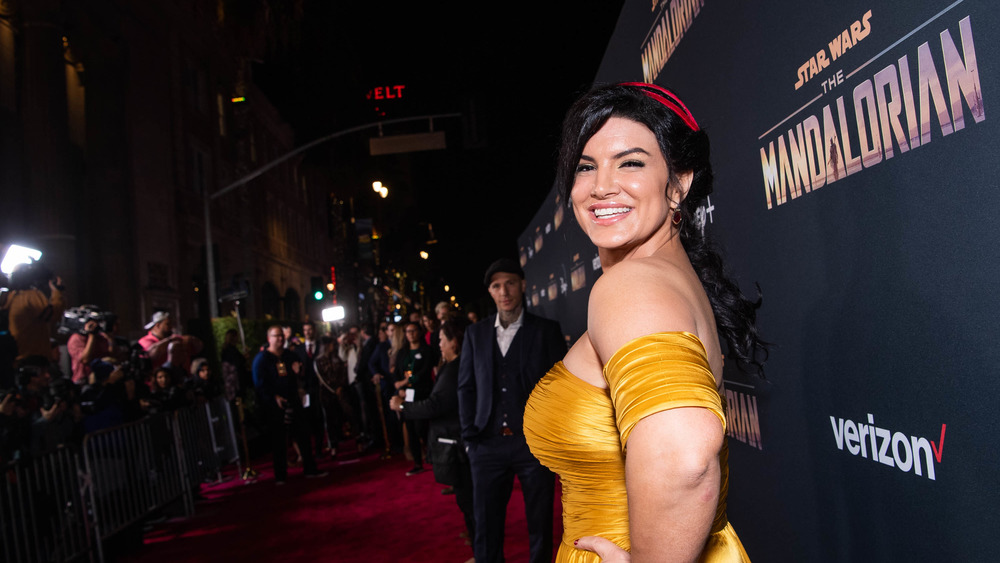 Emma Mcintyre/Getty Images
This isn't the first time the actress has caused a stir online. As Variety reported, Gina Carano previously seemed to mock Covid-19 safety measures when she posted a picture of someone covered in cloth masks with the caption: "Meanwhile in California."
She also appeared to ridicule transgender people and the practice of putting pronouns in social media bios. In September 2020, she added "beep/bop/boop" to her Twitter bio and explained herself in the following tweet: "They're mad cuz I won't put pronouns in my bio to show my support for trans lives. After months of harassing me in every way. I decided to put 3 VERY controversial words in my bio.. beep/bop/boop"
Carano later revealed that she had been taught the significance of preferred pronouns by costar Pedro Pascal, who has been publicly supportive of his transgender sister Lux, per People. "I didn't know before but I do now. I won't be putting them in my bio but good for all you who choose to," she wrote in a since-deleted tweet. "I stand against bullying, especially the most vulnerable & freedom to choose."
In another tweet, she continued "Beep/bop/boop has zero to do with mocking trans people & [100] to do with exposing the bullying mentality of the mob that has taken over the voices of many genuine causes." 
Despite the frequent controversies, the February 2021 posts turned out to be "the final straw" for Carano on The Mandalorian.