Kyle Busch's House Is Even Bigger Than You Think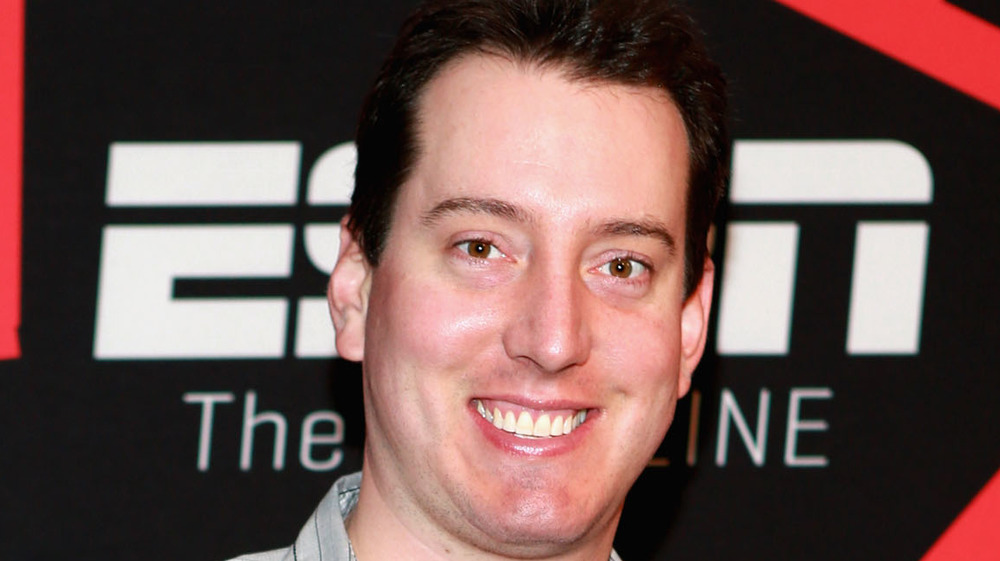 Robin Marchant/Getty Images
In July 2020, NASCAR driver Kyle Busch won the Cup Series in Houston, per Alt-driver. At the post-victory press conference, a reporter asked if he built a separate room to store all the trophies he has accumulated. In response, Busch began, "You're not the first person that's asked me that question, but it is a funny question." Not only is it a "funny question," but Busch also shared an interesting answer. He divulged, "Yes, I did have to build a house. It's a 77,000-square-foot building in Mooresville, N.C. that houses Kyle Busch Motorsports and houses 199 [trophies] plus all of the KBM drivers' trophies and stuff like that."
Busch joked, "We've gotten our fair share of trophy cases that we've gone through. Every time we build a new one we fill it up, so it's a good problem to have." However, the 77,000-square-foot-building isn't actually just a trophy warehouse. And that space isn't even where Busch lives.
Every one of those trophies comes with some prize money. Considering that Busch has so many awards that it's more realistic for him to store them in a separate building, it's apparent that the man has a lot of money. No wonder his home is so impressive.
Kyle Busch's home set an impressive record
In 2012, the Charlotte Business Journal reported a new record for the highest-priced sale of a home in Denver, N.C. The property sold for $7.5 million to a then-undisclosed buyer. The mansion is on Lake Norman with a boat dock and an outdoor kitchen, among other stand-out features. Soon after, the website revealed that NASCAR driver Kyle Busch was the mystery buyer.
Although the Charlotte Business Journal reported that the home was 13,000 square feet, ET claimed that the $7.5 million North Carolina mansion was 10,000 square feet. Additionally, the lakeside house has six bedrooms, eight bathrooms, a pool, and a playground for Kyle and Samantha Busch's son Brexton. In 2020, Samantha shared a closet tour on her YouTube channel, which began with coming down to the closet via its elevator. She also revealed that her closet is so spacious because it used to be a "spare garage." No wonder the trophies are stored at another location.
Aside from being a home for Kyle, Samantha, and Braxton, the house also serves as a set for the CMT reality show Racing Wives, which the family stars. Clearly, they got their money's worth from the record-setting purchase.