Chase Elliott's Net Worth: How Much Money Does The Nascar Star Have?
Jared C. Tilton/Getty Images
It's no surprise that race car driver Chase Elliott has amassed a huge fortune, considering he's one of the top drivers in the NASCAR Cup Series. However, we also imagine he has a nice inheritance from his NASCAR Hall of Famer father Bill Elliott. Despite the legacy of his dad, who won the Daytona 500 twice and was crowned NASCAR's "Most Popular Driver" 16 times, per Elliott Racing Heritage, Chase was determined to make a name for himself and build his own empire. 
After Chase won the 2020 NASCAR Cup Series 32 years after his father scored the same prize in 1988, per The Athletic, it's fair to say he's on his way to doing so. Of course, his success comes with a price tag, and so far, he seems to be enjoying rolling in the dough. Keep scrolling to see how much the 25-year-old race car driver is worth.
Chase Elliott has more dough than his famous dad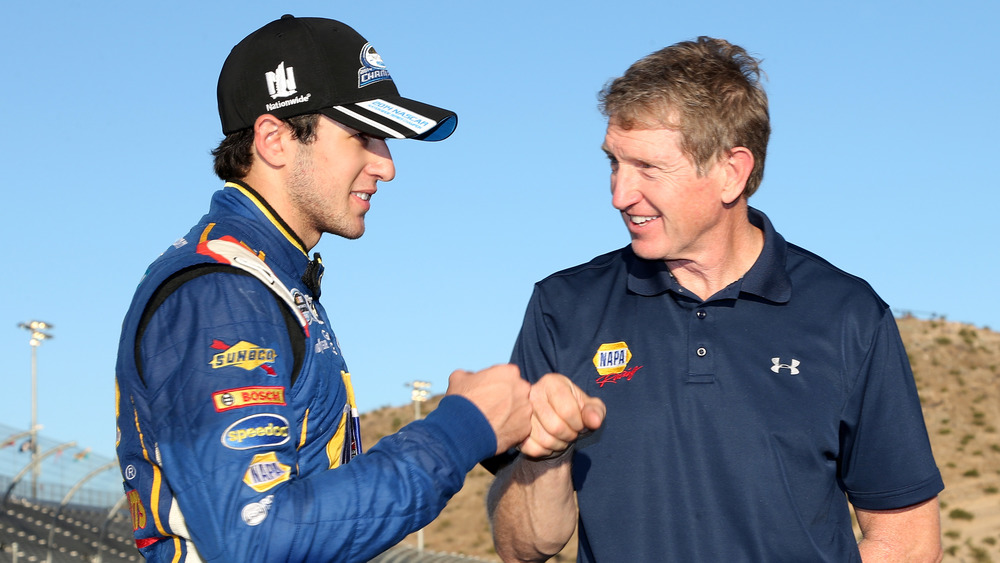 Todd Warshaw/Getty Images
Like many professional athletes, the bulk of Chase Elliott's income comes from his sponsorships. As a full-time racer in the Monster Energy NASCAR Cup Series, the corporation pays a great portion of his salary, in addition to Chase to also racing for Hendrick Motorsports and JR Motorsports, per AltDriver. With all that the race car driver has accomplished in the first quarter of his life, Chase has amassed a fortune of $12 million, according to Celebrity Net Worth. Surprisingly, his own fortune is actually greater than his superstar father's. Bill Elliott's net worth is valued at $7 million, also according to Celebrity Net Worth.
Despite his son lapping him when it comes to their bank accounts, Bill couldn't be prouder of his boy. As for how he advises his son on how to keep growing his empire, he told The Athletic that he encourages him to "Keep trying to perform." He added, "You've got to enjoy what you've got because it'll all change quick enough. He's done his job with what he's been given, but I don't have all the answers as to how it stays that way. My biggest deal is things will continue to change."