Donald Trump Jr Reveals What His Father Will Do Next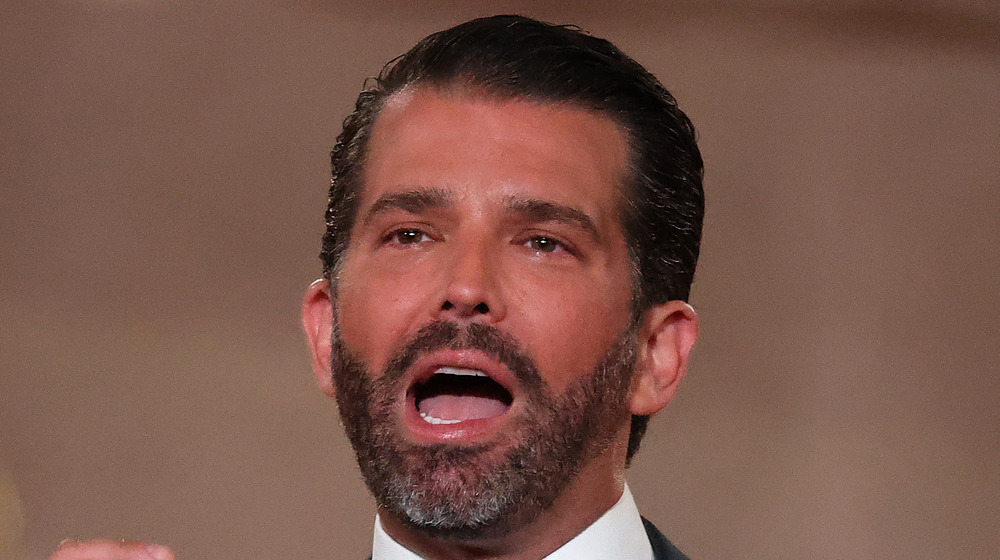 Chip Somodevilla/Getty Images
After leaving the White House in January 2021, former President Donald Trump has kept a relatively low profile. He is reportedly living at his Mar-a-Lago resort in Palm Beach, Fla. as a private citizen (per The New York Times) and is sitting on about 20 percent less cash than he was at the beginning of his presidency, as reported by Forbes. The biggest public announcement he made directly following his presidency was the establishment of The Office of the Former President, which will work to handle "President Trump's correspondence, public statements, appearances, and official activities to advance the interests of the United States and to carry on the agenda of the Trump Administration through advocacy, organizing, and public activism," per Reuters.
Perhaps Trump remained under the radar due to his historic second impeachment trial for provoking the Capitol riot on Jan. 6, 2021 which, while taken further than his first impeachment trial, did not end in a guilty verdict. Although he came out victorious once again, Trump has still been fairly quiet since the February 13 acquittal. This could be due to the lack of ease he has to communicate with the public after his Twitter account was indefinitely banned from the platform. However, his eldest child, Donald Trump Jr., took the liberty to speak on the matter and revealed just what his father will do next.
Donald Trump will continue working in politics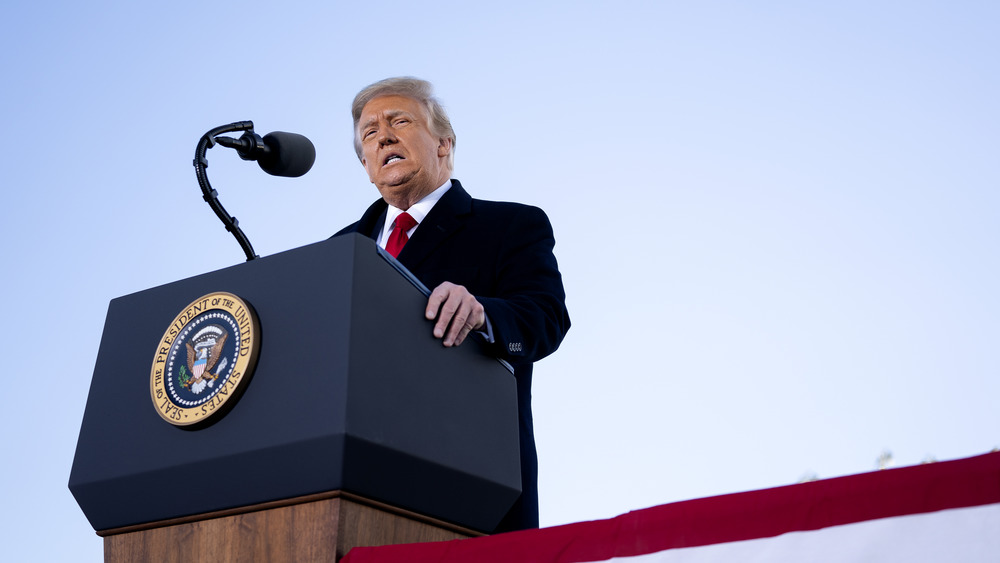 Bloomberg/Getty Images
Following his father's second impeachment acquittal by the U.S. Senate, Donald Trump Jr. told Fox News on Feb. 15, 2021, that his father will work to continue the rebranding of the Republican party. "[Trump] is going to keep pushing that America First agenda, fighting for the American worker. He's going to be pushing for candidates who will do that, not the random establishment guys," he stated. "We're going to continue doing to conservatism what my father has done, which is bring it from the dead back into real life with people who love this country and who are willing to go to bat for her." He did not elaborate on how his father plans to do so.
Trump Jr. previously took to Twitter to celebrate his father's win. "NOT GUILTY. Now maybe it would be nice if the senators stopped putting on show trials for free air time and actually started working for the American people for a change," he wrote. His following tweet said, "Beating these establishment clowns twice after years of BS and under unprecedented circumstances is a badge of honor." He also posted a meme of his father's head attached to a shirtless wrestler. 
Following the vote, the former president thanked those who supported him through the process via a written statement, per USA Today. "We have so much work ahead of us, and soon we will emerge with a vision for a bright, radiant, and limitless American future," he promised.