Brad Pitt Wants To Seal Custody Agreement Documents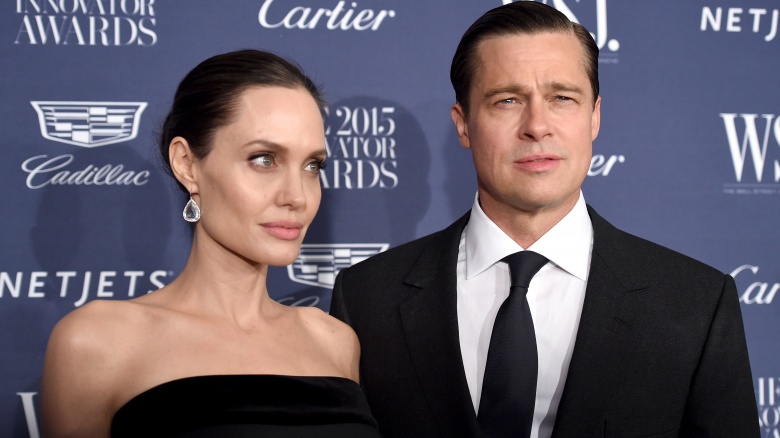 Getty Images
Brad Pitt reportedly did not take kindly to Angelina Jolie publicizing their custody agreement.
As Nicki Swift previously reported, Jolie, 41, filed filed court documents detailing the estranged couple's custodial agreement, even though nothing within it had been changed since the original agreement was reached. The documents noted that Jolie "shall have physical custody of the minor children" and that Pitt, 52, has "agreed upon therapeutic visitation" with their six kids (Maddox, 15, Pax, 13, Zahara, 11, Shiloh, 10, and twins Knox and Vivienne, 8). The agreement also stated that both parents and all of the children will go to group and individual therapy—and that Pitt was to submit to random drug and alcohol testing four times a month.
Not only did sources close to Pitt become enraged at the seemingly unnecessary move, but even those not connected with the case deemed it shady. Family law specialist Steve Mindel side-eyed Jolie's move at the time, telling People, "It's very unusual that she filed this document...Now that she's filed this document, people are getting more information about her children: where they are, what their schedules are, and so forth. And at their wealth level, privacy is very important for their safety. Her filing is definitely sending a message to Brad that she wants this more in the public than less in the public. And that's not particularly good for either one of them as celebrities."
Now, Pitt is taking action against any more of the estranged couple's split proceedings becoming public.
TMZ reports that Pitt has asked for an emergency hearing to seal the documents related to the custody case to avoid their children becoming collateral damage in her efforts to allegedly smear him—and that he believes her filing the agreement publicly proves that she's not a good parent. Sources previously told TMZ that Jolie's move was at the urging of advisors who are allegedly helping her to angle for a move to London with the kids to become Secretary General of the United Nations—a move that may have required her to get DCFS involved in order to obtain sole physical custody of the kids. As Nicki Swift previously reported, DCFS and the FBI found no evidence of abuse despite accusations Jolie levied against Pitt regarding an alleged in-flight altercation with Maddox.
However, Jolie sources dispute Pitt's allegations that she's using the case for publicity, insisting that she filed the paperwork because she believed Pitt was trying to alter the agreement to get unsupervised visits with the kids against their therapist's recommendations. Jolie insiders told TMZ that she does, in fact, want the kids to have unmonitored visits with Pitt, but not until their therapist signs off that it's a good idea. Meanwhile, Us Weekly reports that the Oscar winner is looking for homes in Los Angeles to keep the children close to their father.
Unfortunately for Pitt, a judge denied his request to seal the documents on a technicality: People reports that Jolie's attorney, Laura Wasser, agreed that the documents should be sealed, but that Pitt's lawyers never consulted with them before the emergency hearing, so she and her team opposed to the move—and the judge sided with them.