Angelina Jolie Publicizes Custody Agreement With Brad Pitt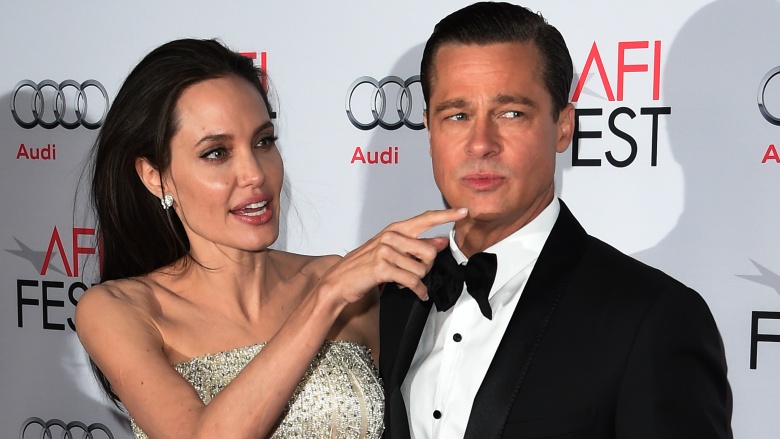 Getty Images
Angelina Jolie deliberately made her custody proceedings with Brad Pitt public.
People reports that Jolie, 41, filed court documents detailing the estranged couple's custodial agreement, even though nothing within it has changed. The documents report that Jolie "shall have physical custody of the minor children" and that Pitt has "agreed upon therapeutic visitation" with their six kids (Maddox, 15, Pax, 13, Zahara, 11, Shiloh, 10, and twins Knox and Vivienne, 8). The children, as well as both parents, will continue individual and group therapy, and Pitt has to submit to random alcohol and drug testing four times every month.
So what's the big deal? Though the agreement hasn't changed, her move made the matter public. A source close to Pitt fumed, "This is pure spin and manipulation, as absolutely nothing has changed. The original agreement is temporary and voluntary and that has not changed in the slightest; absolutely no binding agreement has been made, no final decisions have been made, and there is nothing that should be presented as a legally binding custody arrangement at this time. There is zero legal purpose for filing this. Zero." The source added, "There is absolutely nothing different about the situation today as opposed to yesterday as opposed to when this agreement was put into place."
As for why Pitt hasn't made any moves to change the terms, other than filing for joint custody, the source explained, "Brad has always placed the interests of his children first and foremost, and has been accommodating and agreeable for now due to his desire to continue putting his children first. Particularly during the holiday season, embarking on legal filings at this moment doesn't feel imperative."
Even a family law specialist who has no horse in this race thought Jolie's move seemed sketchy. "It's very unusual that she filed this document...Now that she's filed this document, people are getting more information about her children: where they are, what their schedules are, and so forth," lawyer Steve Mindel told People. "And at their wealth level, privacy is very important for their safety. Her filing is definitely sending a message to Brad that she wants this more in the public than less in the public. And that's not particularly good for either one of them as celebrities. In the short run, this might be uncomfortable for Brad because no one likes to be supervised with their children. But over the long run, going along with the temporary plan is a winning solution for him to get the custody he desires."
Insiders told TMZ there may be a reason Jolie is allegedly pulling out all the stops to obtain sole custody of the kids: she wants to move to London with them and secure her dream job as Secretary General of the United Nations. Insiders claim two of Jolie's closest advisers urged her to get the Department of Children and Family Services (DCFS) involved in the split in an effort to gain full physical custody of the children ahead of a potential move to the British capital, though her rep denied it. (Page Six previously identified Jolie's advisers as Lady Arminka Helic, a Bosnian-born member of the UK House of Lords and a former adviser to Britain's ex-Foreign Secretary William Hague, and fellow former Hague aide Chloe Dalton.)
Jolie previously accused Pitt of a pattern of abuse, with an alleged in-flight altercation between the actor and Maddox as the final straw. However, both DCFS and the FBI cleared Pitt of all allegations.
A source close to Jolie claims she has the best intentions at heart. "Angie has been by the kids' side nonstop since this happened. Their health and well-being has been her only priority. She hasn't traveled, and she delayed completing [her new film] First They Killed My Father," the insider said. "Angie also hasn't been the one to keep Brad from seeing the kids. It hasn't been her choice. She has been following the advice of the therapists."
Pitt's people aren't convinced. A source close to the Allied (2016) star said, "Brad is not at all happy with this situation. He wants to spend more time with the kids and on his own terms. There is nothing about the current arrangement that makes him happy. He has no plans to accept it. He misses his kids...Angie is playing hurtful games and he won't play along. He feels he has done nothing wrong and is getting punished without cause. He always was a great dad and wants to continue to be a great dad...He wants to have a normal relationship with his kids."