The Real Reason Tamron Hall's Interview With RuPaul's Drag Race's Sherry Pie Is Sparking Backlash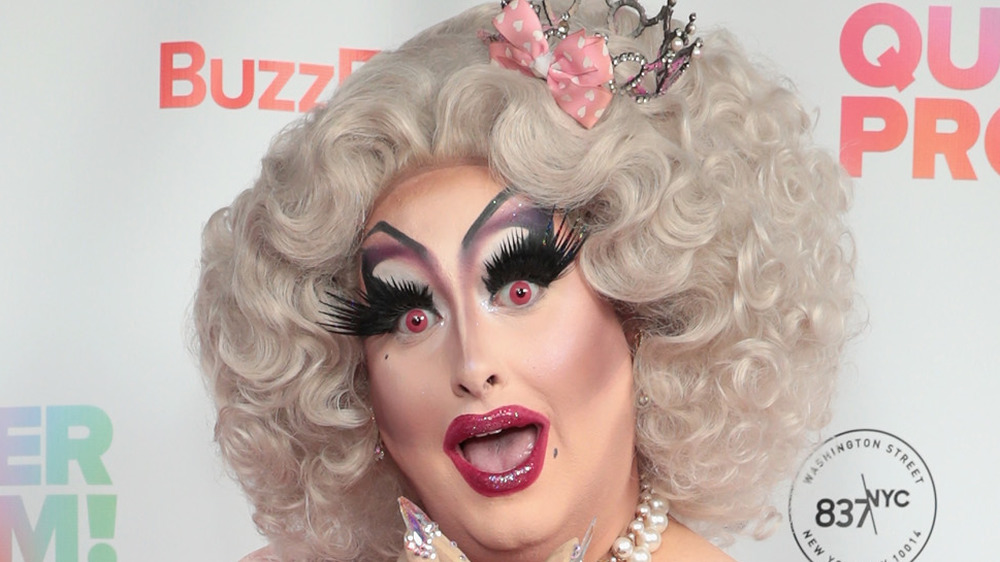 Cindy Ord/Getty Images
The internet wants Tamron Hall to "sashay away" after having quite the controversial interview guest. 
For some background for RuPaul's Drag Race non-devotees, in 2020, contestant Sherry Pie was fully disqualified from Season 12 of the hit reality show mid-season, with her scenes heavily and painstakingly edited out. That's because, according to The Daily Beast, Sherry Pie (real name Joey Gugliemelli) was "accused by at least 12 people of a predatory catfishing scheme." Gugliemelli's sexual misconduct allegations involved posing as a fake casting agent and luring actors into submitting, per BuzzFeed News, "embarrassing audition tapes of themselves saying and doing degrading things." 
The young men were both Gugliemelli's SUNY Cortland classmates and actors in a Nebraska theater company, with one victim saying he was even lured into masturbating "on camera," per BuzzFeed. The allegations were not denied, with Gugliemelli later apologizing in a lengthy Facebook post, and RuPaul's Drag Race, per Entertainment Weekly, donating to LBGTQ+ charities in response to the shocking scandal. 
The whole ordeal was upsetting for Drag Race fans, fellow contestants, and the LGBTQ+ community, though thankfully, it seemed Sherry Pie's air time was over. Well, until now. On Feb. 16, 2021, Hall had Sherry Pie on her show, out of drag, in their first on-air appearance since RuPaul's Drag Race. And now, perhaps unsurprisingly, Hall is getting dragged online for it, even by victims of the scandal. Oh boy.
Scroll down for what happened when Sherry Pie went on The Tamron Hall Show.
The internet is upset Tamron Hall gave Sherry Pie air time
So what happened when Tamron Hall had RuPaul's Drag Race's Sherry Pie (aka Joey Gugliemelli) on her show? Before Gugliemelli came on, per TV Line, Hall addressed the audience herself. "The very idea that I'd have Sherry Pie on ... was seen by some as giving away my platform ... It's called an interview, and people who do bad things are interviewed," she said. Then, the guest in question came on screen. "I first want to say that there are no 'allegations,'" Gugliemelli said on the show. "I admit to my wrongdoings and horrible behavior. I don't know if ... more [victims] will come forward. I'm here to apologize, and I want to make that very clear." The performer added they've begun diagnosed with "borderline personality disorder."
The response to Hall's having the controversial figure on her show? Not great. Contestant Jackie Cox took to Twitter asking Hall not to let Sherry Pie, "tell their side of the story without first speaking with the victims of her abuses," beforehand. One victim, Ben Shimus, posted about a collective effort to have it cancelled. "I spoke with producers at @TamronHallShow and told them that I and the 20 victims that I spoke to today DO NOT want them to air a segment with Sherry Pie. They're going to air it," he wrote. Twitter users claimed the interview was for "ratings," with another taking issue with Hall's casual use of buzz words. What a mess.
If you or someone you know has been the victim of sexual assault, you can call the National Sexual Assault Hotline at 1-800-656-HOPE (4673) or visit RAINN.org for additional resources.
If you or someone you know is struggling with mental health, please contact the Crisis Text Line by texting HOME to 741741, or call the National Alliance on Mental Illness Helpline at 1-800-950-NAMI (6264).